A million-dollar biz: Plastic wishbones
Annual family squabbles over the turkey bone sparked this entrepreneur's profitable big idea.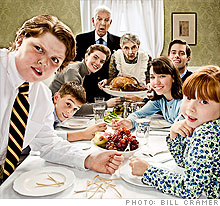 (Fortune Small Business) -- Each Thanksgiving, my household brims with abundance and gratitude. But after dinner my family always squabbles over who gets to break the wishbone. One year I had an idea that would solve the problem for my family and, I was sure, many others on Turkey Day.
I was familiar with plastic manufacturing because I ran a consulting firm that helped Christmas-light makers meet quality standards. So I called eight plastic companies and requested samples of breakable plastic. They wondered why I wanted them, but I didn't tell. After a year of testing we launched our product in 2004: a plastic wishbone with the feel and satisfying snap of a real turkey bone.
Given my background with seasonal products, I was confident enough of this one to wind down my consulting business and focus on bringing the wishbones to market. We began in a few Seattle-area novelty and grocery stores. By 2006 we had hit almost $1 million in sales, and our four-packs were selling in nearly 1,000 outlets, such as the Party Store chain, in 40 states.
The previous year we had gotten a call requesting a product sample from Sears Roebuck's (SHLD, Fortune 500) ad agency, Young & Rubicam. Next Y&R asked for a quote on millions of wishbones custom-packaged for Sears. We were thrilled, and created a design for it. But then Y&R abruptly went silent. We assumed the deal had fallen through.
Days before Thanksgiving 2005, I spotted a Sears ad insert in our local paper. On its top left corner was a photo of our product! I drove right to Sears and saw that it was using our wishbone and packaging as a marketing tool: Customers got a free wishbone redeemable for $10 off a $100 purchase. My blood boiled as I stood with the product in my hand.
We promptly sued Y&R and Sears for copyright infringement. The case went to trial 2½ years later. Thanks to our patented design and our packaging's copyright warning statement, we were awarded $1.7 million in damages. (Sears spokesperson Kim Freely notes, "We're disappointed by the verdict.")
We lost 50% of our business in 2007 because of the time and money we spent in court. But we are moving on with new wishbone design ideas, such as colorful and custom-printed lines. The wishbones are a hit with vegetarians and even internationally - turkey is also a Christmas staple for many families.
At the end of the day, breaking a wishbone is a lot like blowing out birthday candles. There's a renewed sense of hope and optimism when it snaps.
Ken Ahroni is the owner of Lucky Break Wishbone Corp.in Seattle.

To write a note to the editor about this article,
click here
.



My dream is to launch my own business someday. Now that it's time to choose a major, I'm debating if I should major in entrepreneurial studies or major in engineering to acquire a set of skills first. Is majoring in entrepreneurship a good choice?
More

- Spate, Orange, Calif.

More Small Business

Next Little Thing 2010