Foreclosures dominate home sales
Repossessed homes and short sales make up a large percentage of sales in many real estate markets.
Map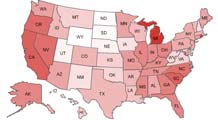 NEW YORK (CNNMoney.com) -- Real estate values around the nation have collapsed, and sales of foreclosed and "underwater" homes now dominate many housing markets, according to a report released Tuesday.
The report, from Zillow.com, a real estate Web site, revealed that with foreclosures soaring, nearly 20% of the nation's home sales in 2008 were of bank-repossessed properties. Another 11% were short sales, in which homeowners owed more in mortgage debt than their homes were worth.
Madera, Calif., had the highest percentage of these distressed sales: 54.6% of all transactions there were foreclosed homes, and another 3.4% were short sales.
In Merced, Calif., 53.4% of sales were foreclosures and 4.8% were short sales. In nearby Stockton, 51.1% were foreclosures and 5.4% were short sales.
"As more markets turn down and markets that were already down go deeper, the pace at which value is being erased from the U.S. housing stock is rapidly increasing," said Stan Humphries, Zillow's vice president in charge of data and analytics.
"More value [was] wiped out in the fourth quarter of 2008 than was eliminated in all of 2007," Humphries said.
About $3.3 trillion in home equity was erased in 2008, with $1.4 trillion of that wipeout coming in the fourth quarter alone, according to Humphries. More than $6 trillion in value has been lost since the market peaked in 2005.
Those equity losses have put many homeowners underwater, where they're extremely vulnerable to foreclosure. These owners can't tap home equity for the cash they need to pay bills when they run into rough financial patches, and they often find it impossible to refinance - lenders will not loan more than the property is worth.
In the United States, 17.6% of all homes are now underwater, according to Zillow, as are 41.2% of all mortgages for homes bought in the past five years.
The worst-hit cities are in the once-booming Sun Belt. In Las Vegas, 61.4% of all homes are underwater.
Because so many homes are worth less than their mortgage balances, an increasing number have to be sold short. But short sale transactions can take a long time to complete, because lenders have been having trouble keeping up with the flood of requests.
"The speed of short sales is a function of the resources being allocated to them by lenders, and those resources are being stretched to the limit," Humphries said.
That means lenders may not act on approving short sales for months. The deals cannot go forward without their approval, because the banks must agree to forgive the difference between what they're owed and what the sale brings in.
As the time it takes to arrange short sales lengthens, they become harder to complete.
Time and money wasted
One example of how price declines can doom a short sale occurred recently in Phoenix. Curtis Johnson, a real estate broker there, worked with a health care worker whose hours were being cut and who could no longer afford her mortgage. She fell behind and decided to sell.
Johnson was able to find a buyer willing to pay $183,000, and got an approval form the lender. The owner confidently moved out, got a new place and started a new life. But the lender folded and the mortgage went to a new servicer, who took six weeks to approve the deal.
"Unfortunately, the buyers who were approved were no longer interested because the real estate market had dropped significantly," Johnson said. "They wrote a new offer, considerably lower then the first, and it was time to start over."
Two more offers eventually fell through before a new buyer was found and the owner's bank approved the price, this time at $163,000. On the day of that closing, however, the parties discovered that the buyer's lender had run out of funds and dropped out of the deal. The home went to foreclosure auction before another sale could be arranged.
The house is now on the market for $139,900.
"[The house is] listed for less than what would have been received had the bank been willing to work with us, and still has not yet sold," Johnson said.
Distressed sales like that depress the market for all homeowners. Regular sellers in cities dominated by foreclosures have to adjust their prices downward to compete.
The percentage of homes sold for less than what their owners originally paid has leaped up in the past couple of years. In the United States as a whole, 34.6% of the sales made in 2008 were done at a loss. In Merced, 71.6% of all sales last year were for less than the seller paid. Stockton, Modesto and Las Vegas all had in excess of 68% of all homes being sold at a loss.
Foreclosures beget more foreclosures by adding inventory to the market, which depresses prices, which increases foreclosures, according to Humphries.
"The vicious cycle continues," he said.

Features

These Fortune 100 employers have at least 350 openings each. What are they looking for in a new hire? More

It would be the world's second-biggest economy. See how big companies' sales stack up against GDP over the past decade. More