Stocks churn on economic woes
Major indexes struggle for direction on ongoing economic worries. Obama's housing plan and Fed forecast are in focus.
Ali Velshi & the CNN Money Team take on the dismal February jobs report. How will the job market recover?
Friday at 11 p.m. ET
Map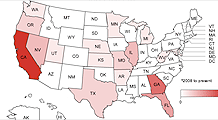 NEW YORK (CNNMoney.com) -- Stocks churned Wednesday, hovering near three-month lows, as investors considered the Federal Reserve's dour economic forecast and President Obama's home rescue plan.
The Dow Jones industrial average (INDU) added 3 points, or less than 0.1%. During the session, the Dow had fallen to the lowest point since Nov. 21, considered by some to be the low of the bear market.
The Standard & Poor's 500 (SPX) index lost 1 point or 0.1%. During the session, the S&P 500 also fell to its lowest point since Nov. 21.
The Nasdaq composite (COMP) lost less than 3 points or 0.2%.
The Federal Reserve revised lower its economic outlook for the first half of the year, saying it expects the economy to shrink and unemployment to rise. The report, released in the afternoon, was part of the minutes from the last Fed policy meeting in which the bankers held interest rates steady at historic lows.
Stocks have tumbled over the past week on fears that the U.S. government's plans to soften the recession won't work in the face of an accelerating global slowdown.
"We keep punting the problem a couple of months down the road and hope that the economy turns around," said Scott Armiger, portfolio manager at Christiana Bank & Trust company. "Overall, we're not fixing the problem."
On Wednesday, Obama unveiled a multi-billion dollar plan that is meant to help up to 9 million borrowers who are struggling amid falling home prices and unaffordable mortgage payments. (For details, click here)
Yet, investors remain worried about the prospects of an economic recovery and the timeline for any turnaround.
The Obama administration released some initial information last week about the multi-billion dollar bank bailout plan. But details were scarce and financial stocks have suffered since then. On Tuesday, President Obama signed into law the $787 billion economic stimulus plan. But there are concerns that the plan is too heavy on spending, Armiger said.
After the market close, Hewlett-Packard (HPQ, Fortune 500) reported lower fiscal first-quarter earnings that met analysts' estimates on higher revenue that missed estimates. The tech leader also gave a forecast for current-quarter results that is short of expectations. HP shares fell 4% in extended-hours trading.
Thursday brings quarterly earnings from General Motors, the weekly jobless claims report and a reading on wholesale inflation, all before the start of trading.
The index of leading economic indicators is due after the start of trading, as is the Philadelphia Fed index - a regional manufacturing survey.
Economy: A report released earlier Wednesday showed January housing starts plummeted 17% from December to an all-time low. Building permits, a sign of builder confidence, fell 4.8% from December to an all-time low. (Full story)
Another report showed production at the nation's factories and mines slumped 1.8% in January, worse than expected.
Fed Chairman Ben Bernanke said Wednesday that the central bank will improve how it discloses information because of greater interest in its ballooning balance sheet. Bernanke spoke at the National Press Club in Washington, D.C.
Autos: As had been expected, the auto makers went back to the table late Tuesday to ask for more government money to stay afloat.
After the market close Tuesday, Chrysler and GM (GM, Fortune 500) unveiled their plans for becoming viable after receiving $17.4 billion in government aid late last year.
Chrysler said it will need at least $5 billion more to turn the company around. GM said it needs an additional $9.1 billion and could require another $7.5 billion in the next two years if conditions deteriorate. The companies also said they would cut 50,000 jobs worldwide by the end of the year. (Full story)
Company news: Goodyear Tire & Rubber (GT, Fortune 500) said it will cut 5,000 jobs this year, as slowing auto sales have eaten into demand for its products.
Comcast (CMCSA, Fortune 500) reported a weaker quarterly profit and said it lost 233,000 subscribers in the fourth quarter of 2008. However, excluding charges, the cable provider's profit was better than what analysts were expecting. Shares fell 4% in active Nasdaq trading.
General Electric (GE, Fortune 500) CEO Jeffrey Immelt said he gave up a 2008 bonus and other compensation in the aftermath of GE's weaker earnings and sliding stock price last year.
Market breadth was negative. On the New York Stock Exchange, decliners beat advancers by 7 to 3 on volume of 1.43 billion shares. On the Nasdaq, losers topped winners by 8 to 5 on volume of 2.09 billion shares.
Bonds: Treasury prices slipped, raising the yield on the benchmark 10-year note to 2.75% from 2.65% Monday. Treasury prices and yields move in opposite directions.
Lending rates were little changed. The 3-month Libor rate was 1.25%, unchanged from Tuesday, according to Bloomberg.com. The overnight Libor rate fell to 0.3% from 0.31% Tuesday. Libor is a bank lending rate.
Other markets: In global trading, Asian markets were mixed and most European markets ended lower.
The dollar gained against the euro and the yen.
U.S. light crude oil for March delivery fell 31 cents to settle at $34.62 a barrel on the New York Mercantile Exchange.
COMEX gold for April delivery rose $10.70 to settle at $978.20 an ounce.
Gasoline prices decreased three-tenths of a cent to a national average of $1.957 a gallon, according to a survey of credit-card swipes released Wednesday by motorist group AAA.

Features

These Fortune 100 employers have at least 350 openings each. What are they looking for in a new hire? More

It would be the world's second-biggest economy. See how big companies' sales stack up against GDP over the past decade. More