Fannie taps lifeline after $59B in losses
Mortgage finance company reports $25 billion quarterly loss and receives $15 billion from the Treasury Department.
Map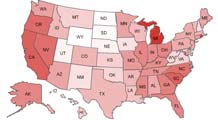 NEW YORK (CNNMoney.com) -- Hammered by the ailing housing market, mortgage finance giant Fannie Mae said Thursday it would tap its lifeline from the Treasury Department after reporting $58.7 billion in losses for 2008.
The company, a crucial source of funding for mortgage lenders, said it would draw down $15.2 billion of its $200 billion federal line of credit. In return, the government will receive preferred shares.
And it gave a dour view of the housing market -- saying it expects peak-to-trough price declines to be in the 33% to 46% range, up from the 27% to 32% range it gave in the previous quarter. For 2009, it predicts home values will drop 12 to 18%.
For the fourth quarter, Fannie Mae reported $25.2 billion in losses, or $4.47 per share. The results mark the sixth straight quarter of losses, though slightly narrower than it reported in the third quarter. A year ago, Fannie Mae reported $3.6 billion in losses.
The company, which was taken over by the government in September along with Freddie Mac, attributed the losses to soaring defaults. Its provision for credit losses plus foreclosed property expense came to $12 billion for the quarter, up 30% from the previous quarter. Its charge-offs, or loans written off as uncollectable, rose 219% to $7 billion in 2008.
The value of non-performing loans were $119.2 billion at year-end, compared with $63.6 billion on Sept. 30 and $27.2 billion at the end of 2007.
Fannie Mae (FNM, Fortune 500) had said it would need up to $16 billion to cover its fourth quarter losses. Freddie Mac (FRE, Fortune 500), which has accessed nearly $14 billion and has said it may need up to $35 billion more, should report its results in coming weeks. The companies need the funding because their liabilities exceed their assets, giving them a negative net worth.
The companies' net worth is declining in part because its mortgage guaranty becomes a costlier obligation as the housing market worsens. Also, its funding costs have run higher as investors demanded higher rates because of the agencies' perceived riskiness.
The results come a week after President Obama unveiled his foreclosure prevention plan, which relies heavily on Fannie and Freddie. The companies will allow borrowers whose mortgages they own or back to refinance even if they have little or no equity. And they will contribute more than $20 billion toward subsidizing interest rates to lower the monthly payments for borrowers on the verge of or already in default.
Fannie Mae, which unveiled with Freddie Mac their own streamlined loan modification program in November, said it conducted 33,249 loan modifications, 7,875 repayment plans and 11,682 preforeclosure sales in 2008.
Acknowledging the need to strengthen Fannie Mae and Freddie Mac at a time when the companies are under pressure from rising defaults, Obama doubled their federal lifeline, which was originally $100 billion each. He also is allowing each to hold up to $900 billion in loans in their portfolios, an increase of $50 billion.
The companies provide critical financing for mortgage lenders by purchasing their loans. They dominate the home loan market now that private investors have been spooked by the mortgage meltdown.
Their long-term future, however, remains in doubt. Set up by the government, they were private companies whose debt carried an implicit federal guarantee. But as the mortgage crisis deepened, the Treasury Department in September put them into conservatorship, a form of reorganization similar to bankruptcy.

Features

These Fortune 100 employers have at least 350 openings each. What are they looking for in a new hire? More

It would be the world's second-biggest economy. See how big companies' sales stack up against GDP over the past decade. More