11% of mortgages are troubled
More than 1.5 million homes are seriously delinquent and close to foreclosure.
Map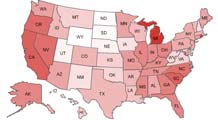 NEW YORK (CNNMoney.com) -- More than 11% of all mortgages are either delinquent or in foreclosure, according to an industry report released Thursday.
The percentage of borrowers at least one month behind in their mortgage payments - but not in foreclosure - rose to nearly 8% during the fourth quarter of 2008, according to the National Delinquency Report from the Mortgage Bankers Association (MBA). This is the highest rate of delinquency ever recorded by the survey, which began in 1972, and reflects a record 13% jump compared to the third quarter.
"Subprime ARM loans and prime ARM loans, which include Alt-A and pay-option ARMs, continue to dominate the delinquency numbers," Jay Brinkmann, chief economist for the MBA, said in a prepared statement. "Nationwide, 48% of subprime ARMs were at least one payment past due, and in Florida over 60% of subprime ARMs were at least one payment past due."
The number of homes in the foreclosure process rose to 3.3%, an increase of 0.33 percentage points from the quarter before and up 1.26 percentage points from a year earlier. That represents nearly 1.5 million homes at risk of sliding all the way through foreclosure.
Combined, the number of delinquencies and loans in foreclosure came to 11.18%, the highest ever recorded by the MBA.
Delaying tactics
And even though the number of loans entering into the foreclosure process remained steady, the number of loans stuck there was particularly high, according to Brinkmann.
"This is mainly attributable to various state and local moratoria on foreclosure sales, the Fannie Mae and Freddie Mac halt on foreclosure sales announced in late November, a general reluctance by servicers to proceed with evictions in the last few weeks of December and a slowing down caused by an overburdened legal process in some areas," he said.
Because of the moratoria, the number of loans very far past due - 90 days or more - jumped sharply to 3% from 2.2% a quarter earlier. In the past, many of those loans would have been cleared out of the system by lenders completing the foreclosure process.
The Obama administration's new foreclosure prevention program, which includes refinancing options and loan modifications, is another attempt to slow the rate of foreclosures.
The MBA report underscores the need for some foreclosure relief, according to Nicholas Retsinas, director of Harvard University's Joint Center for Housing Studies.
"It raises the ante for the Obama plan," he said. "It justifies it, but at the same time it raises the question of whether it's sufficient to solve the problem."
Still, it is unclear how helpful the plan will be, according to Mike Larson, a real estate analyst with Weiss Research.
"Previous foreclosure prevention efforts have had a spotty record," he said, "with many loan modifications simply postponing the inevitable."
Even though delinquencies are still driven by problems with non-traditional mortgage loans, Brinkmann said more fundamental, historic causes of foreclosure are also making an impact.
"The delinquency rates continue to climb across the board for prime fixed-rate and subprime fixed-rate loans - loans whose performance is driven by the loss of jobs or income rather than changes in payments," he said.
Five states - California, Nevada, Arizona, Florida and Michigan - once again dominated delinquency statistics during the quarter, but the number of loans 90 days late or more also increased significantly in New York, Louisiana, Texas, Georgia and Mississippi.
Outlook
According to Brinkmann, the nation is in for many more months of problem delinquencies. Historically late payments follow a pattern that begins with the economy slowing, which leads to job losses and then to increased delinquencies.
"It's difficult to deal with mortgage issues separately," he said.
He does not project a pick up in the economy until the end of the year, followed by an increase in employment late in 2010 and improvement in delinquency rates some time after that.
Retsinas pointed out that this foreclosure cycle is very different. Most delinquency increases in the past were kicked off by job losses. Not this time, which could have implications for the recovery.
"The problems started before the economy began failing," he said. "Now the failing economy makes the housing problems even more serious."

Features

These Fortune 100 employers have at least 350 openings each. What are they looking for in a new hire? More

It would be the world's second-biggest economy. See how big companies' sales stack up against GDP over the past decade. More