17th bank fails this year
The FDIC said that the failure of Freedom Bank of Georgia will cost it $36.2 million.
Map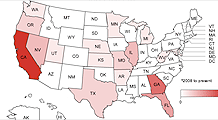 Ali Velshi & the CNN Money Team take on the dismal February jobs report. How will the job market recover?
Friday at 11 p.m. ET
NEW YORK (CNNMoney.com) -- State bank regulators closed Freedom Bank of Georgia Friday, making it the 17th bank to fail this year.
The announcement marks the eighth consecutive week that a bank failure has been reported after the stock market's closing bell on a Friday.
The failed bank, based in Commerce, Ga., had $173 million in assets and $161 million in deposits as of March 4, 2009, according to the Federal Deposit Insurance Corp.
The FDIC estimates the bank failure will cost its fund approximately $36.2 million.
Northeast Georgia Bank of Lavonia, Ga., agreed to assume all of the failed bank deposits, and buy about $167 million in assets, which it valued as worth $13.65 million less than their face value. The FDIC will retain the remaining assets.
The new bank and the FDIC have agreed to split the losses on $96.5 million in assets as part of a loss-share transaction.
The failed bank had 4 branches, according to the FDIC press release, and they will reopen on Monday as as branches of Northeast Georgia Bank.
Depositors of the failed bank are automatically transferred over to the new bank. Customers should keep using their existing branches until the new bank can completely take over the deposit records of the failed bank, according to the FDIC.
Customers of the failed bank will be able to access their deposits with debit cards and checks over the weekend. Those who owe loan payments should continue making those payments.
The FDIC fully insures individual accounts up to $250,000 through the end of 2009.
In all of 2008, 25 banks failed, and in the fourth quarter, the FDIC's list of troubled banks grew to 252, marking the highest level since 1994. The agency also projected the cost of failed banks to its fund could double from earlier projections to more than $80 billion by 2013.
The last Georgia bank to fail was FirstBank Financial Services of McDonough, on February 6.

Features

These Fortune 100 employers have at least 350 openings each. What are they looking for in a new hire? More

It would be the world's second-biggest economy. See how big companies' sales stack up against GDP over the past decade. More