Stocks' 2nd day in reverse
Wall Street retreats again as auto and bank woes spark a selloff after the rally.
Tracking the bailout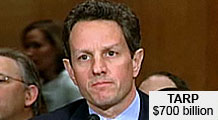 Photos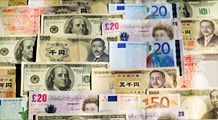 NEW YORK (CNNMoney.com) -- Stocks slumped Monday, falling for a second straight session, as worries about the auto and bank industries sent investors running after the recent rally.
The Dow Jones industrial average (INDU) fell 254 points, or 3.3%. It was the biggest one-day point loss since March 5. The S&P 500 (SPX) index lost 28 points, or 3.5%. The Nasdaq composite (COMP) lost 43 points, or 2.8%.
"I think we would have had a selloff anyway, and it was made worse by the autos," said Scott Armiger, portfolio manager at Christiana Bank & Trust Company
The three major gauges had surged over 20% in less than three weeks on optimism that the economy is closer to stabilizing. After such a run, a retreat was not unexpected, analysts said.
"We had a nice 23% rally, a classic bear market rally, and then we hit resistance," said Dave Rovelli, managing director of U.S. equity trading at Canaccord Adams.
He said stocks are bound to continue retreating when the earnings reporting period gets underway.
"Everyone knows the earnings will be terrible, but they want to hear from companies things are starting to look less terrible going forward," Rovelli said. "The problem is I don't think they are going to hear it."
Tuesday brings reports on consumer confidence, home prices and manufacturing in the Midwest.
Investors were also gearing up for the G-20 meeting of the world's biggest economies Thursday in London. President Obama is expected to address worries about some of the United States' policies and also push for greater financial regulation.
Autos: The Obama administration rejected General Motors' and Chrysler's turnaround plans, saying that a massive overhaul is needed for the companies to become viable and get more taxpayer money.
As part of the directive, GM CEO Rick Wagoner stepped down at the behest of the White House.
Armiger said that the firing of Wagoner was probably unnerving investors more than anything else.
"I don't think the market is reacting to the administration rejecting the recovery plans, but rather to the intrusion of the government into the private sector," Armiger said. "The government firing CEOs is concerning."
GM was given 60 days to come up with a better turnaround plan if it wants to receive more taxpayer money.
Chrysler was given 30 days to finish a deal with Fiat in order for the government to lend the company another $6 billion. On Monday afternoon, the automaker said that it now has a "framework" for a global alliance with Fiat, with the help of the U.S. Treasury.
Speaking Monday, President Obama said both companies need a fresh start to put their restructuring plans into play. "That may mean using our bankruptcy code as a mechanism to help them restructure quickly and emerge stronger," he said.
GM said it has a strong preference to completing restructuring out of bankruptcy, Reuters reported. But worries that one of the two might have to declare bankruptcy dragged on the auto sector and broader market.
GM (GM, Fortune 500) shares fell 25%, Ford Motor (F, Fortune 500) lost 2.8%, Toyota Motor (TM) lost 3%. Chrysler is privately held.
President Obama also announced that the federal government will honor new warranties on cars bought from GM or Chrysler.
Financials: Treasury Secretary Tim Geithner said Sunday that the government has about $135 billion left to bail out banks. He left the door open on whether he'll ask Congress for more money.
Shares of Citigroup (C, Fortune 500), Bank of America (BAC, Fortune 500), Wells Fargo (WFC, Fortune 500) and JPMorgan Chase (JPM, Fortune 500) were among decliners.
An exception was Fifth Third Bancorp (FITB, Fortune 500), which rallied 5% on news that it is selling its payments processing business to Advent International for $561 million. Shares gained 5%.
Market breadth was negative. On the New York Stock Exchange, losers topped winners by almost 8 to 1 on volume of 1.51 billion shares. On the Nasdaq, decliners topped advancers by over 3 to 1 on volume of 2.06 billion shares.
Bonds: Treasury prices rallied, lowering the yield on the benchmark 10-year note to 2.71% from 2.76% Friday. Treasury prices and yields move in opposite directions.
Lending rates were little changed. The 3-month Libor rate fell to 1.21% from 1.22% Friday, according to Bloomberg.com. The overnight Libor rate rose to 0.29% from 0.28%. Libor is a bank-to-bank lending rate.
Other markets: In global trading, Asian markets ended lower and European markets tumbled in afternoon trading.
In currency trading, the dollar gained against the euro and fell against the yen.
U.S. light crude oil for May delivery settled down $3.97 to settle at $48.41 a barrel on the New York Mercantile Exchange.
COMEX gold for June delivery fell $7.60 to settle at $917.70 an ounce.
Talkback: Do you have health insurance? Are you satisfied with your coverage? If you do not have health insurance, how do you pay for health care? E-mail your story to realstories@cnnmoney.com and you could be part of an upcoming article. For the CNNMoney.com Comment Policy, click here.

Features

These Fortune 100 employers have at least 350 openings each. What are they looking for in a new hire? More

It would be the world's second-biggest economy. See how big companies' sales stack up against GDP over the past decade. More