GM, Ford lure buyers worried over jobs
Automakers offer to cover payments for car purchasers who lose their jobs.
Photos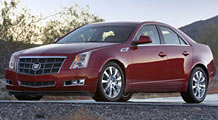 NEW YORK (CNNMoney.com) -- Ford Motor Co. and General Motors Corp. introduced incentive programs Tuesday designed to lure car buyers worried about losing their jobs.
The incentive programs are similar to one introduced in January by South Korean carmaker Hyundai.
Ford, as part of its "Drive One" deal, said it will make as many as 12 monthly payments of $700 or less on behalf of new car purchasers who lose their jobs. The program begins Tuesday and will continue through June 1.
The offer applies to buyers of any new Ford, Lincoln or Mercury vehicle. Ford's Swedish Volvo subsidiary, a division that Ford is trying to sell, is not included.
GM calls its plan "GM Total Confidence." The automaker will make as many as nine monthly payments of up to $500 each for buyers who lose their jobs "for economic reasons" during the first two years of ownership. Only those eligible for state unemployment benefits will be able to have their car payments covered, GM spokesman John McDondald said.
GM is also offering to protect consumers against the loss in their vehicles' value. If you want to purchase another GM vehicle later on but the GM vehicle you purchased today is worth less than the amount you still owe on it, GM will cover that difference, up to $5,000.
Consumers will not pay extra for the offers, GM says, and they apply to all GM's vehicles sold in the United States except Saab. GM is in the process of spinning off Saab, which is based in Sweden.
Hyundai has offered similar protections for purchasers who lose their jobs.
Ford and GM are also offering zero percent financing and other incentives on select vehicles.
"Consumer confidence is the biggest issue in the marketplace right now," said Mark Fields, executive vice president for Ford, in an interview on CNN's American Morning. "Getting that consumer confidence is really important, and that's why today we're launching our [new] plan."
Fields also reiterated that Ford will not be seeking taxpayer assistance, unlike U.S. rivals GM and Chrysler LLC.
The announcements come a day after President Obama said the administration had determined that General Motors (GM, Fortune 500) and Chrysler were not viable without significant restructuring. The government has already loaned $13.4 billion to GM and $4 billion to Chrysler.
Talkback:Have you bought a new car? Or are you holding on to your old vehicle? What would convince you to buy? Would you buy Detroit, or does the specter of bankruptcy push you to an import? E-mail realstories@cnnmoney.com and you could be part of an upcoming story. Your comments are subject to our Commenting Policy.

Features

These Fortune 100 employers have at least 350 openings each. What are they looking for in a new hire? More

It would be the world's second-biggest economy. See how big companies' sales stack up against GDP over the past decade. More