Miami housing: The power of cheap
Prices soared in the bubble and have crashed in the downturn. Now buyers are venturing back. Meet Theresa Caccamise, owner of an $85,000 fixer-upper.
Map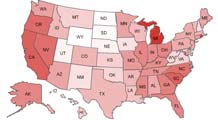 MIAMI (CNNMoney.com) -- Ivette Castillo thought buying a home at a time like this was out of the question. But when a friend told her there were great deals to be had in Miami, Castillo decided to test the waters.
To her amazement, she found she could have her pick of condos in the trendy Brickell neighborhood for less than the $1,200 she was paying to rent in nearby Doral. She bought a $99,000 pad that had been in foreclosure but needed little more than a paint job. The same condo sold for nearly $185,000 a few years ago.
"It was such a great opportunity. I didn't think twice," said Castillo, 24, who owns a marketing agency. "I'm getting more for my buck."
Castillo is among the thousands of people scooping up homes and condos in the Miami area, where properties are selling for a fraction of what they were just a few years ago.
It wasn't too long ago that the Miami housing market was one of the hottest in the country. Cranes filled the skies as developers rushed to cash in. Home values shot up 75% over three years, and some of the most desirable addresses doubled in price.
The market peaked in late 2005, and then it crashed hard.
As foreclosures soared, South Florida housing prices fell an average of 36%. The foreclosure rate hit 8.9% in February, up from 3.8% a year ago, according to First American CoreLogic. That compares to 1.7% for the rest of the country. Sales ground to a standstill.
But in recent months, low prices and low interest rates have been luring buyers. First-timers are finally finding homes they can afford, while investors say that for the first time in years they can negotiate deals that make sense.
The sales numbers are dramatic. In February alone, condo purchases skyrocketed 71% from a year earlier, while home sales soared 68%, according to the Florida Association of Realtors.
"I'm busier now than I was at the height of the market," said Ron Platt, an agent with Keller Williams Realty.
Miami isn't the only area experiencing a resurgence. Sales are up throughout Florida, as they are in other hard-hit markets, such as California. What's driving the spike? Bargain basement prices on foreclosed homes.
Sales of foreclosed properties and short-sales, where the bank agrees to forgive any remaining debt above the sale price, make up two-thirds of the transactions in Miami, according to Condo Vultures, a consulting firm.
The distress sales have driven prices lower. In February, the median price of a condo fell by half and the price of a single-family home dropped by 36% from a year ago, according to the Realtors group. Some newer condos that were selling for close to $500,000 are now going for a quarter of the price.
More to fall, but then steady
To be sure, the Miami market is far from returning to normal, real estate agents say. It will be years before it returns to its pre-boom patterns.
Most industry experts seem to agree that home values will fall another 10% or so over the next year. Then prices will stabilize.
Financing remains a challenge for some buyers, particularly those interested in condos. People paying cash or qualifying for government-insured FHA loans, which require only 3.5% down, are in the game. But they are having trouble buying condos in buildings where more than 15% of units are delinquent, since mortgage finance companies Fannie Mae and Freddie Mac won't touch those loans.
"We know the buyers are here," said Ron Shuffield, president of Esslinger Wooten Maxwell Realtors. "They just can't get financing."
Miami is also marked by a huge number of properties available for sale: 13,200 homes and 21,600 condos, according to Rick Burch, chair of the Realtor Association of Greater Miami and the Beaches. That's a 31-month supply of houses and a 52-month supply of apartments. And foreclosures keep coming.
Burch is hopeful the market will digest the inventory by the end of next year; he notes that 43,100 properties were available in July. But he's one of the more optimistic ones. Other experts say it could be years before inventories return to the traditional level of six to eight months' supply, the true sign of a normal market.
"When you've got that kind of inventory, you'd expect not to be able to sell things anywhere near the cost to build them for years to come," said Wayne Archer, executive director of the Bergstrom Center for Real Estate Studies at the University of Florida. "We've got to go through this before we get to recovery."
Buyers keep rushing in
But the uncertainty about the Miami market, including the possibility of further price declines, isn't stopping buyers.
Take Ricardo Melendez, 47. After losing money last year on a condo he bought in 2007, Melendez sat on the sidelines until recently because he felt homes were still overpriced. Then his agent, Kevin Veilleux, showed him an apartment that listed for $120,000, nearly one-quarter the price it sold for in 2005. The upscale condo, in a full-service building with a wrap-around balcony overlooking Biscayne Bay, needed almost no work. So Melendez bought it in late March.
"If I lose now and gain it later, as long as I'm even in the end, I'm okay with that," said Melendez, a corporate comptroller who plans to live there for at least five years.
Some buyers find they can buy more for their money each passing month.
When Raul Lamus started looking for homes a year ago in upscale Pinecrest, just south of Miami, he could afford to purchase a 5,000-square-foot dwelling on a half-acre lot. Within six months, the Kraft financial executive found he could upgrade to a larger home on a bigger piece of property closer to the water.
"The houses we were seeing were significantly better than the houses we were seeing in the beginning," said Lamus, who relocated to South Florida from Buenos Aires with his wife and two children.
After months of negotiation, he closed in February on a grand $1.7 million home, with hurricane-proof windows and a swimming pool, on an acre of land. The house was originally put on the market in 2007 for close to $2.5 million.
Plummeting prices have also brought investors back into the market, a welcome sign for real estate agents who are depending on them to soak up the excess inventory. Many had been waiting either because they felt the market was overpriced or because they lost their shirts in the crash.
A real estate investor for 20 years, Theresa Caccamise stopped buying in 2002. She didn't want to get involved in the frenzy, concerned the market could change overnight.
Now, she sees bargains. Last month, she bought a fixer-upper in foreclosure in working class North Miami for $85,000. The house, on a block of generally well-kept homes, had sold for $410,000 two years ago.
Caccamise, who works in the mortgage industry, plans to put about $30,000 worth of work into the property, which needs a new kitchen and bathroom and repairs to the roof. She figures she could get $190,000 for it.
Now, she's on the prowl for more opportunities. Banks, she said, are willing to make deals since they want to get foreclosed properties off their books.
"It's the Kmart blue light special sale," she said.

Features

These Fortune 100 employers have at least 350 openings each. What are they looking for in a new hire? More

It would be the world's second-biggest economy. See how big companies' sales stack up against GDP over the past decade. More