Wall Street takes a step back
Stocks retreat from a two-month rally as investors prepared for bank report cards.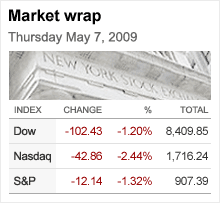 NEW YORK (CNNMoney.com) -- Stocks tumbled Thursday, as investors braced for the results of the stress tests of the nation's banks and backpedaled after a two-month rally that boosted the S&P 500 by 36%.
The Dow Jones industrial average (INDU) lost 102 points, or 1.2%. The S&P 500 (SPX) index lost 12 points, or 1.3%. The Nasdaq composite (COMP) fell 43 points, or 2.4%.
After the close of trading, regulators said 10 of the 19 financial firms tested would need to raise a total of $75 billion in additional capital in order to withstand a potentially bigger downturn in the economy.
Leading the charge, Dow component Bank of America (BAC, Fortune 500) will need to raise nearly $34 billion, the federal officials said. Wells Fargo (WFC, Fortune 500) needs $13.7 billion, auto finance firm GMAC needs $11.5 billion, Citigroup (C, Fortune 500) needs $5 billion and Morgan Stanley needs $1.8 billion.
The other companies that need to raise money are regional lenders PNC Financial Services (PNC, Fortune 500), Regions Financial (RF, Fortune 500), SunTrust (STI, Fortune 500), Fifth Third (FITB, Fortune 500) and KeyCorp (KEY, Fortune 500).
JPMorgan Chase (JPM, Fortune 500), American Express (AXP, Fortune 500), Goldman Sachs (GS, Fortune 500) and Bank of New York Mellon (BK, Fortune 500) won't need to raise money, as earlier reports had indicated.
Other companies that don't need more cash: Capital One Financial (COF, Fortune 500), BB&T (BBT, Fortune 500), US Bancorp (USB, Fortune 500), State Street (STT, Fortune 500) and insurer MetLife (MET, Fortune 500).
Also announced after the close: the chairman of the Federal Reserve Bank of New York has resigned effective immediately. (Full story)
Trading gains: The recent advance has been fueled by the "fast money, day trader guys" and that will probably continue to boost stocks in the short run, said Joseph Saluzzi, co-head of equity trading at Themis Trading. But longer term, he said he doesn't think the rally has anything fundamental to stand on.
The explanation for the rally has been that the pace of the slowdown is easing. But Saluzzi said he doesn't believe there have really been a lot of signs of that, besides hints of housing bottoming in some of the hardest-hit areas.
"If you are in a basement, you can't dig much lower," he said. "I think people jumped the gun here."
After the close Thursday, AIG (AIG, Fortune 500) reported a quarterly loss of 97 cents per share versus a loss of $1.41 a year ago. Analysts thought AIG would report a loss of 6 cents per share. Shares fell nearly 7% in extended-hours trading.
The government's April employment report is due Friday morning. Employers are expected to have cut 600,000 jobs from their payrolls after cutting 663,000 the previous month. The unemployment rate, generated by a separate survey, is expected to have risen to 8.9% from 8.5% in March.
Economy: The number of Americans filing new claims for unemployment fell to 601,000 last week from a revised 635,000 the prior week, the Labor Department reported. The figure marked a 3-month low. Economists surveyed by Briefing.com expected 635,000 claims.
Continuing claims, the number of people receiving benefits for a week or more, rose to 6.35 million, the 14th straight record high.
Another government report showed first-quarter productivity rose 0.8% after falling 0.6% in the previous month. Economists thought it would rise 0.6%. Unit labor costs rose 3.3% in the first quarter after rising 5.7% in the previous quarter. Economists thought costs would rise 2.7%.
Consumer credit plunged $11.1 billion in March after rising $8.1 billion in the previous month. Economists expected it to fall $4 billion.
Speaking Thursday morning, Federal Reserve Chairman Ben Bernanke talked about ways to improve oversight of the banking system so as to avoid future crises. He said a "holistic approach" was necessary and that regulators have to track individual banks and the system as a whole to manage risk.
Retailers: No. 1 retailer Wal-Mart Stores (WMT, Fortune 500) posted better-than-expected sales in April, but the overall retail picture remained mixed as consumer spending was tepid in a recessionary period.
Wal-Mart said same-store sales rose 5% in April, versus forecasts for a rise of 2.8%. Same-store sales is a retail metric referring to sales at stores open a year or more.
Children's Place (PLCE) reported a 5% rise versus forecasts for no change. Shares rose 10.6%.
Teen clothing retailer Hot Topic (HOTT) reported sales rose 3.1% versus a forecast for a rise of 7%. Shares plunged 19.6%.
Company news: General Motors (GM, Fortune 500), struggling to stay afloat, said it lost $6 billion, or $9.66 per share, in the first quarter. However, analysts were expecting an even bigger loss.
Late Wednesday, Cisco Systems (CSCO, Fortune 500) reported quarterly sales and earnings that fell from a year ago but still topped estimates. The company also said it sees signs of a turnaround.
Dow telecoms AT&T (T, Fortune 500) and Verizon Communications (VZ, Fortune 500) both slipped after JPMorgan Chase downgraded them.
Chipmakers led the tech decliners, with Intel (INTC, Fortune 500), Advanced Micro Devices (AMD, Fortune 500) and Broadcom (BRCM, Fortune 500) all slumping.
Market breadth was negative. On the New York Stock Exchange, losers topped winners by almost two to one on volume of 1.97 billion shares. On the Nasdaq, decliners topped advancers two to one on volume of 3.27 billion shares.
Bonds: Treasury prices fell, raising the yield on the benchmark 10-year note to 3.32% from 3.14% Wednesday. Treasury prices and yields move in opposite directions.
Other markets: In global trading, Asian markets ended higher. European markets ended mixed.
In currency trading, the dollar fell versus the euro and gained against the yen.
U.S. light crude oil for June delivery rose 36 cents to settle at $56.71 a barrel on the New York Mercantile Exchange.
COMEX gold for June delivery rose $4.50 to settle at $915.50 an ounce.

Features

These Fortune 100 employers have at least 350 openings each. What are they looking for in a new hire? More

It would be the world's second-biggest economy. See how big companies' sales stack up against GDP over the past decade. More