Obama vows antitrust crackdown
Justice Department official reverses Bush administration report that limited government's ability to pursue antitrust violations.
Bailout tracker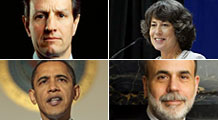 The government is engaged in a far-reaching - and expensive - effort to rescue the economy. Here's how you can keep tabs on the bailouts.
More
NEW YORK (CNNMoney.com) -- President Obama's top antitrust official said Monday that the administration will aggressively crack down on antitrust violations, reversing a Bush-era policy that had weakened the government's ability to take on monopolies.
"As antitrust enforcers, we can no longer sit on the sidelines," said Assistant Attorney General Christine Varney, speaking Monday at the Center for American Progress in Washington.
As part of her remarks, Varney retracted a September 2008 report that amended Section 2 of the Sherman Antitrust Act. Section 2 deemed it illegal to make any attempt at creating a monopoly but the amendment had loosened those rules.
"The report ... raised too many hurdles to government antitrust enforcement," Varney said. "Withdrawing the report is a shift in philosophy and the clearest way to let everyone know that the Antitrust Division will be aggressively pursuing cases where monopolists try to use their dominance in the marketplace to stifle competition and harm consumers."
Though the report had followed more than a year of hearings conducted by the Justice Department and the Federal Trade Commission, the FTC never actually signed the document.
Changing landscape: The Bush administration brought historically few antitrust cases to trial. But Varney said those days are over.
She promised a return to "tried and true case law and Supreme Court precedent." For example, Varney said the United States could start seeing more cases like the 1998-2001 United States vs. Microsoft case in which the software giant was found to have forced out Internet browser competition like Netscape and Opera.
There's a good chance that the Justice Department's decision will not only lead to more antitrust complaints but also to a more receptive ear, said Joe Angland, partner in White & Case's antitrust practice.
"The administration signaled that, in certain areas, it will adopt stricter rules to deal with dominant firms," he said. "It will likely lead to more investigations of the firms' abilities to deal with competitors."
But Angland added that the decision does not herald a return to the "bad old days" of the 1950s and '60s, when the government aimed to take down corporations it deemed too large. He said the repeal of the report likely means a return to Clinton-era policies which he described as "stricter, but not anti-business."
Angland also believes that the Obama administration is not looking to target any specific companies or sectors. Instead, the shift will likely lead to more investigations of loyalty discounts and refusals to deal with competitors -- two areas in which the Supreme Court has not issued a ruling.
"The administration can't change Supreme Court decisions; they can only step in where there is not a ruling," said Angland.
Varney will be delivering the same speech Tuesday at the U.S. Chamber of Commerce, which represents a broad spectrum of companies.
"The chamber is all for competition in the marketplace, but without knowing what the new standard is, without prescribed policies, it's tough to articulate whether the administration's plans are favorable or unfavorable position for businesses," said Sean Heather, executive director of global regulatory cooperation at the Chamber of Commerce. "Enforcement of policy needs to be grounded in sound economic analysis and hard evidence of harm to consumers," he added.
European shift: After Bush became president in 2001, many plaintiffs started opting to take antitrust cases to European courts.
Among the bigger cases, Microsoft (MSFT, Fortune 500) was fined $1.2 billion by the European Commission in February 2008 after it was found to be pricing out rivals and refusing to comply with the court's previous antitrust decision.
Similarly, European Union antitrust regulators are expected to say Wednesday that Intel Corp. (INTC, Fortune 500) unfairly paid computer makers to delay or even cancel products that contained chips made by rival AMD (AMD, Fortune 500), according to reports.
Varney, a former FTC commissioner under the Clinton administration, said the U.S. Justice Department plans to closely align itself with the European Union to streamline antitrust regulation. "I don't think you'll get a better result from one jurisdiction than another," she said.
Angland said the Justice Department's new antitrust enforcement will slow the movement of cases to European courts, but not end it completely.
Too big to fail...really? Varney said a major failure of the previous administration was allowing corporations to grow to such an extent that they essentially did become too big to fail. That's because many had become so intertwined with other businesses within their industry that a failure would have posed a systemic risk to the entire sector.
"Too big to fail [is] a failure of antitrust," Varney said. "The recent developments in the marketplace should make it clear that we can no longer rely upon the marketplace alone to ensure that competition and consumers will be protected."
Varney suggested a "back-to-basics" approach to antitrust enforcement. "When companies compete, you get better programs at lower prices," she said.

Features

These Fortune 100 employers have at least 350 openings each. What are they looking for in a new hire? More

It would be the world's second-biggest economy. See how big companies' sales stack up against GDP over the past decade. More