Stocks slog to mixed finish
Dow ends lower, Nasdaq edges up after housing data raise doubts about an economic recovery.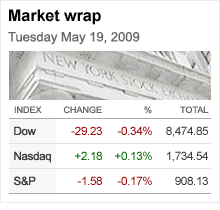 NEW YORK (CNNMoney.com) -- Stocks ended mixed Tuesday, after trading in a tight range on both sides of breakeven, following an unexpected drop in homebuilding that clouded the economic outlook.
The Dow Jones industrial average (INDU) fell 29 points, or 0.3%, while the S&P 500 (SPX) index lost less than 2 points. The Nasdaq composite (COMP) gained about 2 points.
Bank stocks showed early strength but gains faded near the closing bell. Shares of energy producers rose along with crude prices, which settled near $60 a barrel.
After the close, tech bellwether Hewlett-Packard (HPQ, Fortune 500) reported quarterly profit and revenue that was in line with estimates.
Stocks have gained significant ground over the past two months on bets the economy is headed for a recovery later this year. The major indexes all rose about 3% Monday after ending the previous week lower.
"On balance, we've got a market that has had an incredibly significant bounce from the lows of March 9 and is looking for new catalysts to go higher," said Art Hogan, chief market analyst at Jefferies & Co. in Boston.
Among the potential catalysts for Wednesday's session: Federal Reserve meeting minutes from last month will give investors a glimpse into how the central bank views the economy. And retail heavyweight Target (TGT, Fortune 500) will report fiscal first-quarter financial results before the opening bell.
While many analysts say the market is due for a pull back given the strength of the recent rally, Wall Street remains relatively optimistic about the possibility of moderate economic growth in the months ahead.
"The general theme is that some recent reports are starting to show signs of stabilization in the decline, and that's providing some relief," said Ryan Larson, senior equity trader at Voyageur Asset Management in Chicago.
In a sign the market is becoming slightly more confident, the CBOE Volatility Index, or VIX, fell below the key 30 level for the first time since September. The so-called fear index hit an all-time high of 77 in October when the global economy was on the verge of a meltdown.
Economy: The Commerce Department reported record lows for housing starts and building permits in April.
Housing starts dropped nearly 13% to the seasonally adjusted annual rate of 458,000 from a revised 525,000 in March. Building permits fell 3% to an annually adjusted rate of 494,000 in April, from the revised rate of 511,000 in March.
But the report had a bright spot. While multifamily dwellings declined sharply, starts and permits for single-family homes at the core of the housing market rose slightly.
Many analysts said the decline in new home construction was positive since the residential real estate market is already overstocked with unsold homes.
Banks: The Federal Reserve is in talks with a number of banks about repaying billions of dollars in government bailout funds they received under the Troubled Asset Relief Program.
Goldman Sachs (GS, Fortune 500), Morgan Stanley (MS, Fortune 500) and JPMorgan (JPM, Fortune 500) are among the largest banks that have applied to repay TARP money, sources told Reuters.
The banks are rushing to return the funds to avoid what they say are restrictive policies and demonstrate to investors that they are financially healthy.
Companies: Hewlett-Packard Co. reported a 17% drop in quarterly profit that still met Wall Street's forecasts. Sales fell 3% in the quarter.
HP said its results were hurt by charges related to its purchase of tech services firm EDS. The stock fell 4% in after-hours trading.
Earlier, home-improvement retailer Home Depot reported quarterly earnings that beat expectations. The company posted operating income of 35 cents per share, while a consensus of analyst forecasts from Thomson Reuters had expected 29 cents.
Despite the report, shares of Home Depot (HD, Fortune 500) fell more than 5%.
Shares of luxury retailer Saks (SKS) jumped 22% after it reported a smaller-than-expected quarterly loss and said it would continue to aggressively cut costs to offset declining sales.
Credit card company American Express (AXP, Fortune 500) said late Monday that it would slash 4,000 jobs, or about 6% of its global workforce.
Autos: President Obama announced stricter fuel economy standards aimed at cutting down vehicle greenhouse gas emissions.
While many automakers welcomed the effort to make the standards more universal, analysts said consumers may be reluctant to shift to smaller, more efficient cars if gas prices remain relatively low.
The national average price of a gallon of unleaded gasoline rose to $2.314, its 21th consecutive increase, according to a daily reading released by the motorist group AAA.
Bonds: Treasury prices slumped, raising the yield on the benchmark 10-year note to 3.24% from 3.21% Monday. Treasury prices and yields move in opposite directions.
Other markets: Stocks in Japan rallied, with the Nikkei gaining nearly 3%. India's benchmark SENSEX index closed moderately higher after a 17% surge in the previous session. European exchanges closed higher, with the DAX in Germany up 2.2%.
In currency trading, the dollar fell against major international currencies, including the euro, the British pound and the yen.
U.S. light crude oil for June delivery rose 62 cents to settle at $59.65 a barrel on the New York Mercantile Exchange. The contract rose to a high of $60.48 in pre-market, electronic trading.
COMEX gold for June delivery rose $5 to settle at $926.70 an ounce.

Features

These Fortune 100 employers have at least 350 openings each. What are they looking for in a new hire? More

It would be the world's second-biggest economy. See how big companies' sales stack up against GDP over the past decade. More