Stocks' gloomy outlook
Anxiety about the economic situation seen affecting investor sentiment. Markets around the world slump. Continuing jobless claims hit all-time high.
Bailout tracker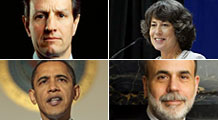 The government is engaged in a far-reaching - and expensive - effort to rescue the economy. Here's how you can keep tabs on the bailouts.
More
NEW YORK (CNNMoney.com) -- U.S. stocks were set to open lower Thursday, dragged by ongoing concerns about the nation's economic outlook and the latest report on the dismal job market.
At 8:48 a.m. ET, Dow Jones industrial average, S&P 500 and Nasdaq 100 futures were lower.
Futures measure current index values against perceived future performance and offer an indication of how markets may open when trading begins in New York.
U.S. stocks finished Wednesday's session lower after the Federal Reserve issued a gloomy forecast for the economy.
The Fed's forecasts, released in the form of minutes from its April meeting, project higher unemployment and a steeper drop in economic activity.
"I think for many people it was surprisingly downbeat," said David Jones, chief market strategist at IG Markets in London. "That really spooked traders around the world."
Jones said that many economists had believed the economy was improving because "we had seen the pace of decline start to ease." But according to the Fed's forecasts, "We may not see sustainable growth until 2011."
Economy: The Labor Department reported that initial jobless claims declined by 12,000 in the week ending May 16, compared to the revised figures for the proceeding week.
The number of people filing for first-time jobless benefits totaled 631,000 last week, slightly more than expected.
Jobless claims were expected to decline to 625,000 in the week ended May 16, according to a consensus of economist opinion from Briefing.com. That forecast was based on prior-week figures, which were recently changed.
Most investors will probably focus on the government's report that continuing claims hit 6.6 million, an all-time high.
A report on leading economic indicators comes out at 10 a.m. ET. The Philadelphia Federal Reserve's survey of regional manufacturing activity also comes out at that time.
Companies: Auto finance firm GMAC is poised to receive a second bailout from the U.S. Treasury, according to the Detroit News. The newspaper said the company is due to receive $7.5 billion more in aid.
World markets: Investors around the world were in a downbeat mood. In Asia, most shares finished lower. European stocks tumbled in morning trading, following Standard & Poor's downgrade of the U.K. market.
Manus Cranny, market analyst at MF Global, wrote in a published note that this downgrade, to a negative outlook from stable, is "just exactly" what the British stock market "did not need."
Oil and money: Oil slipped from its Wednesday high, but still continued to trade above $60 a barrel. The price of oil dropped $1.27 a barrel to $60.77.
The dollar rose versus major international currencies, including the euro, the yen and the British pound.

Features

These Fortune 100 employers have at least 350 openings each. What are they looking for in a new hire? More

It would be the world's second-biggest economy. See how big companies' sales stack up against GDP over the past decade. More