Oil hits 6-month high above $62
Crude futures recover earlier losses ahead of the next OPEC meeting, as a triple-digit rally on Wall Street supports takes charge.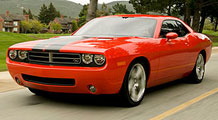 Get ready for a truly amazing fire sale. Many doomed Chrysler dealerships are stuck with some decent cars and trucks on their lots that they need to unload by June 9.
NEW YORK (CNNMoney.com) -- Oil prices rebounded Tuesday to their highest level this year as a triple-digit rally on Wall Street pulled crude off its earlier lows.
Violence in oil-rich Nigeria cut off supply pipelines, contributing to the price lift. At OPEC's upcoming meeting, investors expect the organization will leave production quotas unchanged.
Light, sweet crude for July delivery rose 78 cents, or 1.3%, to settle at $62.45 a barrel Tuesday.
That's the highest settle price since Nov. 5, and the fourth day in a row that oil has settled above $60.
Oil reached as low as $59.53 earlier in the session.
The New York Mercantile Exchange was closed Monday in observance of Memorial day, but oil continued to trade electronically.
Wall Street rally: Oil prices have been taking their cue from the stock market in recent months. Those who see stocks as a measure of overall confidence in the economy believe rising equities will mean healthier demand for oil.
On Tuesday, Wall Street posted strong gains, with the Dow Jones Industrial Average surging more than 200 points on the back of a better-than-expected consumer confidence report.
Meanwhile, movements in the dollar also tracked with oil's price jumps. Early in the Tuesday session, the dollar was gaining handily against other major currencies, as investors poured funds into the traditional safe haven.
But by midway through the afternoon, the dollar had given up some of its earlier advantage, as investors moved funds back to stocks.
Nigeria: The Movement for the Emancipation of the Niger Delta (MEND) said Monday that it had destroyed several major oil pipelines.
The militants said they "put out of operation" a Chevron facility. The group wants Nigeria's oil wealth to be distributed more evenly, with less profit going to politicians they consider corrupt. The supply disruptions boosted the price of oil.
OPEC: The Organization of Petroleum Exporting Countries - whose members produce about 40% of the world's crude - is scheduled to meet Thursday in Vienna.
The group will discuss crude oil production levels. When OPEC reduces production quotas for its member nations, global supply tightens and prices rise.
Starting late last year, OPEC announced reductions of 4.2 million barrels a day, and member nations have cut back. Crude hit a record of $147 a barrel last July, but the global recession pulled crude prices down to just shy of $34 a barrel in December.
Oil prices have been hovering around $60 a barrel in recent sessions, a level that analysts say is a good place for oil to stay for now. In OPEC's coming meeting, the oil market is largely expecting OPEC to hold its production levels steady.
OPEC could be scorned for pushing oil prices too high in the current economic climate. Higher oil prices would pose an additional speed bump for the economy as it tries to recover from recession, and in turn could further diminish demand for energy. A healthier economy demands more oil.
An OPEC cut "would certainly retard any sort of global economic recovery and would therefore extend, or even accelerate, the pace of demand destruction for oil," said Stephen Schork, publisher of industry newsletter The Schork Report, in his daily note.
Price at the pump continues to rise: Even as oil prices fell sharply Tuesday, gas prices continue to march higher. Retail gas prices have climbed for 28 consecutive days, putting pressure on the those travelers who hit the road for Memorial Day.
The national average price for a gallon of regular unleaded gasoline increased to $2.425, up 1 tenth of a cent from the previous day's price of $2.424, according to a daily survey by motorist group AAA.
In the last 28 days, the average price of gas has jumped 37.7 cents or 18.4%. The average price of a gallon of gas is still down $1.68 or 41% from the record high price of $4.114 that AAA reported on July 17, 2008.

Features

These Fortune 100 employers have at least 350 openings each. What are they looking for in a new hire? More

It would be the world's second-biggest economy. See how big companies' sales stack up against GDP over the past decade. More