Stocks slump after 4-session run
Markets retreat as investors assess a mix of economic news and Bernanke comments.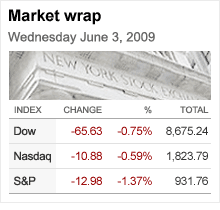 Bailout tracker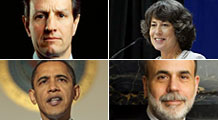 The government is engaged in a far-reaching - and expensive - effort to rescue the economy. Here's how you can keep tabs on the bailouts.
More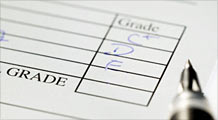 GM, Ford, and Chrysler, the former Big 3 now dwindled to the Detroit 3, have gone in such different directions they don't seem to be on the same planet - let alone the same city. Will they make it? Fortune grades each on its performance and prospects.
NEW YORK (CNNMoney.com) -- Stocks slipped Wednesday, as a four-session advance lost steam, after mixed readings on the economy and ahead of retail sales and labor market reports due later this week.
Treasury prices rallied, lowering the corresponding yields, while the dollar gained versus other major currencies. Oil and gold prices tumbled.
The Dow Jones industrial average (INDU) lost 66 points, or 0.8%. The S&P 500 (SPX) index fell 13 points, or 1.4%. The Nasdaq composite (COMP) dipped 11 points, or 0.6%.
Reports on the job market, factory orders and the services sector of the economy were in focus, along with congressional testimony from Federal Reserve Chairman Ben Bernanke.
Some of the economic reports were short of estimates and Bernanke's comments may have been seen as a little more cautionary than would have been expected, said Michael Sheldon, chief market strategist at RDM Financial Group.
In addition, "the market has risen in 10 of the last 12 weeks and investors may be starting to run out of gas," he said.
However, Sheldon said that a bit of a pullback is unsurprising, considering that the market, as represented by the S&P 500, has risen around 40% since the March lows.
"Given the amount we've covered in a short amount of time, it's reasonable to see some declines," he said. "The key going forward is that we continue to get improving economic news."
Looking out, the trend for stocks is likely to remain positive for the next few months, if only because of the enormous amount of money the government is pouring into the system, said Will Hepburn, chief investment officer at Hepburn Capital Management.
"The government is flooding the system with cash and until it is used for hiring or building, it is going to go into the financial markets," Hepburn said.
Thursday brings May sales from the nation's chain stores, the weekly jobless claims report from the Labor Department and the revised reading on first-quarter productivity and unit labor costs.
Movers: Stock declines Wednesday were broad based, with 24 of 30 Dow issues falling, led by oil companies Chevron (CVX, Fortune 500) and Exxon Mobil (XOM, Fortune 500).
Oil prices fell along with the price of oil, which tumbled after the government's weekly inventory report showed a larger-than-expected build up in inventories.
Fellow oil services firm Valero Energy (VLO, Fortune 500) tumbled 18% after warning that it would report a quarterly loss rather than a quarterly profit analysts expected. The company also said it will make an additional 40 million shares available.
A variety of bank shares fell, including Bank of America (BAC, Fortune 500), Citigroup (C, Fortune 500), Morgan Stanley (MS, Fortune 500) and JPMorgan Chase (JPM, Fortune 500). The KBW Bank (BKX) index lost 1.5%.
Market breadth was negative. On the New York Stock Exchange, losers beat winners seven to three on volume of 1.33 billion shares. On the Nasdaq, decliners topped advancers eight to five on volume of 2.35 billion shares.
Labor market: A pair of reports released Wednesday morning showed the pace of job losses could be slowing.
Private-sector employers cut 532,000 jobs in May after paring 545,000 in April, according to payroll-services firm ADP. Expectations were for 525,000 cuts, according to a Briefing.com survey of economists.
A separate report showed the number of job cuts announced in May fell for the fourth month in a row. According to outplacement firm Challenger, Gray & Christmas Inc., job cut announcements by U.S. employers were 111,182 in the month, down from 132,590 in April. The figure was the lowest total since last September, but still up from a year earlier.
The reports set the tone for the broader May non-farm payrolls report due out Friday.
Economy: In other news, the Institute for Supply Management's index on the services sector of the economy improved to 44 from 43.7 in April. However, that was short of forecasts for an improvement to 45.
Factory orders rose 0.7% in April after falling 1.9% in March. Economists thought orders would climb 0.9%.
Bernanke: The Federal Reserve Chairman told the House Budget Committee that while data show the pace of the recession is slowing, the economy still has a lot of work ahead of it.
In particular, Bernanke talked about the impact of the still-weak labor market and decline in household wealth.
Bonds: Treasury prices rose, lowering the yield on the benchmark 10-year note to 3.54% from 3.61% Tuesday. Treasury prices and yields move in opposite directions.
Other markets: In global trading, Asian markets ended higher and European markets ended lower.
In currency trading, the dollar gained versus the euro and yen.
U.S. light crude oil for July delivery fell $2.43 to settle at $66.12 a barrel on the New York Mercantile Exchange.
COMEX gold for August delivery slipped $18.70 to settle at $964.50 an ounce.

Features

These Fortune 100 employers have at least 350 openings each. What are they looking for in a new hire? More

It would be the world's second-biggest economy. See how big companies' sales stack up against GDP over the past decade. More