Bernanke: Recovery will be slow
Fed chairman says weak labor market and continued tightness in credit conditions will rein in recovery's pace, and urges lawmakers to address debt.
Bailout tracker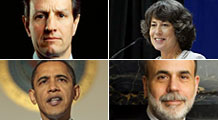 The government is engaged in a far-reaching - and expensive - effort to rescue the economy. Here's how you can keep tabs on the bailouts.
More
NEW YORK (CNNMoney.com)  -- Data suggest the economic contraction may be slowing, but the economy is hardly out of the woods, Federal Reserve Chairman Ben Bernanke told lawmakers on Wednesday.
"A number of factors are likely to continue to weigh on consumer spending, among them the weak labor market, the declines in equity and housing wealth that households have experienced over the past two years, and still-tight credit conditions," Bernanke said.
Bernanke, testifying before the House Budget Committee, said that he still anticipates that the economy will start its recovery later this year.
But Bernanke cautioned that "recovery will only gradually gain momentum and that economic slack will diminish slowly." Companies will be wary of hiring and the unemployment rate is likely to rise "even after economic growth resumes," he said.
The nationwide unemployment rate, which will be updated on Friday, stands at a 25-year high of 8.9%. Economists expect it to reach 10% later this year.
Bernanke also repeatedly signaled to lawmakers that they should start making plans to address the country's growing debt levels so investors will continue to be willing to buy U.S. Treasurys at low rates.
The country's near-term actions to stem the financial and economic crises -- including $700 billion to stabilize the financial system and a $787 billion package to stabilize the economy -- were necessary, he said.
Both actions will increase the deficit substantially. Cumulative debt to gross domestic product is on track to rise from roughly 40% before the financial crisis began to 70% in 2011.
Beyond that, if President Obama's 2010 budget proposals are put into effect, the debt-to-GDP ratio will jump to 82% in 2019, according to estimates from the Congressional Budget Office.
While investors so far have been largely willing to buy U.S. debt at low rates to fund U.S. recovery efforts and are likely to continue doing so in the near term, that situation won't last forever.
"Given that we've seen this increase in the debt-to-GDP ratio, we should ... at least stabilize it at the higher level and over time to try to reduce it," Bernanke said. "But certainly, we cannot allow ourselves to be in a situation where the debt continues to rise."
Otherwise, financial markets are likely to have less confidence in the United States' ability to repay what it owes, and investors will demand higher rates for the risk they take buying Treasurys. That then creates a vicious cycle, because higher rates will further worsen the U.S. debt outlook.
"At some point, you'll hit a point where you'll have to have both very draconian cuts and very large tax increases, which is not something we want," Bernanke said.
Among the tough choices facing lawmakers: deciding what size of government they want going forward and ensuring that tax rates are sufficient to provide enough revenue to balance out the country's spending priorities in the years ahead, Bernanke said.
"Near-term challenges must not be allowed to hinder timely consideration of the steps needed to address fiscal imbalances."

Features

These Fortune 100 employers have at least 350 openings each. What are they looking for in a new hire? More

It would be the world's second-biggest economy. See how big companies' sales stack up against GDP over the past decade. More