Keep the job-search blues at bay
It may be tempting to just give up looking in this tough job market, but that's a mistake. If you're a 'discouraged worker,' here's five ways to get moving again.
jobs by

Find a Job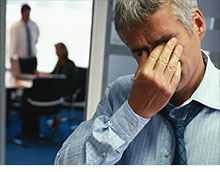 NEW YORK (Fortune) -- Dear Annie: I am worried about my husband of 19 years, who had a successful career in manufacturing project management until this recession hit. He lost his most recent job almost ten months ago, and at first he was doing a lot of networking, applying for jobs online, and even getting a few interviews, none of which panned out.
But lately, he seems to have given up. He hasn't met with anyone in his network for weeks now, he isn't applying for anything, and he mostly just hangs around the house or goes to the movies. I want to encourage him to get back out there and keep trying, but I don't know what to say that won't sound like criticism, which he doesn't need right now. Do you or your readers have any suggestions for us? -Midwestern Mama
Dear MM: Cold comfort though it undoubtedly is, your husband is far from alone. The number of "discouraged workers" -- those who have not actively looked for work in the past four weeks, primarily because they believe no jobs are available for them -- shot up 70%, to about 717,000, between the first three months of 2008 and the first quarter of this year, according to the Bureau of Labor Statistics.
"We speak with plenty of people who say they aren't job hunting right now because they're waiting for the economy to pick up in 2010," says Gladys Stone, a partner in San Francisco-based coaching firm Whelan Stone. "But there is hiring going on, and the people who are getting hired are the ones who are out there trying the hardest, without stopping."
Adds partner Fred Whelan: "To a great extent, it's a numbers game. If you're in touch with enough people and you make enough contacts and pursue enough opportunities, the odds are that something will click. Whatever your husband did to land those interviews he did get was clearly the right stuff -- he just needs to do more of it."
Of course, nobody is saying that it's easy to keep on keeping on when nothing seems to be working out. "Discouragement is normal in these circumstances," says Stone. "But when you come right down to it, it's just a mood. You can push past it. And as a project manager, your husband has faced difficult challenges before. Encourage him to think of this job hunt as just one more tough project."
To give people a blueprint for achieving work objectives, Whelan and Stone have written a useful book called Goal!: Your 30-Day Game Plan for Business and Career Success (Quill Driver Books, $14.95). A one-day-at-a-time workbook for crystallizing short-term steps toward long-term goals, and recording each day's progress, the book could be a huge help to anyone who is struggling with what to do next.
"When job hunters tell us, 'I've tried everything I can think of, and nothing is working,' we always suggest they make a detailed plan of action for themselves and then stick to it," says Stone. In a recent conversation, Stone and Whelan offered these tips for the discouraged:
Contact three prospective employers each day. Every day, research three companies that interest you. Then, send an e-mail to the person in charge of your area at those firms -- the CFO if you're in finance, the head of marketing if you're in marketing, and so on -- introducing yourself and briefly explaining how your skills could be of value.
"Bypass human resources and go straight to the boss," says Stone. "That person may be making changes and filling openings that HR doesn't know about."
Once you've been doing that a while, add one more step: Follow up, every day, with three companies you contacted the week before.
"Put in an eight-hour day, every day," says Whelan. "For now, this is your job."
Meet with one person in your network daily. "Networking often makes people uncomfortable, but it's really the only way to find out what's going on," notes Whelan. "So meet with someone in person every day, even if it's just to stop by their office for a brief chat or to grab a quick cup of coffee somewhere. Remember, you aren't asking for a job, you're just trading information."
In-person meetings have two advantages over online or phone chats, notes Stone. First, "people will often tell you useful things in a face-to-face conversation that they wouldn't say in an e-mail or on the phone." And second, in-person meetings get you out of the house and can have an energizing effect. "If you go downtown and set up your laptop at a Starbucks, rather than researching employers online from home, you're out there seeing people. You might run into an acquaintance on the commuter train, for example," says Stone. "Just getting out and about helps you to feel connected" -- a powerful antidote to discouragement.
If you perform those tasks each and every day, not just a couple of times a week or every now and then, you vastly increase your chances of finding the right opportunity.
Cultivate your connections. One way to reach lots of people who might be interested in you and your skills, says Stone, is to use the Q & A feature on LinkedIn to answer questions in your area of expertise. "Helping someone you don't even know yet really makes you visible," she says. "Then follow through and maintain contact with the people whose questions you've answered, to see how your advice worked out." Stone and Whelan know successful job seekers who got their new jobs by answering as many as 200 LinkedIn questions a month. You don't have to take that approach, but try helping others in need, whether on LinkedIn or elsewhere. You might be surprised at the results.
Be accountable to someone. As an added incentive to keep putting in those eight-hour days, says Whelan, "you need someone you'll report to at the end of each week, who is interested in your progress."
It should be someone trustworthy whose opinion you value, whether that's a spouse or significant other, a friend, or a job search group at a local church or community center.
"It can be really helpful to share what you've accomplished each week with someone who's a confidant and a cheerleader, and who can keep reminding you that you do have valuable skills to offer and that it's not hopeless," says Stone. "If all else fails, think about hiring a coach. Even Tiger Woods has a swing coach."
Keep your eye on the prize. Keep picturing your goal -- a great new job -- in your mind's eye. There is truth in that corny New Age saying, "If you can see it, you can be it."
"The subconscious mind is a powerful thing," says Stone. "It accepts what you tell it. If you plant thoughts and images of success in your mind, your brain will find ways to make success happen" -- as long as you're helping it along by keeping on with those busy eight-hour days.
Readers, what do you say? Have you or a loved one endured a long, discouraging job hunt? What have you found to keep your spirits up and help you stay motivated? If you've gotten hired after a long search, what do you think was most helpful in landing your new job? Post your thoughts on the Ask Annie blog.