U.S. probes Google, Apple on hiring
The Justice Dept. is looking into whether Silicon Valley companies agreed to not hire away top talent from one another, according to reports.
Photos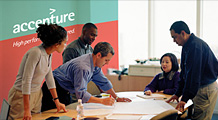 NEW YORK (CNNMoney.com) -- The U.S. Justice Department is investigating the hiring practices of some major players in the tech industry in the latest sign that the Obama administration is getting serious about its antitrust crackdown promises.
A spokesman for Genentech confirmed that the company has received a request from the Justice Department for information, and said it is one of "many companies" that have received similar requests. The company would not confirm the nature of the inquiry or discuss what kind of documents the DOJ is seeking.
According to the Washington Post and New York Times, both citing sources familiar with the investigation, Google (GOOG, Fortune 500), Apple (AAPL, Fortune 500), Yahoo (YHOO, Fortune 500), Genentech and several other tech companies are subject to a probe by the U.S. government to determine if the companies agreed not to hire away top talent from one another.
Spokesmen for the Justice Department, Yahoo and Apple declined to comment. Google did not return requests for comment.
The reports say that the investigation is in a preliminary stage, and no formal charges against any of the companies have yet been levied.
Analysts say non-compete agreements are often signed with employees in response to lawsuits surrounding high-profile executives switching companies. Several of those cases have popped up recently, with companies complaining that top talent could leak secrets to competitors.
In April, EMC sued Hewlett-Packard (HPQ, Fortune 500) for swiping away its storage head, Dave Donatelli. And late last year, IBM (IBM, Fortune 500) sued Apple for hiring away its vice president, Mark Papermaster.
"After lawsuits, agreements are sometimes written so they don't end up in a situation where they're constantly suing each other," said Martin Reynolds, a tech industry analyst at Gartner. "Companies are obviously interested in the protection of their intellectual capital."
Non-compete contracts with employees are perfectly legal, but experts say that a similar agreement between two or more companies could constitute a violation of federal antitrust laws.
"Those agreements would hurt employees by limiting their mobility and pay," said Richard Brosnick, an antitrust attorney at Butzel Long. "But the Justice Department would be more interested in their broad economic impact, because those negotiations could entrench monopolies."
A deal between a dominant search company and a dominant telecom company to not hire away one another's employees, for example, could help solidify each company's position in their respective markets.
Monopoly crackdown: The news comes just three weeks after Christine Varney, assistant attorney general of the DOJ's antitrust division, said the Obama administration would be "aggressively pursuing" monopoly and antitrust cases against dominant companies. In mid-May, Varney reversed a Bush-era law that made the bringing of antitrust cases against single firms more difficult.
Several rumors about antitrust investigations have been creeping up recently, most notably talk of a review of whether it was proper for Google CEO Eric Schmidt to be on Apple's board of directors.
N. Venkatranam, antitrust expert and head of the IT group at the Boston University School of Management, said the latest news is likely more of a shot across the bow than a case that the Justice Dept. will pursue to the end.
"This will be very hard to litigate, because non-action cannot be seen as collusionary," said Venkatranam. "The Justice Department could be using this as a ploy so these companies don't enter into these kinds of agreements in the future."
Tech's long antitrust history: Antitrust cases against big tech companies had been more common before George W. Bush became president in 2001. During the Clinton administration, the landmark United States vs. Microsoft case found that the software giant illegally forced out Netscape and Opera from Internet browser competition.
A perception grew in this decade that the U.S. courts had become less favorable to antitrust cases than European courts, and many plaintiffs opted to take complaints abroad in recent years.
Among the bigger decisions, Microsoft (MSFT, Fortune 500) was fined $1.2 billion by the European Commission in February 2008 after it was found to be pricing out rivals and refusing to comply with the court's 2004 antitrust decision. In that earlier case, Microsoft was fined $650 million.
Last month, European Union antitrust regulators fined Intel Corp. (INTC, Fortune 500) a record $1.5 billion for unfairly paying computer makers to delay or even cancel products that contained chips made by rival AMD (AMD, Fortune 500).

Features

These Fortune 100 employers have at least 350 openings each. What are they looking for in a new hire? More

It would be the world's second-biggest economy. See how big companies' sales stack up against GDP over the past decade. More