Stocks restart the advance
Wall Street ends with gains for the fifth time in six sessions. Employment report, oil, bank and tech shares spur the advance.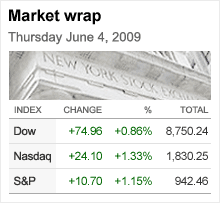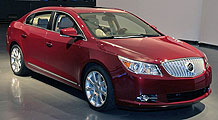 GM is launching a slate of new products. Can they give a lift to the auto giant as it enters a new era?
Bailout tracker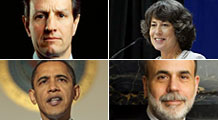 The government is engaged in a far-reaching - and expensive - effort to rescue the economy. Here's how you can keep tabs on the bailouts.
More
NEW YORK (CNNMoney.com) -- Stocks rallied Thursday, led by energy, financial and tech shares, as investors welcomed signs of improvement in the labor market ahead of the big monthly jobs report.
Meanwhile, treasury prices slumped, raising the corresponding yields, as investors pulled money out of the safer asset and put it into stocks.
The Dow Jones industrial average (INDU) gained 75 points, or 0.9%. The S&P 500 (SPX) index added 10 points, or 1.1%. The Nasdaq composite (COMP) added 24 points, or 1.3%.
While there are concerns about Friday's jobs report, the energy-and-bank-stock-driven rally of the last few weeks has resumed after Wednesday's slide, said Kenny Landgraf, principal and founder at Kenjol Capital Management.
"The uptrend remains intact, there's a rotation out of bonds, volatility is down and risk-taking is back in the market," Landgraf said.
Oil prices surged, along with the underlying stocks, after Goldman Sachs boosted its 2009 crude forecast to $85 a barrel and issued a 2010 forecast of $95 per barrel. Bank shares advanced as well, lifting the 24-share KBW Bank (BKX) index by 4.8%.
Friday brings the May jobs report from the Labor Department. Employers are expected to have cut 520,000 jobs from their payrolls after cutting 539,000 in the previous month. The unemployment rate, generated by a separate survey, is expected to have risen to 9.2% from 8.9% in the previous month.
Although the report will be closely watched, the results are not likely to shake investors too much, unless they diverge considerably from forecasts, said Gary Webb, CEO at Webb Financial Group.
"At this point, people know that the unemployment rate is going to keep rising for a while and that the labor market will recover later than the rest of the economy," Webb said.
Stocks rallied in March and April on bets that the economy is closer to stabilizing. But now that expectations have risen, investors are looking for more concrete evidence. That anticipation limited stock gains through most of May. But the major gauges have now closed higher for five of the last six sessions.
Stocks are likely to continue a similarly jerky move upward over the next few months, Webb said.
Mozilo: In other news, the Securities and Exchange Commission said Thursday afternoon that it has filed fraud charges against former Countrywide CEO Angelo Mozilo and two others.
The charges likely relate to the timing of Mozilo's sale of shares of the mortgage lender -- and whether he benefited from dumping stock ahead of the company's near implosion and subsequent sale to Bank of America (BAC, Fortune 500).
Jobs: The Labor Department's weekly jobless claims report offered a few encouraging signs in advance of Friday's big jobs report.
The number of Americans filing first-time claims for unemployment dipped last week to 621,000 from a revised 625,000 in the previous week. Economists surveyed by Briefing.com forecast 620,000 new claims.
But continuing claims -- the number of Americans receiving claims for a second week or more -- declined for the first time in 20 weeks.
In other economic news, first-quarter productivity increased 1.6%, revised up from its first reading of 0.8%. Economists surveyed by Briefing.com forecast a revised gain of 1.2%.
Retailers: Most May sales reports showed that the U.S. consumer continues to struggle, with improvements in sentiment not yet resulting in renewed buying.
May retail sales fell a sharper-than-expected 4.8%, according to Thomson Reuters, versus a gain of 1.1% a year ago.
Among the standouts, Gap (GPS, Fortune 500) said same-store sales, or sales at stores open more than a year, fell 6% while Abercrombie & Fitch (ANF) said same-store sales fell 28%. Both stocks tumbled.
No. 1 retailer Wal-Mart (WMT, Fortune 500), which no longer issues monthly sales results and is therefore not included in the index, said it will hire over 22,000 people this year to work at its new or expanded U.S. stores.
Company news: Intel (INTC, Fortune 500) will buy software maker Wind River for $884 million in cash, or $11.50 per share, a premium of more than 40% over Wind River (WIND)'s Wednesday closing price. Intel gained 1.2%, while Wind River rose 47%.
Regional bank Fifth Third Bancorp (FITB, Fortune 500) said it sold $1 billion of common stock and is on track to raise more than the $1.1 billion federal regulators have said it must as a result of the "stress tests." Shares gained 7.3%.
Market breadth was positive. On the New York Stock Exchange, winners topped losers by over three to one on volume of 1.36 billion shares. On the Nasdaq, advancers topped decliners by more than two to one on volume of 2.50 billion shares.
Bonds: Treasury prices tumbled, raising the yield on the benchmark 10-year note to 3.71% from 3.54% Wednesday. Treasury prices and yields move in opposite directions.
Other markets: In global trading, Asian markets ended lower and European markets ended higher.
In currency trading, the dollar fell versus the euro and gained against the yen.
U.S. light crude oil for July delivery rose $2.69 to settle at $68.81 a barrel on the New York Mercantile Exchange.
COMEX gold for August delivery rose $16.70 to settle at $982.30 an ounce.

Features

These Fortune 100 employers have at least 350 openings each. What are they looking for in a new hire? More

It would be the world's second-biggest economy. See how big companies' sales stack up against GDP over the past decade. More