Oil hits 7-month high on U.S. jobs data
Goldman Sachs raises its 2009 forecast from $65 to $85 a barrel and introduces 2010 forecast of $95.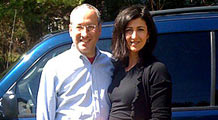 From a 1997 Mercury Cougar to a 2009 Honda Pilot, 8 readers tell us why they decided to buy a new car or keep their old wheels.
Find your next Car

NEW YORK (Reuters) -- Oil prices rose to a seven-month high near $69 a barrel Thursday after U.S. data showed a drop in jobless claims, boosting expectations of an economic recovery that could revive ailing energy demand.
U.S. investment bank Goldman Sachs (GS, Fortune 500) said an economic rebound, alongside production cuts by the OPEC cartel, could propel crude to $85 a barrel by the end of the year and to $95 a barrel by the end of 2010.
"For the better or for the worse, a switch in the Goldman price forecast rarely does not have a price influence, and we will need to take it as a market input for the next few days," Petromatrix analyst Olivier Jakob said.
U.S. crude for July delivery rose $2.69 to settle at $68.81 a barrel Thursday, after briefly touching $69.60, the highest since early November.
The number of U.S. workers filing new claims for jobless benefits fell for a third straight week, government data showed on Thursday, indicating some loss of force in the pace of the job market's deterioration.
"As has been the case lately, constructive economic data has been used as an indicator that the economy will improve and that oil demand will follow," said Peter Beutel, president of trading consultants Cameron Hanover in New Canaan, Conn.
"But fundamentals at this point do not justify the current prices for crude futures," he added.
Oil closed more than $2 a barrel lower onWednesday, after the Energy Information Administration reported U.S. crude inventories rose 2.9 million barrels; analysts polled by Reuters had expected a decline of 1.4 million barrels.
Inventories of crude oil have swelled since the start of the economic crisis last autumn as global energy demand dipped for the first time in a quarter century.
Aside from brimming onshore storage levels, some 100 million barrels of crude oil have been stowed away on vessels at sea, French oil major Total's head of strategy and planning told the Reuters Global Energy Summit Thursday.
Concerns over weak demand and rising inventories have led producer group OPEC to agree to 4.2 million barrels per day worth of crude oil output cuts since September.
Saudi Oil Minister Ali al-Naimi has said OPEC would wait until crude inventories fall to around 53 days of forward cover -- nearly 10 days below current levels -- before considering raising output again.

Features

These Fortune 100 employers have at least 350 openings each. What are they looking for in a new hire? More

It would be the world's second-biggest economy. See how big companies' sales stack up against GDP over the past decade. More