Ten banks allowed to pay back TARP
Leading lenders expected to return a total of $68 billion in bailout funds to taxpayers. JPMorgan Chase and U.S. Bancorp confirm they have been approved.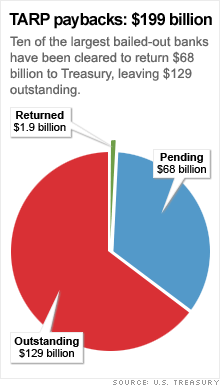 Bailout tracker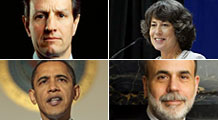 The government is engaged in a far-reaching - and expensive - effort to rescue the economy. Here's how you can keep tabs on the bailouts.
More
NEW YORK (CNNMoney.com) -- Ten leading banks won approval to repay money from the government's controversial TARP program, regulators said Tuesday, which could represent approximately $68 billion in bailout funds returned to taxpayers.
The Treasury Department, which has overseen the $700 billion Troubled Asset Relief Program, did not indicate which banks were included in that group, although most lenders confirmed the news separately.
Eight of the nine banks that were found to not need new capital following the government's bank stress tests last month made the list.
JPMorgan Chase (JPM, Fortune 500), Goldman Sachs (GS, Fortune 500), American Express (AXP, Fortune 500), Bank of New York Mellon (BK, Fortune 500), State Street (STT, Fortune 500) as well as regional banking giants Capital One (COF, Fortune 500), BB&T (BBT, Fortune 500) and U.S. Bancorp (USB, Fortune 500) all said they will pay back TARP funds. (Insurer MetLife also was not required to raise capital but it did not receive any TARP money.)
Investment bank Morgan Stanley (MS, Fortune 500), which was the only financial firm that regulators did ask to raise money after the stress tests, confirmed it also won approval from the Treasury Department to pay back $10 billion.
Chicago-based Northern Trust (NTRS, Fortune 500), which took in $1.576 billion in TARP funds but was not part of the bank stress tests, also Tuesday said it won government approval to exit the program.
All 10 financial firms indicated that they intended to pay back TARP funds by redeeming the preferred shares the government acquired in them last fall. Such a move would return approximately $68 billion to the government's coffers.
So far, the Treasury Department has allowed nearly two dozen small, mostly community-based lenders to redeem the government's preferred shares, representing nearly $1.9 billion in taxpayer money.
'Troubles not over' for banks
In a press conference Tuesday, President Obama said such repayments "a positive sign," but warned that the financial crisis still presented challenges to both American businesses and consumers
"This is not a sign that our troubles are over, far from it," he said.
Proceeds received from those 10 banks will be applied to the Treasury Department's general account, the agency said Tuesday, some of which be will used to promote financial stability should the economy take a turn for the worse. A portion of those funds will also be used to reduce Treasury's borrowing and rein in the nation's rapidly rising deficit.
Including the approximately $4.5 billion in dividend payments made by the ten banks to date, the White House maintained Tuesday that the government would turn a profit on its investment in the nation's leading banks.
Treasury Secretary Tim Geithner, who spent much of the morning testifying before a Senate panel, noted that the returns from TARP could not just be measured in dollars, but that intangible benefits had to be considered as well, namely TARP's role in helping to stabilize the U.S. financial system.
"People will bring all sorts of financial prisms to judge the return," he said. "Of course you have to look at the return to the country, not just in terms of the direct financial returns to the taxpayer, which are significant."
The banks that buy back the government's stake will also be able to repurchase the warrants, or rights to purchase shares at a future date, the government acquired when it injected capital into many of these banks late last year.
Treasury said those obligations could be purchased at a "fair market value", but that banks wishing to repurchase warrants would have to hire an independent advisor to come up with that number. Those estimates, however, would have to match those of the Treasury Department before banks get the go ahead to repurchase the warrants.
Leading up to Tuesday's announcement, there had been talk that the government may auction those warrants on the open market in order to quell criticism about their pricing. Some have charged that allowing banks to redeem warrants at too cheap of a price would be to the disadvantage of U.S. taxpayers who stand to make significant gains should bank stocks continue to move higher in the months and years ahead.
Five banks -- State Street, U.S. Bancorp, JPMorgan Chase, Northern Trust and BB&T -- explicitly said Tuesday they planned to buy back the government's warrants.
Casting off the 'scarlet letter'
Large lenders have been working particularly hard to break free from the TARP program for several months. Many have raised billions of dollars in fresh capital in recent weeks and issued debt without government backing.
Banks have grown increasingly frustrated with the program amid various government restrictions, including limitations on the hiring of foreign workers. Wall Street firms have also complained intensely about the compensation restrictions associated with the program, noting that many top performers have already lured away by foreign banks or the hedge fund industry.
Bank executives, including JPMorgan Chase chief Jamie Dimon, have complained publicly in recent months about such restrictions. Dimon, who famously called the program a "scarlet letter" for banks, said he was encouraged by Tuesday's announcement, adding that the funds from the program were best used elsewhere.
"Paying back TARP at this time is the right thing for JPMorgan Chase, and it's the right thing for our country," Dimon said in a statement.
Tuesday's announcement, however, represents a major compromise from government officials. Regulators have been fearful about the nation's largest banks' ability to weather the current economic climate as the unemployment rate marches higher and signs of trouble crop up in new areas like commercial real estate.
Last month, the government found that the nation's 19 largest financial institutions that participated in the stress tests could suffer as much as $599 billion in losses over the next two years.
Regulators have also been fearful that major financial institutions, which are responsible for issuing a substantial amount of credit to the U.S. financial system, may scale back on lending even further as a result of paying back TARP funds and could thus jeopardize what may be a nascent economic recovery.
Several bank chiefs downplayed these concerns in statements issued Tuesday, arguing instead that they will be there for consumers and businesses seeking loans.
"We fully expect to continue to vigorously offer lending opportunities to our credit-worthy consumer, small business, corporate and institutional customers, invest for future growth and support the U.S. government's overall efforts to stimulate the economy," Richard K. Davis, chairman and CEO of U.S. Bancorp, said in a statement.
One key question, however, is what will happen to the major financial institutions that remain under the government's thumb.
Wells Fargo (WFC, Fortune 500) and Pittsburgh-based PNC (PNC, Fortune 500), for example, had initially been considered among the healthier banks. But both made large acquisitions last year in the wake of getting government assistance and may now be considered in a weakened state by regulators as a result.
Still, Richard Staite, a London-based banking analyst with Atlantic Equities, said that big banks that were not permitted to pay back TARP funds just yet may soon be allowed to do so if their health improves.
"I think there is still an opportunity for several banks to repay [TARP] over the next six months or before year end," he said.
The fate of two of the nation's biggest and most troubled lenders, Citigroup (C, Fortune 500) and Bank of America (BAC, Fortune 500), remains a bit more clouded, however.
Industry experts have suggested that these and other banks could remain at a severe competitive disadvantage, burdened by the hefty dividend on the government's preferred shares, as well as the possibility of losing business or employees to non-TARP rivals.

Features

These Fortune 100 employers have at least 350 openings each. What are they looking for in a new hire? More

It would be the world's second-biggest economy. See how big companies' sales stack up against GDP over the past decade. More