Stocks dip on inflation woes
Bond yields jump, with the 10-year hitting 4%, and oil prices rise. Home Depot forecast, Chrysler-Fiat deal also in focus.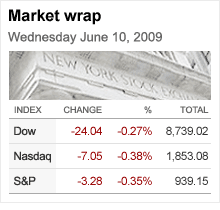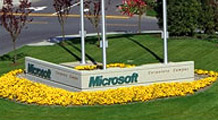 After a bleak 2008, equities are looking up. But whatever the market, our trademark long-term portfolio can help you build a nest egg for a secure future.
Photos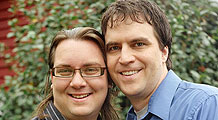 NEW YORK (CNNMoney.com) -- Stocks cut losses, but still ended lower Wednesday, as spiking Treasury yields and rising commodity prices added to worries that inflation could limit any recovery effort.
The Dow Jones industrial average (INDU) lost 24 points, or 0.3%, according to early tallies. The S&P 500 (SPX) index lost almost 3 points, or 0.4%. The Nasdaq composite (COMP) lost 7 points, or 0.4%.
Treasury prices slumped, boosting the corresponding yields. The benchmark 10-year note fell 22/32 and its yield rose as high as 4% before ending the session at 3.94%, up from 3.86% Tuesday.
Yields rose after the government's sale of $19 billion in 10-year notes saw only ho-hum demand -- and Russia said it will cut its share of U.S. debt.
The spiking bond yields pressured stocks. But equity investors managed to recover from bigger losses by the close, a positive on a choppy day, said Timothy Ghriskey, chief investment officer at Solaris Asset Management.
"We've been seeing these (electronic) buy programs kick in at around 3:15 each day, with money getting put to work on down days," he said.
While this was encouraging, he said it was also telling that daily trading volume each day this week -- on the New York Stock Exchange -- has been among the lightest of the year.
On the New York Stock Exchange Wednesday, losers beat winners eight to seven on volume of 1.22 billion shares. On the Nasdaq, decliners topped advancers eight to five on volume of 2.4 billion shares.
Post rally, investors meander: Stocks are coming off the best 3 month run since 1982, as measured by the Dow industrials, and the best since the 1930s, as measured by the S&P 500.
The run up from the lows of March 9 has lifted the Dow over 30%, the S&P nearly 39% and the Nasdaq around 45%.
Although the momentum going forward is still with the bulls, new worries have surfaced over the last few days, said John Wilson, chief technical strategist at Morgan Keegan.
"The concern has been that the bond market is worried about inflation and the rise in commodity prices is adding to that," Wilson said. "There's a little bit of a worry that this will dampen what is hopefully the start of a recovery."
The concerns about pricing pressure overshadowed any relief Wednesday about Chrysler's completed deal with Fiat and Home Depot's improved forecast.
U.S. light crude oil prices climbed as high as $71.79 a barrel, rising along with the price of gold and other commodities.
Commodity prices have been rallying lately, due to the weak dollar and bets that the economic recovery will drive demand for so-called hard assets. But the rise in commodity prices also added to worries over inflation.
Concerns that rising borrowing costs could derail a tentative economic recovery have dragged on sentiment over the last few sessions.
Chrysler: Italian automaker Fiat has closed a deal to buy the good assets of the bankrupt automaker, after the Supreme Court cleared the way for the deal late Tuesday.
Fiat will take a 20% stake in the company to start with, but that holding can increase to 35% if the company reaches certain goals. The new company -- called the Chrysler Group -- will be majority owned by the United Auto Workers union. The U.S. and Canadian governments will also own stakes.
Chrysler is expected to start operating immediately.
Banks: On Tuesday, the government said 10 of the biggest banks were well-enough capitalized to pay back a collective $68 billion in loans received last fall at the height of the financial crisis.
The list included American Express (AXP, Fortune 500), JPMorgan Chase (JPM, Fortune 500) and Goldman Sachs (GS, Fortune 500).
On Wednesday, the Obama administration dropped its plan to limit salaries at firms that have taken bailout money and instead introduced legislation to give shareholders more say in executive pay. Washington attorney Kenneth Feinberg was named the new "pay czar."
Retail: Home improvement retailer Home Depot (HD, Fortune 500) said it now expects full-year earnings in a range of flat to down 7%, versus its earlier guidance for a decline of 7%. Shares were little changed.
Economy: The Fed released its periodic "beige book" reading of the economy in its 12 districts. The report showed the economy remained weak or got weaker between mid-April and early May, although five of the districts said there are signs the pace of the recession is slowing.
Another report showed the U.S. fiscal year deficit is now near $1 trillion after a $189.7 billion shortfall in May.
The April trade balance widened to $29.2 billion from a revised $28.5 billion in March, the Census Bureau reported. Economists surveyed by Briefing.com thought it would widen to $28.7 billion.
Other markets: In global trading, Asian and European stocks ended higher.
In currency trading, the dollar gained versus the euro and the yen.
U.S. light crude oil for July delivery rose $1.32 to settle at $71.33 a barrel on the New York Mercantile Exchange, building on earlier gains after the government's weekly inventory report showed a surprise plunge in crude supplies.
COMEX gold for August delivery settled at $954.70 an ounce, unchanged from Tuesday.
Has the recession actually helped you? From lower debt payments to cheaper home prices, many people have benefited from the current downturn. If you've made out financially and want to share your story, please email mailto:steve.hargreaves@turner.com. For the CNNMoney.com Comment Policy, click here.

Features

These Fortune 100 employers have at least 350 openings each. What are they looking for in a new hire? More

It would be the world's second-biggest economy. See how big companies' sales stack up against GDP over the past decade. More