Zicam may damage sense of smell - FDA
Shares of manufacturer Matrixx Initiatives plummet more than 55% after government warns consumers to discontinue use. Stock is halted.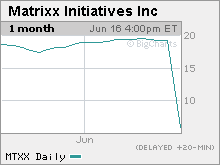 NEW YORK (CNNMoney.com) -- Consumers should discontinue use of Zicam Cold Remedy nasal gel and related products because they can can permanently damage users' sense of smell, the government said Tuesday.
In a press release, the U.S. Food and Drug Administration advised consumers to stop use of three over-the-counter Zicam Cold Remedy products: nasal gel, nasal swabs and the discontinued "kids size" swabs.
The FDA warned the three products could cause anosmia, the loss of sense of smell, which "may be long-lasting or permanent."
After that news was released, shares of Scottsdale, Ariz.-based Zicam manufacturer Matrixx Initiatives Inc. (MTXX) plummeted 55.5% to $8.56 before trading was halted.
About 130 consumers since 1999 have reported a loss of smell after using Zicam products. Many said the condition occurred after their first dose, the FDA said. The agency advised anyone who has experienced problems after using Zicam products to contact a doctor.
Matrixx responds
The products named comprised about 40% of the company's net sales in 2009, according to a press release from Matrixx, which added that the company believes the Zicam products are safe and do not cause loss of smell.
Matrixx said the FDA's actions are "unwarranted" -- but the company is reviewing its options, which may include removing these products from the market.
A separate note on Matrixx's Web site zicamlawsuits.com, titled "Response to Those Who Are Concerned About Zicam's Purported Connection to Anosmia," says the products are safe and that "allegations to the contrary are scientifically unfounded and misleading."
However, the Matrixx note does acknowledge lawsuits that have been brought against the company, saying, "Although plaintiffs and their attorneys hoping for financial gain have sued Matrixx, no plaintiff has ever won a court case, because there is no known causal link."
Homeopathic drug regulations
Zicam is considered a "homeopathic remedy" rather than a drug. These types of products can be marketed without the government oversight required of "conventional" foods and drugs.
Manufacturers are not required to register their products with FDA, nor must they receive the FDA's approval before producing or selling these products.
The manufacturer is responsible for ensuring that the products are safe, and the FDA is responsible for taking action against any "unsafe" product after it reaches the market -- as it did with Zicam.
In its warning letter, the FDA said Matrixx was in violation of its regulations by failing to file a new drug application for the nasal gel and gel swabs, and that the products did not adequately warn of risks.
The agency sent Matrixx a warning letter saying these products can no longer be marketed without FDA approval, according to its press release. Matrixx has 15 business days to notify the FDA of specific steps taken to correct violations.

Features

These Fortune 100 employers have at least 350 openings each. What are they looking for in a new hire? More

It would be the world's second-biggest economy. See how big companies' sales stack up against GDP over the past decade. More