Nasdaq manages gains
The tech-fueled index ends higher but the Dow and S&P 500 struggle as banks slide.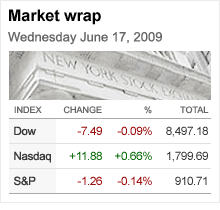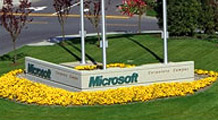 After a bleak 2008, equities are looking up. But whatever the market, our trademark long-term portfolio can help you build a nest egg for a secure future.
NEW YORK (CNNMoney.com) -- The Nasdaq gained Wednesday, thanks to a tech rally, but the broader market meandered, with financials sliding after Standard & Poor's cut its outlook on 22 banks.
The Dow Jones industrial average (INDU) lost almost 7 points, or 0.1%. The S&P 500 (SPX) index fell 1 point, or 0.1%, and the Nasdaq composite (COMP) advanced 12 points, or 0.7%.
Stocks zigzagged through the session as investors considered the corporate news, President Obama's plan for an overhaul of financial market regulation and a tame reading on consumer inflation.
Stocks fell the first two days of the week on worries that the recession could drag on longer than has been anticipated.
Thursday brings a slew of economic news, including weekly jobless claims from the Labor Department, the Conference Board's May index of leading economic indicators and the Philadelphia Fed index, a regional read on manufacturing.
Stock rally slows: Bets that the economy is close to stabilizing fed a three-month stock rally that lifted all three major gauges into positive territory for the year. After bottoming at a more than 12-year low on March 9, the S&P 500 gained as much as 40% before pulling back. It currently stands 35% above the lows, through Wednesday's close.
"The stock rally is stalling out but it should continue at least in the short term," said David Chalupnik, head of equities at First American Funds.
He said that the economic numbers have mostly been in line with or not as bad as expected, and that this trend looks like it should continue, despite a few recent readings that were fairly mixed. Equities are also bound to get a boost as the quarter winds down over the next two weeks, with institutions and individuals wanting to put money to work before closing the books.
The amount of cash sitting in money market funds is astounding, he said, and that money should continue trickling in to the market.
But in order for the rally to keep going beyond the short term, investors will need to see sustained improvement in economic news that will drive earnings growth and justify further stock gains. Second-quarter profit reports are due to start pouring in in about a week and are expected to show continued declines.
"In the last week, the economic numbers have been more mixed and the rally has stalled out," he said. "The risk is that the economic recovery stalls too, and then stocks would be in trouble."
On the move: Tech gainers included Dow components Cisco Systems (CSCO, Fortune 500), Intel (INTC, Fortune 500) and Microsoft (MSFT, Fortune 500), as well as non-Dow stocks Qualcomm (QCOM, Fortune 500), Broadcom (BRCM, Fortune 500) and Texas Instruments (TXN, Fortune 500).
The Dow's other big gainers included 3M (MMM, Fortune 500) and Johnson & Johnson (JNJ, Fortune 500).
But the gains were tempered by a retreat in financial shares after Standard & Poor's downgraded the credit ratings of 22 banks, including Wells Fargo (WFC, Fortune 500), Fifth Third (FITB, Fortune 500) and KeyCorp (KEY, Fortune 500).
S&P said operating conditions for the industry will get worse as financial markets become more volatile and regulatory supervision gets tighter.
Market breadth was mixed and volume picked up after several sessions of light trading. On the New York Stock Exchange, losers beat winners four to three on volume of almost 1.32 billion shares. On the Nasdaq, advancers beat decliners seven to six on volume of 2.54 billion shares.
Financial Reform: President Obama unveiled details Wednesday afternoon on how he plans to reorganize the way banks and other firms are regulated in the wake of the worst financial crisis since the Great Depression.
The plan includes giving increased power to the Federal Reserve to monitor the financial system and also increased Treasurys responsibilities. Obama also proposed creating a consumer watchdog agency to track mortgage and credit card practices.
Corporate news: FedEx (FDX, Fortune 500) reported a wider fourth-quarter loss that missed sales expectations but beat on a per-share-basis. The delivery firm, often seen as a proxy for the economy, forecast earnings of 30 cents to 45 cents per share in the current quarter, versus Wall Street's forecasts for a profit of 68 cents per share.
FedEx's management gave a mixed outlook. The company's chief executive said there are signs that the worst of the recession is over, and the chief financial officer said the operating environment in the first two quarters in fiscal 2010 is going to be extremely difficult.
FedEx shares dropped modestly.
Bonds: Treasury prices rallied, lowering the yield on the benchmark 10-year note to 3.60% from 3.66% Monday. Treasury prices and yields move in opposite directions.
Currency and commodities: U.S. light crude oil for July delivery rose 56 cents to settle at $71.03 a barrel on the New York Mercantile Exchange.
COMEX gold for August delivery gained $3.80 to settle at $936 an ounce.
In currency trading, the dollar tumbled versus the euro and yen, falling for the second session in a row.
Economy: Wednesday's economic news brought some relief. The Consumer Price Index (CPI), measure of consumer inflation, posted a decline of 1.3% over the past year, the biggest year-over-year decline since 1950.
The report also showed that inflation has not picked up in the last month, despite rising oil and gas prices and trillions in government spending.
The Consumer Price Index (CPI) rose 0.1% in May, versus forecasts for an increase of 0.3%, according to economists surveyed by Briefing.com. CPI was flat in April.
The so-called core CPI, which strips out volatile food and energy prices, rose 0.1% in May, meeting forecasts. Core CPI rose 0.3% in April.

Features

These Fortune 100 employers have at least 350 openings each. What are they looking for in a new hire? More

It would be the world's second-biggest economy. See how big companies' sales stack up against GDP over the past decade. More