BlackBerry is still leader of the pack
Research in Motion is expected to report solid quarterly results Thursday. The BlackBerry maker continues to hold dominant market share over Apple and Palm.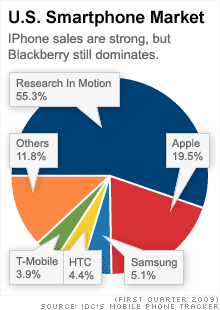 NEW YORK (CNNMoney.com) -- Apple's iPhone 3GS and Palm's Pre has captured a lot of hype but don't count out Research in Motion's BlackBerry just yet, say experts.
"The buzz about other signature devices can make people overlook RIM's success," said Ryan Reith, senior research analyst at IDC.
While the iPhone enjoyed an initial pop in market share after the second generation version was released last July, that share has been nearly cut in half.
In the first quarter of this year, BlackBerrys had a 55.3% share, compared to 19.5% for iPhones, according to IDC data.
Compare that with the third quarter of 2008, when BlackBerry devices controlled 40.4% of the U.S. smartphone market, compared with 30.1% for Apple.
Solid footing. When RIM (RIMM) releases its financial results after the closing bell Thursday, analysts expect the company to report a very solid fiscal first quarter. Revenue is forecasted to rise 53% and earnings are expected to grow 12% for the quarter ended May 31.
Much of RIM's anticipated success lies in its ability to grow market share even as competitors launch new flashy devices.
Analysts expect that market share to grow into next year, despite the mostly negative reviews for its first touchscreen device, the Storm, and new launches from Apple (AAPL, Fortune 500) and Palm (PALM).
A recent Yankee Group survey showed 41% of Americans plan on buying a smartphone for their next phone purchase, and 50% of those people plan on buying a BlackBerry. Only 25% said they would buy an iPhone.
Experts cite competitive pricing, business expertise and new consumer products as reasons for RIM's sustained growth.
Pricing. RIM may not offer the interactive operating system experience that the iPhone, Pre or Google's (GOOG, Fortune 500) G1 phone offer, but RIM offers BlackBerrys that beat them in end user cost.
That's because every major U.S. wireless carrier offers at least one BlackBerry device, unlike competitors, which have exclusive contracts with AT&T, Sprint and T-Mobile. With the carriers fighting for customers, many offer discounted rates, including Verizon's aggressive "buy one get one free" promotion for its BlackBerry line.
Analysts say wireless providers can afford to offer competitive pricing because BlackBerrys cost less for them to operate than iPhones and Pres.
"RIM's design is much more bandwidth-efficient than its competitors, so carriers make the most money off the BlackBerry platform," said Nick Agostino, RIM analyst with Research Capital Corp. "Once two carriers in the same market offer BlackBerrys, they start to compete against one another and RIM is the beneficiary."
The campaign appears to be working. Exclusive iPhone carrier AT&T has as many BlackBerry users as iPhone users, according to Andy Castonguay, director of mobile device research at Yankee Group.
"The total value of a device goes far beyond the physical phone itself," said Castonguay. "Service, reliability and functionality all play a part in the total valuation, and BlackBerry continues to distinguish itself in those terms."
Enterprise. Most experts agree that RIM has solidified its standing at the business smartphone of choice, due to its focus on security and ease of configuration.
"RIM has been very aggressive in its enterprise server upgrades, making its software even more appealing to businesses," said Castonguay. "RIM has made a name for itself in security, service and reliability, which are fundamental necessities for companies."
Still, some think that RIM shouldn't get too comfortable as the enterprise leader.
"RIM is facing bigger challenges now from a competitive standpoint than they've ever had before," said Ken Dulaney, analyst at tech consultancy firm Gartner. "The user interface doesn't match up to its competitors, and many of our clients are breaking with their previous policies just to use the iPhone. IT departments are beginning to support anything with basic security features."
Furthermore, the company still has some ground to make up in worldwide smartphone sales. It controls just 20% of the global market, compared to 41.2% for Nokia.
The company is trying to broaden its appeal to global businesses, including world travelers with its new BlackBerry Tour, which can easily access foreign voice and data networks while abroad.
What's in store. BlackBerry has increased its consumer base in the past three quarters, according to IDC, but some analysts think RIM needs to establish itself as more a consumer device.
The launch of the BlackBerry app store has helped draw consumers, experts say, and though it lags behind the iTunes app store, it has grown to become the No. 2 app store. The Pearl and Curve have also sold well, and the Storm held its own after heavy subsidies from Verizon.
But most analysts agree that RIM will need to launch a competitor that looks and functions more like the Pre to continue to drive consumer demand. Both Verizon and RIM have hinted at a release of a touch screen device with a keyboard in the third quarter of 2009.
"The Pre and iPhone pushed the envelope in what the operating system needs to be in terms of flexibility and ease of use," said Castonguay. "BlackBerry will have to adapt its operating system to become much more consumer-friendly."

Features

These Fortune 100 employers have at least 350 openings each. What are they looking for in a new hire? More

It would be the world's second-biggest economy. See how big companies' sales stack up against GDP over the past decade. More