Searching for a bottom in the housing market
Sales look like they could rebound soon, but you can't say the same for prices.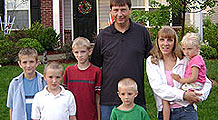 Homeowners in trouble are having mixed results applying for President Obama's foreclosure prevention plan. CNNMoney.com readers tell us their tribulations and triumphs trying to get their loans modified or refinanced.
NEW YORK (Fortune) -- Sales in the decimated housing market may finally be bottoming, but don't expect home prices to stop dropping before mid-2010 at the earliest, analysts and economists say.
Indeed, prices in the battered housing market could get a lot worse before they get better as an avalanche of specialized adjustable rate mortgages, known as option ARMs and Alt-A mortgages, are slated to reset over the next 18 to 24 months, and rising unemployment causes a surge in the number of prime mortgages going into default. All of this is expected to trigger another round of foreclosures and cause home prices to tumble at least another 20% before the market rebounds, according to market analysts and economists.
Market bulls believe home prices could bottom in the second half of 2010, but the bears warn it could be 2013 before they finally trough. And once prices do reach a low, it could be years before they significantly rebound.
"This is clearly the worst housing crisis since the Depression," says John Burns, president of John Burns Real Estate Consulting. Losses from the housing meltdown totaled $3.6 trillion at the end of 2008, and will likely approach $5 trillion by the time the crisis ends, predicts Lawrence Yun, chief economist with the National Association of Realtors.
Nevertheless, there have been signs in recent months that the industry may be stabilizing -- at least when it comes to sales. Consumer confidence in May shot up to its highest level in eight months, housing starts jumped more than 17% in May from the previous month, and most importantly, a recent report by the National Association of Realtors shows sales of existing homes climbed 2.9% in April.
"We are at or near bottom in terms of sales," says Yun. "We are seeing strong buying activity, particularly in those boom and bust markets, where prices have declined significantly. Buyers are coming in and fighting over properties -- there is multiple bidding in California and Florida."
"Sales are the first indicator" of a bottom, concurs Elliot Eisenberg, a senior economist with the National Association of Home Builders. "Even though there's more pain to come in certain markets and the prices may go down further and there's more defaults ahead," sales are going up, he says.
Bob Curran, managing director at Fitch Ratings, is a lot more cautious, noting that one month of gains doesn't make a trend -- existing home sales are still off 3.5% from a year ago. "You'd want to see a string of months -- ideally three months -- to say with confidence that a bottom has been reached," he says.
Buying off the bottom
Much of the recent sales increase is related to distressed homes, as a stampede of homebuyers snap up properties in foreclosure or through short sales on the cheap. "Foreclosure sales have picked up pretty dramatically in the past four months," says Alex Barron, a senior research analyst at Agency Trading Group Inc.
Yun estimates about 50% of current sales involve distressed properties, and he expects this trend to continue as foreclosures soar in the months ahead. About 2 million properties were in foreclosure in 2008, and he expects this number to climb to 2.5 million this year.
The foreclosure floodgates are expected to swing wider in the second half of the year as rates reset on option ARMs, and high unemployment triggers defaults on prime mortgages. Many of the option ARMS issued over the past few years were in markets that saw the biggest run-up in home prices and are now seeing the biggest corrections.
At the end of the first quarter, one out of eight U.S. households with a mortgage was either late on its monthly loan payment or in the foreclosure process, according to the Mortgage Bankers Association. Jay Brinkmann, chief economist with the MBA, says defaults among prime mortgages accounted for 50% of the increase in foreclosures in the last quarter.
The pending flood of foreclosures could mean buying opportunities for bargain hunters -- as long as they're prepared to hang onto the house for a number of years. "If you're a renter who just missed this cycle and didn't get in, right now is a great time to buy if your issue is the monthly mortgage payment," says Burns.
Although prices may fall further, low mortgage rates and President Obama's $8,000 first-time homebuyer tax credit make current prices attractive, especially in heavily-beaten down areas, such as California, Arizona, Nevada and California. "I think there are great deals out there," says UBS analyst David Goldberg. "But you have to have a long-term time horizon."
Some speculate that the pending surge in foreclosures and recent uptick in mortgage rates could push fence-sitting homebuyers, worried about rising rates, to jump into the market. Also, some home seekers may rush to score a bargain before the Obama Administration's $8,000 credit for first-time homebuyers expires at year end. The tax credit has already helped to boost sales, especially in states, such as California, which are offering their own tax credit in addition to the federal one, says Curran.
Sales vs. prices
While sales may be increasing, home prices are a different story, in part because of rising interest rates and surging unemployment. The average rate on a 30-year fixed rate mortgage climbed to 5.59% last week -- its highest since Dec. 11 -- but retreated slightly to 5.38% this week, according to Freddie Mac. The nation's unemployment rate spiked to its loftiest level in more than a quarter of a century in May at 9.4%. Burns is predicting the jobless rate will hit 12% by 2011.
National home prices plunged 19.1% in the first quarter, according to the Standard & Poor's/Case-Shiller National Home Price index -- the biggest quarterly decline in the index's 21-year history. Home prices are off 32% on average from their peak in mid-2006. Average prices have not been this low since the fourth quarter of 2002, the Case-Shiller report says.
"We're about two-thirds of the way through the pricing correction on a percentage basis," says Joshua Shapiro, chief U.S. economist with MFR Inc., an economic consulting and analysis firm. He expects prices to slide at least another 20% over the next 18 months.
"There's still pain to come in parts of Florida, California and Michigan, where there's still a tremendous amount of oversupply," says Eisenberg. "Prices will have to come down further and it will take a while to burn off the excess inventory that's floating around there."
Brinkmann expects to see prices start to rebound in 2011. While a bottom may be reached within the next year, it will be many months, and possibly years, before prices significantly come back. "I think that once prices bottom out, they're going to stay flat for several years," says Burns.