BlackBerry maker sales outlook disappoints
Research In Motion reports solid profit and sales in its first quarter, but shares fall after hours on disappointing guidance.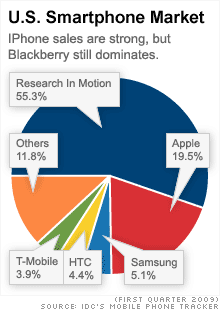 NEW YORK (CNNMoney.com) -- BlackBerry maker Research In Motion Ltd. said Thursday that its quarterly profit rose on strong smartphone sales, but a disappointing revenue outlook sent the company's stock lower in after-hours trading.
The company said it anticipates earnings during the current quarter of 94 cents to $1.03 a share -- slightly better than analysts' forecasts of 88 cents to $1.06 a share.
But RIM said it expects sales to come in at $3.45 billion to $3.7 billion -- the lower end of analysts' forecasts of between $3.4 billion and $3.9 billion.
That disappointed investors who will be scrutinizing BlackBerry sales even closer during the current quarter after RIM competitors Apple (AAPL, Fortune 500) and Palm (PALM) unveiled the new and widely hyped iPhone and Pre smartphones this month.
Shares of RIM (RIMM) fell 2% after hours after sinking by as much as 7% immediately after the announcement.
Still, RIM's competitors have a lot of ground to make up. In the first quarter, BlackBerrys had a 55.3% share, compared to 19.5% for iPhones, according to IDC data.
The company added a 3.8 million net new BlackBerry subscribers during the quarter -- up 65% from last year and smack in the middle of its own forecast.
On a conference call with analysts, RIM co-Chief Executive Jim Balsillie said 80% of RIM's new customers were non-enterprise users, meaning half of all BlackBerry subscribers are now consumers. RIM expects to add another 3.8 to 4.1 million new subscribers in the current quarter.
Staying competitive. The Waterloo, Ontario-based company said first-quarter net income rose 33% to $643 million, or $1.12 per share, for the three-month period ended May 31.
Results included a $175 million tax benefit and $96 million in one-time charges. Without the charge, RIM said it earned $564.4 million, or 98 cents per share. Analysts polled by Thomson Reuters, who typically exclude one-time items from their estimates, forecasted earnings of 94 cents per share.
"I'm really impressed by 33%," said James Brehm, mobile and wireless analyst at Frost & Sullivan. "It reaffirmed my belief that we're in the era of smartphone ... and I certainly think RIM is going to remain in the lead."
RIM's sales rose 53% to $3.4 billion, meeting analysts' projections.
Analysts say competitive pricing and continued dominance in the corporate sector contributed to RIM's strong sales results.
Nick Agostino, RIM analyst with Research Capital Corp, said Verizon's "buy one get one free" promotion for BlackBerrys helped boost sales, even for the poorly reviewed touch screen BlackBerry Storm.
One analyst on the conference call speculated that AT&T's $99 iPhone 3G offer may offer a challenge to RIM, but Balsillie dismissed those suggestions.
"We've had lots of offers with the Blackberry that have been free, $99 and buy one get one free," he said. "That [iPhone 3G] is a year old product. I don't really fret those kind of things."
New phones: RIM announced Tuesday it would launch the new BlackBerry Tour for Verizon (VZ, Fortune 500) and Sprint (S, Fortune 500) customers this summer, aimed at international travelers, though it is not expected to be the "iPhone killer" that the Storm set out to be.
"We're pleased with the strong results," said Balsillie. "We're especially excited about the special plans we have for the second half of the year."
Analysts widely expect RIM to unveil a touch screen BlackBerry with a physical keyboard, much like the Pre, in the coming months to keep Apple and Palm at bay, but it may be window dressing.
"An 'ooh and ahh' type device wouldn't hurt. RIM has more going for it, including improved distribution capabilities and building a strong brand," said Agostino. "A 'me too' device would help for customer loyalty, but RIM doesn't necessarily need it."

Features

These Fortune 100 employers have at least 350 openings each. What are they looking for in a new hire? More

It would be the world's second-biggest economy. See how big companies' sales stack up against GDP over the past decade. More