Where are the jobs? North Dakota
North Dakota companies are recruiting workers from around the nation. The state has escaped the economic meltdown plaguing the rest of the country.
Map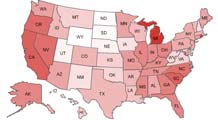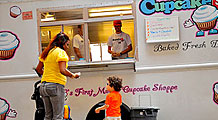 These workers are changing what they do -- or how they do it -- to get by in this economy.
jobs by

Find a Job
NEW YORK (CNNMoney.com) -- Need a job? Move to North Dakota.
In May, the state tied for the lowest unemployment rate in the nation -- a mere 4.4% -- and added 3,000 jobs over the past month. Only Nebraska had as low a rate.
The national unemployment rate rose to a 26-year high of 9.4% in May.
Labor experts attribute the state's good fortune to its diverse range of industries. All sectors are seeing growth, even the oil industry, which had contracted quite a bit after last year's price spike. Mining, construction and agriculture have all experienced double-digit employment growth since 2000. Health care and transportation are also key industries.
"We've quietly been doing well," said Michael Ziesch, research analyst at Job Service North Dakota, the state's employment services department. "We don't have the highs and we don't have the lows. It's just the conservative nature of North Dakota."
State officials haven't kept their relative prosperity a secret. The state's Commerce Department has promoted job opportunities -- as well as quality of life -- in Colorado, Michigan and Minnesota through a marketing campaign called "Experience North Dakota."
There are 9,000 positions posted on Job Service North Dakota. Among those hiring is Kadrmas, Lee & Jackson, an engineering consulting firm based in Bismarck. The company has plenty of work, particularly in its telecom and energy divisions. It has already added 40 full-time and seasonal employees and expects to bring on more before the year is out.
The Peace Garden State is actually benefiting from the national recession. Kadrmas now receives resumes from around the country when it posts an opening, even if it's in a rural area. For instance, a civil engineering job in a community with less than 25,000 residents garnered 40 applicants.
"In the past, we might have had a half-dozen people apply," said Mike Schneider, the company's main recruiter.
Strong economy helps
North Dakota had the nation's fastest economic growth rate in 2008, according to the U.S. Department of Commerce. The largest contributors to the 7.3% growth rate were agriculture, forestry, hunting and fishing. Its economy grew twice as fast as all other states, except Wyoming.
Unlike nearly all of its peers, the state government's fiscal health is strong as well. While most states are battling huge deficits, North Dakota is enjoying a surplus. In fact, it had so much money that officials approved a $400 million package of property and income tax cuts in April.
That strength means more work for many of the state's contractors.
The Northern Improvement Company, for instance, is still hiring because North Dakota and its towns are still funding road, airport and municipal improvement projects. The 74-year-old Fargo-based firm continues to add workers as it usually does, and is currently looking for truck drivers for the summer season.
"A lot of our good fortune is related to North Dakota being a healthy state," said company VP Molly Barnes, the great-granddaughter of the company's founder, John L. McCormick Sr. "We haven't grown a whole lot, but we haven't shrunk either."
Some slowdowns
To be sure, North Dakota hasn't been immune to the recession. Its unemployment rate has risen from 3.3% in May 2008.
Last year's plunge in oil prices, for instance, reduced the number of active oil rigs from an average of 75 a day in 2008 to 40 now, though the recent recovery in prices has led to more hiring in this field.
The state has seen some mass layoffs, too. Bobcat, a global manufacturer based in West Fargo, shed about 1,500 jobs in recent months, though it has hired many back, Ziesch said.
The Job Service has also noticed a change in recent months. Its One-Stop career centers are busier, with the Bismarck office seeing about 100 people a day and the Fargo location working with 700 a day, though many are people who are employed but are looking for better jobs, said Phil Davis, customer service area manager in Bismarck. The number of postings has fallen from 15,000 last year to 9,000 now.
State labor officials don't think things will get too much worse.
"At worst, I'd project a soft landing," Ziesch said.



Features

These Fortune 100 employers have at least 350 openings each. What are they looking for in a new hire? More

It would be the world's second-biggest economy. See how big companies' sales stack up against GDP over the past decade. More