Dollar slides as stocks rise
Swiss franc was volatile for a second day in a row.
Photos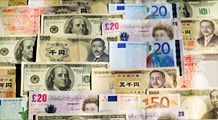 NEW YORK (Reuters) -- The dollar fell against most major currencies Thursday, tracking a change in U.S. stocks, which rose as investors expressed optimism that economic deterioration was ebbing.
The U.S. stock market's rally on improved risk appetite reduced the dollar's safe-haven bid, which had earlier been sparked by an unexpected rise in U.S. jobless claims data.
The Swiss franc was volatile for a second straight day, earlier falling against both the euro and dollar as traders cited more talk of the Swiss National Bank selling francs for euros and dollars, possibly via the Bank for International Settlements. Both the SNB and BIS declined to comment.
"It appears the dollar is tracking the change in equity prices," said Michael Woolfolk, senior currency strategist at Bank of New York-Mellon.
In late afternoon New York trading, the ICE Futures' U.S. dollar index, which tracks the value of the greenback against a basket of six major currencies, was down 0.3% at 80.344, but still off a roughly two-week low of 79.562 touched on Wednesday.
The euro was up 0.5% at $1.3991, after hitting a two-week high of $1.4138 on Wednesday in the run-up to the Fed meeting, according to Reuters data.
But against Japan's yen, the dollar rose about 0.2% to 95.87 yen on electronic trading platform.
Government data showed on Thursday the number of U.S. workers filing new claims for jobless benefits unexpectedly rose last week, while the number staying on the rolls also edged higher . While that affected trading earlier in the day, the 2% jump by the three major U.S. stock indexes later in the session soon outweighed the data.
Euro and Swiss franc
The euro still traded in a narrow range against the dollar, and held below the two-week high hit on Wednesday as the market digested the impact of the European Central Bank's massive injection of one-year funds into money markets.
The ECB poured 442 billion euros of one-year funds into money markets on Wednesday with a record 1,121 banks taking up the offer.
Earlier, the euro jumped, reaching as high as 1.5382 Swiss francs, while the dollar hit a session high of around 1.1020 francs. The euro was last at 1.5313 francs, while the dollar bought 1.0945 francs.
Market participants remained jittery about possible intervention by the Swiss National Bank to weaken its domestic currency. The SNB repeatedly intervened on Wednesday, according to traders, giving a stark reminder that it is determined to fight deflation risks by preventing a rise in the Swiss franc.
"In the wake of yesterday, people were always going to be nervous, and we're in thinner summer markets and that always leaves potential for rumors or nerves to afflict markets," said Jeremy Stretch, strategist at Rabobank in London. In other trading, sterling fell on caution about Britain's economic outlook.
The pound was down 0.3% at 1.6371, according to Reuters data.
While there was no impact on foreign exchange markets, in other news, the U.S. Federal Reserve on Thursday extended a number of its emergency funding facilities and swap lines with central banks around the world to Feb. 1, 2010, saying that while conditions in financial markets have improved recently, some markets remain impaired and seem "likely to be strained for some time."
The week's final U.S. Treasury note auction also failed to have any impact on foreign exchange markets.

Track 17 major currencies
Features

These Fortune 100 employers have at least 350 openings each. What are they looking for in a new hire? More

It would be the world's second-biggest economy. See how big companies' sales stack up against GDP over the past decade. More