Madoff's day of reckoning
The Ponzi mastermind faces maximum of 150 years in prison at his sentencing Monday as government strips him and his wife of their assets.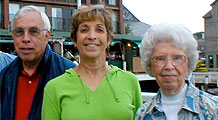 Some people invested everything they had with Bernard Madoff. Now, they have nothing. Here are their stories.
NEW YORK (CNNMoney.com) -- Bernard Madoff, the mastermind behind the largest and most sweeping Ponzi scheme ever, on Monday faces the possibility of spending the rest of his life behind bars.
Madoff is scheduled to appear in U.S. District Court in Manhattan before Judge Denny Chin, who could sentence him to as many 150 years in federal prison.
That is the maximum sentence that Prosecutors with the U.S. Attorney's office in New York requested, based on the number of Madoff's victims, the amount of money he stole and the extent of the damage he caused.
Madoff, who was stripped of his property in a legal action Friday, confessed on March 12 to running a Ponzi scheme that stole billions of dollars from thousands of victims. He pleaded guilty to 11 criminal counts, including fraud, money laundering, perjury, false filing with the Securities and Exchange Commission, and other crimes.
Many of his victims were wiped out financially by the scam and they have sent letters to the judge requesting a life sentence.
Madoff's lawyer Ira Lee Sorkin asked for a 12-year sentence. In his own letter to the judge, Sorkin explained that his septuagenarian client isn't likely to outlive his requested sentence by more than a year.
"Mr. Madoff is currently 71 years old and has an approximate life expectancy of 13 years," wrote Sorkin. "A prison term of 12 years -- just short of an effective life sentence -- will sufficiently address the goals of deterrence, protecting the public and promoting respect for the law."
In his letter, Sorkin described Madoff as "non-violent," noted his "voluntary surrender" to authorities and complained about the "desire for a type of mob vengeance" in the victims' impact letters.
Madoff orchestrated the scam by masquerading his investment firm as a legitimate business, but the business became a front for a Ponzi scheme, in which the scammer uses fresh money from unsuspecting investors to make payments to more mature investors, creating the false appearance of legitimate returns.
Madoff sent statements to victims claiming that their investments had grown several times over, but in actuality he had stolen, not invested, their money.
Investigators said that Madoff maintained an aura of exclusivity, while his alleged accomplices courted new investors because they needed a constant influx of fresh funds. Investigators believe that he had been running his scam since at least the 1980s until he finally ran out of money in December 2008, when he admitted the fraud to family members.
Stripping them of their riches
In a $170 billion legal judgment against Madoff, the government announced Friday it had seized all of his property in a deal that also forces his wife to give up homes and property worth millions.
As part of the judgment, the court papers indicate that Bernard and Ruth Madoff will give up any claim on nearly $80 million worth of property, which includes $60 million and three homes: A Manhattan apartment valued at $7.5 million, a $7 million house in Montauk, N.Y., and a $7.45 million home in Palm Beach, Fla.
The government will also get $1.48 million from the sale of a Madoff home in Cap d'Antibes, France, as well as furniture, artwork, jewelry other items. The Madoffs will also lose their interest on "tens of millions of dollars" in loans they had made to family, employees and friends.
Previously seized assets include a home in Palm Beach, Fla., an $800,000 yacht named The Bull, and a legitimate investment firm that Madoff kept separate from the scheme.
Restitution for the victims
The value of all the assets will eventually be used to compensate -- or partially compensate -- victims, based on how much they invested in Madoff's firm.
The Securities Investor Protection Corporation, an organization that shields investors in brokerage firms, will also pay up to $500,000 for any eligible claimant who lost money to Madoff, based on how much they put in. This coverage comes from dues paid by brokerage firms.
Thus far, federal investigators have identified 1,341 investors in Madoff's firm, with losses exceeding $13 billion. They're still tallying the damage.
A group of victims sent the judge a 141-page collection of letters detailing the extent of damage that Madoff had inflicted on them. Many of the victims said they had banked their life savings with Madoff's firm and were ruined as a result of his scam.
Eleven of the letter-writers requested, and were granted, the right to speak in court on Monday.
Some victims are unhappy with this compensation system. Joe Stewart of Las Vegas explained, in a written statement to CNNMoney.com, that as an indirect investor he is not covered by SIPC. Another victim, Dana Foy of Jemez, N.M., complained that SIPC will only compensate him for the $150,000 he invested in the firm, not the $600,000 that the firm told him his investments were worth.
"In any other Ponzi scheme, the rule is [that] cash in, minus the cash [that the investor took] out, is going to be the value of your claim," said SIPC Chief Executive Steve Harbeck to CNNMoney.com.
Harbeck said that indirect investors who unknowingly gave their money to Madoff through a separate firm aren't necessarily barred from compensation, depending on their particular case. "There are very few things in law that are black and white," he said.
Harbeck said that victims have until July 2 to file a claim with U.S. Bankruptcy Court in New York.
Madoff's next home
For three months since his December arrest, Madoff managed to avoid jail by posting $10 million worth of bail. He spent the time under house arrest, ensconced in his Manhattan apartment.
But since his confession in March, he has been incarcerated in the Metropolitan Correctional Center in lower Manhattan, a holding facility for convicts awaiting sentencing. This has given him a taste of life behind bars.
Once he is sentenced, he will probably be transferred to a medium-security federal prison, according to prison consultants. Madoff's status as a non-violent offender should keep him out of maximum-security, consultants said. But they added that the massive scale of his crimes and his hefty sentence would make him ineligible for a low-security prison or a minimum-security prison camp, which inmates usually prefer because of safety, fewer restrictions and better quality of life.
In a medium-security prison, he would live in a cell, separated from the outer world by double layers of razor wire fencing with electronic detection systems, according to the Federal Bureau of Prisons. He would have to work a menial job, possibly in a kitchen or laundry room, for 12 to 40 cents an hour.
The BOP will have the final say as to where Madoff will serve his sentence. BOP spokeswoman Felicia Ponce said they try to place inmates within 500 miles of their families.
Keeping that in mind, Alan Ellis, attorney and author of the "Federal Prison Guidebook," believes that Madoff will probably get sent to Federal Correctional Institute Otisville or FCI Ray Brook, both in upstate New York, FCI Fairton in New Jersey or FCI McKean in Pennsylvania.
Madoff will have to learn how to survive in the medium-security environment, where there are many violent offenders, according to prison consultants.
"There will be people who think that Bernie can give them stock tips, but I don't see anyone being his big pal," said Larry Levine, founder of Wall Street Prison Consultants who served 10 years for his ties to organized crime. "I believe he'll be treated like an outcast."

Features

These Fortune 100 employers have at least 350 openings each. What are they looking for in a new hire? More

It would be the world's second-biggest economy. See how big companies' sales stack up against GDP over the past decade. More