Brand Barbie gets a makeover
Pushing 50, the iconic doll had lost her mojo. Richard Dickson is making her hot again.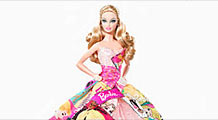 As Barbie celebrates her 50th anniversary, middle age may be her time to shine (again).
(Fortune Magazine) -- Sitting on Richard Dickson's desk in Mattel's El Segundo, Calif., headquarters sits a 2008 Holiday Sparkle Barbie. Clad in a gold lamé dress, she looks like an aging, shrunken version of herself. "What she looks like," says Dickson, "is a cheap knockoff." Dickson keeps her around as a reminder of what not to do. Why? Because the 41-year-old new general manager of the Barbie franchise is staging an epic marketing makeover -- one that, if it works, could become a textbook case for how to turn around a brand.
Barbie's fall from grace has been spectacular. After being the top-selling fashion doll for most of the past half-century, she fell victim to changing tastes and to competition, most notably from Bratz, a line of edgier, more ethnically diverse dolls produced by MGA Entertainment. (Bratz's Yasmin Funk Out doll, dressed in a tank top and cropped jeans, has an urban look.) Mattel's own American Girl brand, meanwhile, has become a force among older girls. Barbie's worldwide sales peaked in 2002 at $1.52 billion and have plunged 28% since. Her market share, which stood in excess of 80% in 2000, now hovers at less than 50%, according to Needham & Co. analyst Sean McGowan.
Dickson's first move was to steep brand managers in the new aesthetic he envisioned for Barbie. He sequestered 12 senior executives for a weekend at the mod-baroque, Kelly Wearstler-designed Viceroy hotel in Santa Monica. "I wanted people to see what it was like to be surrounded by a signature style," he says.
Next, he mandated that all product fit the new Barbie image. No longer could the sales team assume they could order a custom doll to meet, say, Wal-Mart's specs. Letting retailers have such say over design was what had contributed to what Dickson calls "brand goulash": Barbie products used 17 shades of pink and six different logos. Today only one shade of pink, Pantone's No. 219, is allowed. Next up: whittling the number of licensees, which at one point numbered 1,000.
Then came an onslaught of PR: Dickson worked with decorator Jonathan Adler to stage a real-life Barbie dream house in Malibu and had designers including Diane von Furstenberg create life-size Barbie apparel for Fashion Week. To pay for it he cut back on traditional 30-second TV spots -- a hard sell to Mattel's board. "Let's just say there was a lot of pushback," he says.
His strategy seems to be working. Barbie's U.S. sales jumped 18% in the most recent quarter, the biggest gain in nearly three years. McGowan expects U.S. sales to total $370 million this year, posting their first significant increase since 2006. "Barbie is on a tear," says Gerald Storch, CEO of Toys "R" Us, noting that sales are up "significantly" over last year.
It hasn't hurt that Bratz was distracted by a copyright infringement lawsuit it lost to Mattel (MAT, Fortune 500) -- and that other competitors are having an off year. But McGowan says faltering competition alone wouldn't be enough to give Barbie this kind of lift. "Mattel," he says, "is giving girls a reason to buy the doll again." After stumbling for years, Barbie may finally be getting her groove back.