Geithner cracks down on derivatives
The Treasury secretary proposes stronger supervision for the largely unregulated derivatives market.
Bailout tracker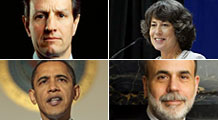 The government is engaged in a far-reaching - and expensive - effort to rescue the economy. Here's how you can keep tabs on the bailouts.
More
WASHINGTON (Reuters) -- U.S. Treasury Secretary Timothy Geithner Friday proposed clamping down on dealers in freewheeling markets for little-understood derivatives, the complex securities that helped create a crisis in U.S. and world financial markets.
In testimony at a joint hearing by two congressional panels that will play a role in writing legislation on derivatives, Geithner set out proposals that would make big dealers like JPMorgan Chase (JPM, Fortune 500) and Goldman Sachs (GS, Fortune 500) subject to much stronger supervision than was the case in the past.
"We propose to require all OTC (over-the-counter) derivatives dealers ... to be subject to substantial supervision and regulation, including conservative capital requirements, conservative margin requirements and strong business conduct standards," Geithner said in comments that ostensibly acknowledged there were few limits in the past.
The Obama administration is trying to bring about a sweeping overhaul of the U.S. financial regulatory system in the wake of a two-year old credit crisis that has hobbled economies world-wide.
Its proposals on derivatives are just one small piece of this larger effort. Months of political wrangling lie ahead before anything is put into law.
Derivatives are financial instruments that derive their value from an underlying asset like a Treasury bond, a commodity like oil or copper or a mortgage-backed security.
Geithner stressed the need to move decisively on a regulatory overhaul before impetus to do so is lost.
"It's the typical pattern of the past," he said. "As the crisis starts to recede, the impetus to reform begins to fade in the face of the complexity of the task and opposition by the economic and institutional interests that are affected."
In the United States, four big banks control more than 90% of derivatives markets: JPMorgan Chase, Bank of America (BAC, Fortune 500), Citigroup (C, Fortune 500) and Goldman Sachs.
Geithner told the House Financial Services and Agriculture committees that the existing system allowed some financial institutions to sell large amounts of derivatives, which are intended to offset or manage risks, even without the capital to back those commitments.
He cited the example of insurer American International Group (AIG, Fortune 500), which has required huge infusions of taxpayer funds to prevent its collapse, as among "the most conspicuous and most damaging" of these types of firms.
Geithner said the Securities and Exchange Commission and the Commodity Futures Trading Commission should have authority to impose record-keeping and reporting requirements on all over-the-counter derivatives.
"Our plan will help prevent market manipulation, fraud and other abuses by providing full information to regulators about activity in the OTC derivative markets," he said.
Geithner said the Treasury wanted to encourage substantially greater use of standardized OTC derivatives, which would put them onto central clearinghouses, but indicated he did not want to eliminate "customized" contracts between firms.
He said there should be higher capital requirements for customized derivatives but said mandating that they trade on central clearinghouses would amount to an effective ban.
As Geithner testified, several lobby groups representing financial-sector firms passed around a letter in the committee room stating they would oppose any effort to stop the use of customized contracts.
A scattering of demonstrators, one carrying a sign saying "traders traitors," also made it into the committee room. Two were forced out by police.
The $450 trillion privately traded global derivatives market includes credit default swaps, the financial instrument that nearly toppled AIG.
The SEC and the CFTC would have clear authority for civil enforcement and regulation of fraud, market manipulation and other abuses under the administration's proposal.

Features

These Fortune 100 employers have at least 350 openings each. What are they looking for in a new hire? More

It would be the world's second-biggest economy. See how big companies' sales stack up against GDP over the past decade. More