Madoff arrives at N.C. prison
Federal prison bureau says financier who pleaded guilty to 11 counts related to running a Ponzi scheme has been transferred to a facility in Butner.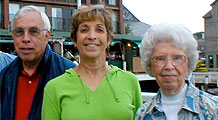 Some people invested everything they had with Bernard Madoff. Now, they have nothing. Here are their stories.
NEW YORK (CNNMoney.com) -- Bernard Madoff, the convicted Ponzi mastermind, was transferred to a federal prison in Butner, N.C. on Tuesday, according to the Federal Bureau of Prisons.
"Mr. Madoff is at our facility in Butner," said Felicia Ponce, spokeswoman for the bureau. She would not say if Madoff will serve his 150-year prison term at Butner.
Madoff, otherwise known as federal prisoner no. 61727-054, was transferred to Federal Correctional Institution Butner from a medium security prison in Atlanta, according to the bureau.
FCI Butner, located north of Durham, Raleigh and Chapel Hill, has two medium-security prisons, a low-security prison and a medical center among its facilities. All totaled, Butner holds nearly 4,900 inmates, according to the Federal Bureau of Prisons Web site.
Prison consultants have said that he would probably serve his time in a medium-security prison because his lengthy sentence makes him ineligible for low-security.
Larry Levine, a former federal inmate and founder of Wall Street Prison Consultants in Los Angeles, said FCI Butner is sometimes used as a transfer point. He said some of his clients have stayed at Butner just long enough to receive medical and psychiatric evaluations at the medical center there.
Alvin Woodlief, mayor of nearby Oxford and a lifelong resident of the area, said Butner began as an Army training camp and prisoner-of-war facility during World War II.
It has since expanded into the modern facility that it is today, and was incorporated as a town just one year ago, he added.
"Butner is the newest town in North Carolina," he said.
Madoff was transported to U.S. Penitentiary Atlanta on Monday from the Metropolitan Correctional Center in Manhattan, where he was incarcerated since March 12, when he pleaded guilty to 11 federal counts for running his massive Ponzi scheme.
U.S. Penitentiary Atlanta, home to 1,949 inmates, is a detention center for pre-trial and holdover inmates, as well as a permanent facility for long-term inmates.
Levine said some of his clients have stayed at USP Atlanta in holdover status for up to a month.
Long sentence: Madoff, 71, was sentenced to 150 years on June 29. His release date is Nov. 14, 2139.
He is also being forced to forfeit property to comply with a $170 billion legal judgment against him.
Before Madoff was sentenced, many of the thousands victimized in his scam wrote letters to Judge Denny Chin of U.S. District Court in Manhattan, describing how they were financially ruined by his scheme and requesting life in prison for the Ponzi mastermind.
Madoff's lawyer Ira Lee Sorkin, who declined to comment for this story, had requested that Madoff be sent to Federal Correctional Institution Otisville. The medium-security prison is located about 70 miles northwest of New York City, where Madoff lived in a $7 million apartment before admitting to the scheme on March 12.
The judge said that he would recommend that Madoff be transferred to a prison in the Northeast, but he did not say where.
The bureau had the final say in deciding where Madoff would live. The bureau tries to place inmates within 500 miles of their homes, and Butner meets that consideration.
Madoff's wife, Ruth, has also left the $7 million apartment. She has been allowed to keep $2.5 million which has not been connected to the Ponzi scheme.
The Ponzi connection: The Atlanta prison where Madoff was held first opened in 1902, according to Alan Ellis, a prison consultant and author of the "Federal Prison Guidebook."
Interestingly, the prison once housed Charles Ponzi, the namesake of the scheme to which Madoff pleaded guilty on March 12.
About a decade before the international postal stamp scheme that made him famous, Charles Ponzi served nearly two years at the Atlanta prison after he pleaded guilty to illegally smuggling aliens from Canada, according to the book "Ponzi's Scheme," by Mitchell Zuckoff. Ponzi was released from the facility in 1912.

-- CNNMoney staff writer Catherine Clifford and assistant managing editor Mark M. Meinero contributed to this report.

Features

These Fortune 100 employers have at least 350 openings each. What are they looking for in a new hire? More

It would be the world's second-biggest economy. See how big companies' sales stack up against GDP over the past decade. More