U.S. may need another stimulus - Roubini
A leading economist says the economy will need another jolt to the tune of $200 billion to $250 billion.
Bailout tracker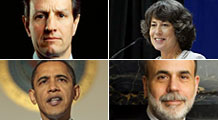 The government is engaged in a far-reaching - and expensive - effort to rescue the economy. Here's how you can keep tabs on the bailouts.
More
NEW YORK (Reuters) -- The United States may need a second fiscal stimulus worth $200 billion to $250 billion to support labor markets, leading economist Nouriel Roubini said Thursday, adding the worst of the crisis is already behind us.
Roubini, chairman of RGE Global Monitor and one of the few economists who foretold much of the current global financial turmoil, said he expects U.S. unemployment will top 10 percent by the end of 2009, weighing on domestic consumption and the retail sector.
"I think we may need in fact a fiscal stimulus some time early next year or before the end of this year," he told reporters after delivering a speech at an event organized by the Chilean government in New York.
"It might be in the $200-$250 billion range -- not too small, not too big," he added.
But if the next stimulus is too large, Roubini warned, financial markets would start to get worried about U.S. fiscal sustainability, with "severe" negative consequences for bond markets.
Roubini conceded, however, that "the worst is behind us in terms of economic and fiscal conditions," as the economy is still contracting but at a slower pace.
"There is light at the end of the tunnel. And for once it is not an incoming train," he earlier told investors during a presentation.
Still, developing economies in general will have a sub-par recovery during next couple of years, while emerging economies are in better shape to exit the recession faster, Roubini said.

Features

These Fortune 100 employers have at least 350 openings each. What are they looking for in a new hire? More

It would be the world's second-biggest economy. See how big companies' sales stack up against GDP over the past decade. More