A city without chain grocery stores
National retailers are steering clear of Detroit, leaving independent grocers to serve the city's hard-hit residents.
Photos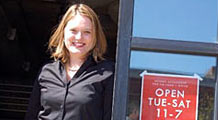 Map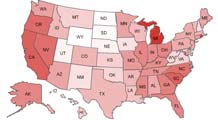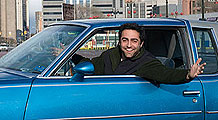 Detroit residents often are asked why they stay. 13 locals answer that question - and reveal their favorite treasures of the Motor City.
DETROIT (CNNMoney.com) -- Detroit is one of America's largest cities, but there isn't a single grocery chain store within the city limits. Spurned by national retailers, Detroit's nearly 1 million residents instead rely on independent stores run by local entrepreneurs for their most basic needs.
But for those entrepreneurs, staying in business can be a struggle.
Running a grocery store "requires a lot of working capital up front, and small problems early on can escalate," says Olga Stella, vice president of business development for the Detroit Economic Growth Corp., a quasi-government development agency. "It's like any small business, but it has added complications because you're selling a highly perishable product that has very little collateral."
Such was the case for Zaccaro's Market, a gourmet grocery store that opened in April 2008 with much fanfare from local media before closing down just 10 months later. Owner Cindy Warner, a management consultant by trade, wanted to open a store that would expand Detroit shoppers' options for organic and gourmet foods.
"I was looking to do something innovative, and do it in a place that needed those goods and services," says Warner, who had 24 employees.
She started out optimistic about Zaccaro's chances. Detroit is underserved by groceries, and a number of new housing starts were slated for Zaccaro's neighborhood.
But once the store opened, Zaccaro's generated sales of about $110,000 a month -- half of Warner's projections. As Stella noted, small errors become magnified for independent groceries. Warner experienced that firsthand: A pricing mistake in her store's first few months caused Zaccaro's products to cost more than intended, alienating some early customers. The housing market in the neighborhood slowed, particularly after the credit crunch began.
Add in an unsuccessful attempt at restructuring debt -- including a $200,000 loan from the city -- and the obstacles became too great. Zaccaro's closed its doors in February. Warner, who is in litigation with Detroit Economic Growth Corp. over Zaccaro's loan, believes her store filled a need that is now going unmet. To better serve both Detroit's citizens and its entrepreneurs, Detroit officials need to step up the city's support of small businesses, she believes.
"Detroit is a diamond in the rough, but it has challenges we have to overcome," Warner says.
A grocery gap
City planners are aware of their grocery void. A 2007 study conducted by Washington-based researcher Social Compact determined that Detroit could support 600,000 to 1 million additional square feet of grocery retail space.
But national chains aren't rushing into that gap. The last one left in 2007, when The Great Atlantic & Pacific Tea Co. (GAP, Fortune 500) (better known as A&P) shut down its Detroit-based Farmer Jack chain. Aldi, a discount grocery chain that doesn't accept credit cards and carries few brand-name items, has two outposts in Detroit, but major retailers like Safeway (SWY, Fortune 500), Kroger (KR, Fortune 500), Costco (COST, Fortune 500) and Whole Foods (WFMI, Fortune 500) have stayed away. Poor perceptions of Detroit's market strength, the costs of doing business in the city, and the difficulty of hiring and retaining good local workers scare away the big retailers, a city task force concluded in a report issued last year.
So Detroit is instead trying to nurture its home-grown grocery stores and help them grow. For example, the city is working on tax abatements for Honey Bee Market, which expanded in 2006 from 4,000 square feet to 15,000 square feet, and is now dealing with higher property taxes as a result.
Honey Bee Market has been in business on Detroit's southwest side since 1956. Co-owner Kenneth Koehler attributes his store's longevity to selling products that cater to the neighborhood's significant Latino community, as well as being involved in neighborhood events.
"We know the neighbors, we know the people," says Koehler, who has 40 employees. "We look out for them, and they look out for us. "
Koehler also takes care to keep up his store's image and physical maintenance. "It's got to shine, it's got to be clean," he says. "It just has to be very presentable, just like it would be at your home."
Customer service and presentation is key to staving off bigger rivals. While national retailers steer clear of inner Detroit, they're littered through nearby suburbs like Dearborn, Southfield and Warren. University Foods owner Norman Yaldoo sees his store's emphasis on service as critical to its survival.
"We've built a reputation here in Detroit that's really unsurpassed to other stores that have come and gone," says Yaldoo, who opened his store in 1979 and now employs 20 workers. "That's why we're still here. Customers trust us."
Like Honey Bee Market, University Foods pays close attention to local preferences. Yaldoo stocks his 30,000-square-foot with a diverse product lineup catering to various cultural groups that live near University Foods.
That's one area where independent retailers have an advantage over major chains, says Jane Shallal, president and CEO of the Associated Food and Petroleum Dealers, a trade group that represents independent grocers throughout Michigan and Ohio. They can adjust to local conditions.
For example, food stamp distribution can result in a feast-or-famine retail atmosphere in Detroit, with shoppers buying most of their food at the beginning of each month and trickling into stores at the end. Small stores have more flexibility than chain retailers to reduce their hours during slow times.
Independently owned grocers have strong incentives to find ways to adapt and survive:
"This is their livelihood," Shallal says. "They're there for the long haul."
Development official Stella says Detroit is trying to provide additional assistance, such as by helping grocers find financing, secure the zoning they need, and organize focus groups to help fine-tune their product mix.
"You want to stabilize your base and help the strong stores make the changes that can serve the community," Stella says. "We have to be willing to think a little bit differently about urban neighborhood stores, and how you get the best quality and the best selection of products in a small space."
Detroit's citizens are waiting for more grocers to master that tricky formula. Beth Burrelsman, the store manager for Zaccaro's Market, says she still gets calls from people asking when Cindy Warner will be ready to tackle a new venture.

"The way the community tried to come together towards the end to try and 'save' this store reminded me of something you'd see in a movie," Burrelsman says. "The store had a vibrance and a spirit that I've never witnessed before in my 47 years. Working at this store was a gift."

To write a note to the editor about this article,
click here
.