Watchdog criticizes Obama mortgage plan
Government Accountability Office says Treasury's estimates of 3 to 4 million people being helped may be too rosy. Also says administration should monitor servicers better.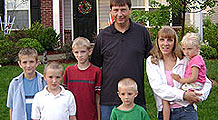 Homeowners in trouble are having mixed results applying for President Obama's foreclosure prevention plan. CNNMoney.com readers tell us their tribulations and triumphs trying to get their loans modified or refinanced.
NEW YORK (CNNMoney.com) -- A government watchdog raised questions about the Obama administration's estimate that up to four million people could be helped by the president's mortgage modification program.
Also, the Government Accountability Office said Thursday the Treasury Department must develop better procedures to ensure loan servicers are equipped to participate in the $75 billion program and adhere to its rules.
The report comes as the pressure mounts on the administration to address growing complaints about the program, including that some servicers are violating the rules.
The GAO stressed that it is "critically important" to implement effective controls since Treasury is using $50 billion from the Troubled Asset Relief Program to fund the effort. The remaining $25 billion is coming from Fannie Mae (FNM, Fortune 500), Freddie Mac (FRE, Fortune 500) and the Department of Housing and Urban Development.
When it announced its loan modification plan in February, the administration said it could help up to four million troubled borrowers. The program allows eligible borrowers who are in or at risk of default to lower their monthly payments to no more than 31% of their pre-tax income through a loan modification. The adjustments are made permanent after the homeowner makes three on-time payments. Homeowners, servicers and mortgage investors receive incentive payments in hopes of increasing participation.
Borrowers and housing counselors, however, have been complaining about the program since it began. Many say their servicers are not responsive -- losing paperwork, not returning calls and never making decisions on applications. Some charge that servicers are violating the rules, such as denying modifications to those who are still current with payments.
The outcry has become so great that the administration has called servicers to a meeting in Washington D.C. on Tuesday to determine how to improve the application process and increase the volume. Officials will release reports detailing each servicer's progress in offering modifications by Aug. 4.
Thursday's GAO report is the second this week that criticizes the administration's handling of the $700 billion rescue program. On Monday, the bailout's top cop warned that federal officials were ignoring his proposals for preventing taxpayer dollars from being wasted or pilfered.
Projections too rosy?
Treasury officials may have overestimated the number of servicers who will participate in the modification program and borrowers who will respond, according to the GAO.
The agency said that Treasury is forecasting that servicers covering 90% of distressed loans would join the program and 65% of eligible borrowers would likely apply. So far, only servicers representing 85% of loans have signed up. And only 50% of targeted borrowers are participating in the IndyMac Federal Bank modification effort, which the GAO said was most like the Obama initiative.
"All these factors suggest that Treasury's estimate of the participation rate may well be optimistic," the report found.
The Treasury Department, however, said it is on track to meet its goal of up to 4 million modifications. So far, servicers in the program have extended more than 350,000 modification offers, according to a Treasury official. More than 180,000 three-month trial adjustments are underway.
"Our estimates reflect our best understanding when the program was begun and will be updated to reflect what we learn about the program and economic developments," the official said.
Better oversight needed
The GAO also critiqued the administration for not having the controls in place to properly monitor the program. Specifically, the agency is concerned that Treasury is not evaluating servicers' capacity to meet the plan's requirements and guidelines. Also, the agency has failed to fully staff the Homeownership Preservation Office, which is responsible for overseeing the modification program.
And, though Treasury has hired Freddie Mac to review servicers' performance, it has not put established procedures to address those servicers who don't comply.
Already, reports have surfaced that financial institutions are not adhering to the program's rules. At a Senate Banking Committee hearing last week, a consumer advocate said some servicers are violating the guidelines by demanding upfront payments, denying borrowers not in default and initiating foreclosures while borrowers' applications are being reviewed. Senator Christopher Dodd, D-Conn., has asked the administration to look into these allegations.
Separately, the GAO questioned whether Treasury needed to pay investors additional incentives to agree to modify loans in areas experiencing steep home price declines. This payment would be on top of the money investors would already receive for modifying a loan. The watchdog noted that funds should be spent to encourage adjustments that would not be made without an incentive.
The Treasury Department said it would address GAO's concerns, though it defended its rollout of the program.
"We recognize that challenges remain in implementation and scaling of the program and are committed to working with the servicers to overcome those challenges to reach as many borrowers as possible," a spokeswoman said. "Treasury has implemented and continues to adapt an extensive and robust internal control system for the program."
How has President Obama's $787 billion stimulus program affected you or your community? Are you seeing a benefit from the Making Work Pay tax cuts or the additional $25 in unemployment benefits? Are you seeing construction jobs or other stimulus-funded work in your neighborhood? Do you still have a job because of stimulus funds? We want to hear your experiences. E-mail your story to realstories@cnnmoney.com and you could be part of an upcoming article. For the CNNMoney.com Comment Policy, click here.

Features

These Fortune 100 employers have at least 350 openings each. What are they looking for in a new hire? More

It would be the world's second-biggest economy. See how big companies' sales stack up against GDP over the past decade. More