Dow ends best July in 20 years
Stocks are mixed Friday after the second-quarter GDP report. Dow gains nearly 9% in the month.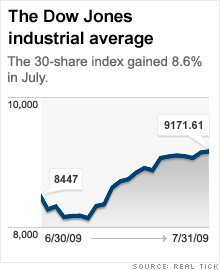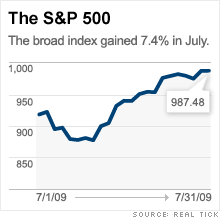 NEW YORK (CNNMoney.com) -- Stocks were little changed Friday after a report showed the pace of the recession is slowing, but the market managed to post its best July in decades.
The Dow Jones industrial average (INDU) and the S&P 500 (SPX) index both gained a few points Friday, closing at the highest levels since November.
The Nasdaq composite (COMP) lost a few points after ending the previous session at a nearly 10-month high.
Stocks seesawed through most of Friday, as investors focused on the positives in the morning's GDP report and the latest batch of quarterly results. But investors were a bit wary at the end of an otherwise big July on Wall Street.
Stocks have been surging as investors have reacted positively to quarterly results and economic news that have been better than forecast, but still not strong.
"There's a constant bid in the market, you can't knock it down," said Joseph Saluzzi, co-head of equity trading at Themis Trading.
He said the news over the last few weeks hasn't been especially positive, just not as bad as expected. But the bullish sentiment has taken over and investors have been jumping in out of fear of missing the rally.
For the month, the Dow gained 8.6%, its best July since 1989 when it gained 9% and its best monthly performance since Oct. 2002 when it gained 10.6%. The S&P 500 gained 7.4%, its best July since 1988, when it gained 8.8% and its best monthly performance since this past April, when it gained 9.4%.
The Nasdaq was up 7.8% in the month, its best July since 1997, when it gained 10.5%. It was the Nasdaq's best month overall since this past April, when it gained 12.4%.
"Looking out over the next month or so, I wouldn't bet against the market, but we've had such a run that it wouldn't be unreasonable to see a correction," said James King, chief investment officer at National Penn Investors Trust.
GDP: The pace of economic decline slowed in the second quarter, the government said Friday morning, raising hopes that the recession is winding down.
GDP, the broadest measure of U.S. economic activity, shrank at a 1% annual rate in the April-through-June period. Economists surveyed by Briefing.com thought GDP would shrink at a faster 1.5% rate.
The results reflected a smaller decline in exports as the result of higher consumer prices and more government spending.
"There are some positive signs in the report, but there's not a clear sign that we are moving back to growth just yet," said King. "I think that's why you're seeing a mild reaction in the markets."
GDP has declined for four quarters in a row, hitting the nadir in the first quarter, which was revised lower to a decline of 6.4% from the originally reported drop of 5.5%.
In the fourth quarter of 2008, GDP dipped at a 5.4% annual rate. The two quarters represent the biggest quarterly declines in 26 years.
In other economic news, the House of Representatives voted to add $2 billion to the popular cash-for-clunkers program, which has been running low on funds. The Senate will vote on the bill Monday. The program is seen as having already started to help lift auto sales.
The Chicago PMI, a regional read on manufacturing, rose to 43.4 in July from 39.9 in June. Economists surveyed by Briefing.com thought it would rise to 43.
Quarterly results: Dow component Chevron (CVX, Fortune 500) reported a 71% drop in second-quarter profit due to oil and gas prices and lower demand for fuel in a global economic slowdown. The No. 2 oil producer said it earned 87 cents per share versus $2.69 a year earlier. Economists surveyed by Thomson Reuters thought it would earn 97 cents per share. Shares gained 2.6%.
On Thursday, No. 1 oil producer Exxon Mobil (XOM, Fortune 500), also a Dow component, reported a 66% drop in quarterly profit. Shares of Exxon ended lower Friday.
Late Thursday, Walt Disney (DIS, Fortune 500) reported weaker earnings that topped estimates on weaker revenue that missed estimates. Shares of the Dow component slipped 4.2% Friday.
Also late Thursday, Las Vegas Sands (LVS) reported a wider quarterly loss as the recession cut into profits at its casinos and hotels. The company reported weaker quarterly earnings that topped estimates and weaker revenue that missed estimates. On Friday, a number of analysts downgraded the company or warned about its capital position. Shares slumped 16% in unusually active New York Stock Exchange trading Friday.
Ford Motor (F, Fortune 500) shares rallied, with economists estimating that the Cash for Clunkers program will help boost auto sales.
Market breadth was mixed. On the New York Stock Exchange, winners topped losers three to two on volume of 1.52 billion shares. On the Nasdaq, decliners topped advancers by a narrow margin on volume of 2.29 billion shares..
Bonds: Treasury prices rallied, lowering the yield on the benchmark 10-year note to 3.48% from 3.60% late Thursday. Treasury prices and yields move in opposite directions.
Other markets: In global trading, European markets ended mixed in afternoon trading and Asian markets ended higher.
U.S. light crude oil for September delivery rose $2.53 to settle at $69.45 a barrel on the New York Mercantile Exchange.
In currency trading, the dollar fell versus the euro and the Japanese yen.
COMEX gold for December delivery rose $18.50 to settle at $955.80 an ounce.

Features

These Fortune 100 employers have at least 350 openings each. What are they looking for in a new hire? More

It would be the world's second-biggest economy. See how big companies' sales stack up against GDP over the past decade. More