Stocks slip on economic jitters
Markets take a pause from the recent run-up after reports on jobs and services signal a slow recovery.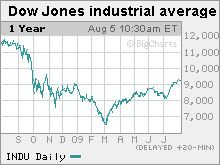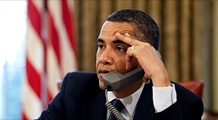 Snapshots of the economy after 200 days of the Obama administration.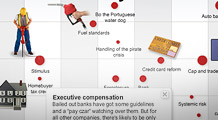 200 days in, the President is going for broke. Click for analysis of where he's succeeding - and where he's not.
Photos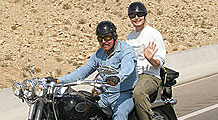 NEW YORK (CNNMoney.com) -- Stocks lost ground Wednesday as investors became cautious in the wake of some weaker-than-expected economic reports.
The Dow Jones industrial average (INDU) gave up 39 points, or 0.4%, the Standard & Poor's 500 (SPX) lost 3 points, or 0.3%, and the tech-heavy Nasdaq composite (COMP) eased 18 points, or 0.9%.
The retreat reverses Wall Street's recent run, which has been spurred by better-than-expected second-quarter corporate results and signs of economic stabilization. Last month was the strongest July for the Dow and S&P 500 in two decades.
"The market has been surprisingly resilient in the face of some negative" news, said Dave Hinnenkamp, CEO of KDV Wealth Management. "A lot of economic data points have been improving. You are seeing some confidence come back."
Given the recent rally, Hinnenkamp said the pullback Wednesday was not a surprise, and he does not expect the slide to be prolonged. "Even in bull markets, you have corrections and those are healthy," he said.
Investors are holding out for "some real positive news rather than just less negative news," said Russell Lundeberg Jr., CIO of Barrett Capital Management.
While most companies have managed to beat expectations during the latest quarterly reporting period, those impressive numbers were largely a result of cost cutting and low expectations. "We need to see top line growth to see the sustained growth in the fundamentals for companies," said Lundeberg Jr.
On Thursday, the Labor Department reports on weekly jobless claims. The number of people who filed for first time benefits is expected to be 580,000, according to a consensus estimate from Briefing.com, a slight decrease from the 584,000 who filed in the week prior. Furthermore, sales figures for July from the nation's retailers are due throughout the morning.
Job market: Two reports on Wednesday showed that the labor market continues to face challenges and that recovery on the employment front will be slow.
"I think everyone out there knows that in order to get a solid recovery, you need the jobs market to come back," said Hinnenkamp.
Paycheck processor Automatic Data Processing (ADP) said private-sector employers cut 371,000 jobs in July, the smallest monthly total since October. Although the pace of job cuts is slowing, the number was higher than expected.
In addition, outplacement firm Challenger said companies' planned job cuts rose 31% in July, indicating problems in the employment sector are far from over.
"Just because we are not seeing the worst of the worst in terms of the job market doesn't mean that we are actually adding a lot of jobs," said Lundeberg.
The reports come ahead of the U.S. Labor Department's closely watched monthly jobs report, which will be released Friday. That report is expected to show that the economy shed 328,000 jobs in July, less than the 467,000 reported for June, according to a consensus estimate of economists compiled by Briefing.com. The unemployment rate is predicted to rise to 9.6% from 9.5%.
Economy: A report showed that the U.S. services sector contracted more than expected in July. The Institute for Supply Management's services index fell to 46.4 from 47 in June, shy of economists' forecast of 48. Any reading under 50 indicates the sector is contracting.
Meanwhile, a report from the Commerce Department showed a surprise uptick in demand for U.S.-made manufactured goods. Factory orders increased 0.4% in June, while economists were bracing for a decline of 0.8%, according to the Briefing.com economists' consensus.
Earnings: Consumer goods firm Procter & Gamble (PG, Fortune 500) reported profits slightly higher than expected, although revenue declined as consumers moved away from its high-end product lines. Shares of Procter & Gamble lost 3%.
Kraft Foods (KFT, Fortune 500) reported an 11% jump in profit after U.S. markets closed Tuesday. Shares of Kraft ended nearly unchanged Wednesday.
Shares of Whole Foods (WFMI, Fortune 500) surged 16% after the gourmet food retailer turned a better-than-expected profit and a 2% rise in sales during its fiscal third quarter.
Shares of bailed out insurance giant American International Group, AIG (AIG, Fortune 500), surged more 63% as the company brought on a new CEO, former MetLife (MET, Fortune 500) chief Bob Benmosche. AIG is set to report its quarterly results Friday before the opening bell.
Oil and gold: U.S. light crude oil for September delivery settled up 55 cents at $71.97 a barrel. In its weekly supply report, the government said crude supplies rose by by 1.7 million barrels last week, surpassing analysts' expectations of a 1.5 million barrel build, according to a consensus estimate by industry monitor Platts.
COMEX gold for December delivery fell $3.40 to $966.30 an ounce.
Bonds: Treasury prices fell, with the yield on the benchmark 10-year note jumping to 3.77%. Treasury prices and yields move in opposite directions. On Wednesday, the government announced plans to auction $75 billion in U.S. debt next week.
Other markets: In global trading, Asian stocks fell as investors paused. Major European markets were mixed as investors digested another round of bank earnings.
In currency trading, the dollar fell against the Japanese yen and the British pound and held nearly even with the euro.
U.S. market breadth was negative. On the New York Stock Exchange, decliners beat out advancers on a volume of 1.88 billion shares. On the Nasdaq, decliners beat out advancers two to one on volume of 2.40 billion shares.

Features

These Fortune 100 employers have at least 350 openings each. What are they looking for in a new hire? More

It would be the world's second-biggest economy. See how big companies' sales stack up against GDP over the past decade. More