Bank overdraft fees to total $38.5 billion
Just 10% of consumers paying nearly 90% of the record windfall as fees jump despite recession, research report says.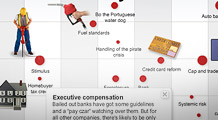 200 days in, the President is going for broke. Click for analysis of where he's succeeding - and where he's not.
NEW YORK (CNNMoney.com) -- U.S. banks will collect a record $38.5 billion in overdraft fees this year, with nearly all the revenue paid by just 10% of customers, according to a research report released Monday.
The windfall is nearly double the $19.9 billion collected in 2000, as overdraft fees drift higher despite the recession, said Mike Moebs, chief executive of research company Moebs Services.
"Overdrafts are the mother lode of all service-related charges, and they're often the only source of capital," Moebs said. "Still, we had never seen fees go higher in any recession until now."
The national median overdraft fee rose to $26 from $25 in 2008, while larger Wall Street banks charge a median of $35, Moebs said.
Moebs Services collected data from 2,000 banks and credit unions, and the firm found that 44.5% reported a net overdraft revenue higher than their net income. Fee hikes have helped banks boost profit amid the recession, Moebs said.
"Most people paying these fees have a credit score below 590 or so," Moebs said. "Beyond that, they're a whole gamut of people: rich and poor, men and women."
Government-mandated overdraft fee increases "are leading the charge," Moebs said. For example, he said, a local U.S. post office decides to increase its overdraft fee to $35. Area retailers note the increase and in turn raise their own fees. Finally, banks follow suit.
"I doubt anybody in Congress is aware of this," Moebs said. "The customers are angry, and they have a right to be angry."
The Federal Reserve and other lawmakers are discussing rules about overdraft fees, Moebs noted, but he thinks cash-strapped customers need more transparency -- and soon.
"We need to do everything we can for consumers: send e-mails, text messages, voice-activated alerts," Moebs said. "It's essential that we send a wake-up call, especially to Wall Street banks."
A JPMorgan Chase (JPM, Fortune 500) spokesman told CNN that his company did not raise overdraft fees from last year, saying that the bank charges overdraft fees depending on number of times it occurs ranging from $25 to $35.
A Bank of America (BAC, Fortune 500) spokeswoman said although her company sent customers letters earlier this year about possible increases, it decided not to raise the $35 fee. Overdrafts of less than $5 incur a $10 fee, she said, and the bank may waive unemployed consumers' fees on a case-by-case basis.
Other banks were not reached for comment by CNN.
--CNN's Ekin Middleton contributed to this report.

Features

These Fortune 100 employers have at least 350 openings each. What are they looking for in a new hire? More

It would be the world's second-biggest economy. See how big companies' sales stack up against GDP over the past decade. More