California to end IOUs on Sept. 4
The Golden State has issued 327,000 IOUs totaling $1.95 billion since July 2 to preserve cash. State should have enough funds to see it through fiscal year.
Map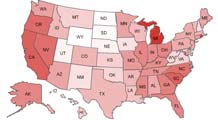 NEW YORK (CNNMoney.com) -- California will have enough cash to stop issuing IOUs on Sept. 4, almost one month earlier than expected, the state controller said Thursday. That's also the date when people and companies can redeem their IOUs with the state treasurer.
The controller's office has issued 327,000 IOUs worth a total of $1.95 billion so far.
The Golden State was forced to start handing out IOUs on July 2 after Gov. Arnold Schwarzenegger and lawmakers failed to close a $24 billion budget deficit. Controller John Chiang had to start issuing the vouchers so the state would have enough money to cover debt payments and fund education. It was the first time the state issued IOUs since 1992, though it did delay payments in February during another cash crunch.
Even after the governor signed a budget agreement in late July, the controller's office had to determine when there'd be enough money in the state coffers to end the IOU issuance. Since the budget was signed, Chiang has issued 100,000 IOUs totaling more than $800 million.
"Along with short-term loans that are routinely obtained in the fall, this spending plan should provide sufficient cash to meet all of California's payment obligations through the fiscal year," Chiang said.
The IOUs were sent to the state's vendors, county social service agencies and residents expecting tax refunds. The state's biggest banks accepted them until July 10, but then most cut them off, hoping to bring lawmakers and the governors to the negotiating table.
They were told they could redeem the paper on Oct. 2 or when the state had enough money in the bank, whichever came first. They will be paid an annual interest rate of 3.75%.
California still isn't out of its hole: The state will need to borrow $10.5 billion to meet California's cash needs for the fiscal year, Chiang said. Ending the IOUs on Sept. 4 is contingent on the state obtaining a $1.5 billion loan by Aug. 28, which the state treasurer assured the controller will happen.

Features

These Fortune 100 employers have at least 350 openings each. What are they looking for in a new hire? More

It would be the world's second-biggest economy. See how big companies' sales stack up against GDP over the past decade. More