Another setback for troubled Colonial Bank
Judge grants temporary restraining order barring asset transfer by FDIC-insured bank in response to Bank of America suit.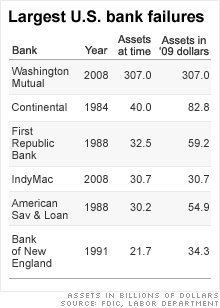 Map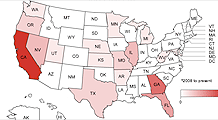 DID YOUR BANK FAIL?
For more information visit www.fdic.gov
Don't panic – your savings are insured
Keep paying your loans – the terms remain the same.
The FDIC will notify you by mail about your accounts/loans.
Contact the FDIC with any questions until further notice
If your bank is purchased, you will be contacted by your new bank.
LONDON (CNNMoney.com) -- Southern regional bank Colonial Bank is on the verge of failure, a federal judge said in granting a request made by Bank of America to freeze Colonial's assets.
U.S. District Judge Adalberto Jordan ruled Thursday in favor of Bank of America (BAC, Fortune 500), which had requested a temporary restraining order to keep Colonial from liquidating or transferring assets worth $1 billion.
Individual depositors are protected through the Federal Deposit Insurance Corp. A spokesman said the FDIC has no comment on the ruling at this time.
"Viewing Colonial's contractual breach in conjunction with the fact that Colonial is on the brink of collapse and is suspected of criminal accounting irregularities, the potential for immediate substantial injury to Bank of America is clear," the judge said in his order.
The lawsuit filed by Bank of America involved more than 6,000 mortgages issued by its subsidiary and held in trust by Colonial. According to the motion, Bank of America is owed more than $1 billion in assets but Colonial has failed to pay the amount owed.
Trouble has been brewing recently for Colonial, which is owned by Montgomery, Ala.-based parent Colonial BancGroup (CNB). Last month, the bank said in a statement that it had "substantial doubt about Colonial's ability to continue" due to uncertainties about its ability to increase its capital levels.
Shares of Colonial BancGroup, which have fallen 80% in 2009, were not trading Friday morning.
As of the end of June, Colonial had assets of $25.5 billion and liabilities of at least $24.2 billion, which includes deposits of $20 billion. Colonial BancGroup says it has 355 branches in five states: Alabama, Florida, Georgia, Nevada and Texas.
Colonial was among two banks raided earlier this month by federal agents in Florida acting on search warrants issued by the office of Neil Barofsky, the special inspector general for the Troubled Asset Relief Program.
Last week Colonial said it was informed by the Department of Justice that it was the target of a federal criminal investigation relating to its mortgage warehouse lending division and alleged accounting irregularities.
So far this year, 72 banks have failed, according to the Federal Deposit Insurance Corporation. The FDIC insurance fund declined by $35.1 billion in 2008 and another $4.3 billion during the first quarter of 2009, leaving it with just $13 billion on hand. It has yet to report second quarter results.
In the event that regulators shut down Colonial, customers' deposits are protected: The FDIC's insurance fund guarantees up to $250,000 per person per account. And, the agency said on its Web site, it historically "pays insurance within a few days after a bank closing either by establishing an account at another insured bank or by producing a check."
-- CNNMoney.com small business editor Stacy Cowley contributed to this report.

Features

These Fortune 100 employers have at least 350 openings each. What are they looking for in a new hire? More

It would be the world's second-biggest economy. See how big companies' sales stack up against GDP over the past decade. More