Colonial's failure could make mortgages more scarce
Colonial BancGroup controls 25% of all warehouse-lending funds. If that money disappears, mortgage loans will be even harder to get.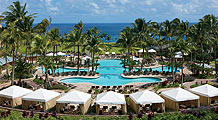 Luxury hotels are defaulting on their loans as the economy kills off business travel. But what is ailing the hotel industry is good for consumers as room rates fall.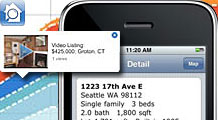 Real estate Web sites are constantly coming up with new ways for homebuyers to get information about the market. Here are 5 new sites that can make house hunting easier.
NEW YORK (CNNMoney.com) -- The collapse of Colonial BancGroup poses another hazard to the still-shaky housing market: Mortgages could become even harder to get.
The Southern regional bank, based in Montgomery, Ala., was the largest remaining player in warehouse lending, which provides short-term financing to independent mortgage bankers. At one time, these mortgage bankers originated half of all U.S. home loans using these funds.
Today, the warehouse lending market is decimated. In 2007 it was worth an estimated $200 billion; now there is just $25 billion available -- 25% of which belongs to Colonial. With Colonial's failure, those funds could become even more scarce.
"It's like if they shut down half the concession stands at the baseball game," said Scott Stern, CEO of the Lenders One mortgage bankers group in St. Louis. "It means the guy who's last in line is going to have to wait a lot longer to get a hot dog, and in this market who knows what the price is going to be when he gets there?"
The money began drying up when investors started shunning mortgages not guaranteed by government-backed agencies such as Fannie Mae. These loans, made by the independent mortgage bankers, had become closely associated with the worst excesses of the housing bubble.
Among the biggest players in the market were Countrywide, rescued last year by Bank of America (BAC, Fortune 500), and Washington Mutual, which collapsed last September. This year, two other prominent lenders had to unwind their warehouse business: National City, the troubled Cleveland bank acquired last fall by PNC (PNC, Fortune 500); and Guaranty Bank, the Texas thrift that warned last month that it expects to be taken over by regulators.
To be sure, everyone isn't fleeing the market. ResCap, a troubled home lender owned by the government-supported GMAC finance company, said earlier this year that it would expand its warehouse lending business. Citi said this month it expects to put $2 billion into warehouse lines this year.
But with small banks failing and pulling back and many larger players, such as JPMorgan Chase and Wells Fargo, not aggressively pursuing new business, few expect the new entries to reopen the market.
Thus the industry is lobbying Washington to give government-backed Fannie Mae, Freddie Mac and Ginnie Mae a bigger role in warehouse lending.
But with those entities already backing some 90% of current U.S. mortgage originations -- and taxpayers on the hook for potentially hundreds of billions of dollars of losses at Fannie and Freddie -- that idea is proving a hard sell.
Still, mortgage bankers are hoping the latest tremors in the banking industry will make Washington more receptive.
"We're trying to show people how important this is, but I'm not sure the urgency is there," said Glen Corso, a longtime mortgage industry executive who now heads the Warehouse Lending Project that's advocating an expanded federal role. "We'd like to see a private solution, obviously, but failing that we need to get something in place to keep financing flowing."

Features

These Fortune 100 employers have at least 350 openings each. What are they looking for in a new hire? More

It would be the world's second-biggest economy. See how big companies' sales stack up against GDP over the past decade. More