Keep your cash safe
Here's what you need to know about protecting your money in the case of a bank failure.
Map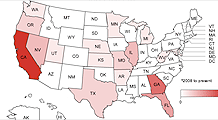 DID YOUR BANK FAIL?
For more information visit www.fdic.gov
Don't panic – your savings are insured
Keep paying your loans – the terms remain the same.
The FDIC will notify you by mail about your accounts/loans.
Contact the FDIC with any questions until further notice
If your bank is purchased, you will be contacted by your new bank.
NEW YORK (CNNMoney.com) -- As yet another bank faces collapse, consumers are worried about their cash.
So far this year, 72 banks have failed, according to the Federal Deposit Insurance Corporation. Struggling southern regional bank Colonial Bank could be the 73rd.
But individuals with deposits at Colonial, or any other troubled bank, are insured by the FDIC for up to $250,000. And in the FDIC's 75-year history, no customer has ever lost an insured deposit.
"When your money is in a bank that is FDIC insured it is backed by the full force of the United States government, and it doesn't get any better than that," said Carol Kaplan, a spokeswoman with the American Bankers Association.
So, if your cash is in an account with less than $250,000 at a bank insured by the FDIC, "there is virtually no way you are going to lose your money," Kaplan said.
Consumers who are worried that their account may exceed the $250,000 mark can spread funds around by opening additional accounts within the same bank -- as long as they are under different names, like a joint account with your spouse or a trust for your children. Consumers can also shield themselves from losses by opening up different accounts with less than $250,000 under the same name, as long as they are at different banks.
Kaplan suggests that account holders speak to a bank employee about strategies to get additional FDIC insurance. Banks will help people reorganize their funds to get full coverage or set up a sweep account, which will automatically move any amount in excess of $250,000 to another bank.
To calculate their personal exposure, consumers can go to http://www.fdic.gov/ and click on the Electronic Deposit Insurance Estimator, also known as EDIE.
When your bank fails
In the case of a bank failure, the FDIC assumes control of the troubled institution and will try to arrange a quick sale to a different bank. If another buyer does not immediately step up, the FDIC will remain in control of the bank until a buyer can be found.
Even under these circumstances consumers can access their deposits within a couple of days, if not immediately, Kaplan said.
But the odds of a bank failure are still relatively rare. The current crop of bank failures hardly comes close to what happened during the savings & loan crisis two decades ago. Between 1987 and 1991more than 1,900 financial institutions went under -- with 534 failures in 1989 alone.
The FDIC disclosed that it was closely watching 305 financial institutions on its "problem bank list" at the end of the first quarter. While that number is higher than it has been in the last few years, there were 2,165 on the list in 1987. The FDIC does not publish the names of the troubled banks for fear of spurring a bank run.

Features

These Fortune 100 employers have at least 350 openings each. What are they looking for in a new hire? More

It would be the world's second-biggest economy. See how big companies' sales stack up against GDP over the past decade. More