Spas take off in Asia
Healthy living is back in style in Asia, which means a revival of ancient Asian wellness techniques - and an explosion of spas.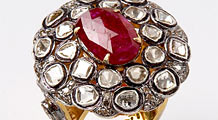 As department stores struggle and independent boutiques call it quits, high-end sample sale Web sites are enjoying a surge in popularity.
HUA HIN, Thailand (Fortune) -- Yue-Sai Kan -- one of the most recognizable women in China with a cosmetics empire and her own TV show -- often needs to get away from the grueling pressures and polluted skies of Shanghai and Beijing, where she lives.
Her refuge of choice? A health spa in Thailand called Chiva-Som. "The service is amazing, and the food is amazing, too," she says of the wellness center in the beach resort town of Hua Hin, where patrons are offered lemongrass tea all day as a diuretic and eat only healthy salt-free, oil-free, sugar-free food. "I go sometimes more than once a year, from three days to 12, depending on what time I have. But I would love to stay six months. That would really make me healthy!"
Health is a key buzzword in Asia these days. The region's rapid growth of the last decade has meant a proliferation of fried chicken and ice cream, air pollution, and generally unhealthy lifestyles. Waistlines swelled along with GDP, and smoking and heavy drinking became fashionable among a certain segment of upwardly mobile Asians.
But increasingly, those with disposable incomes are recognizing the benefits of taking care of their health, and they're turning to spas to do it. "Beforehand there were hardly any Chinese, hardly any Asians, and now there are a lot," says Kan, who has visited Chiva-Som for more than a decade. "People get more money and they want to be more health conscious."
That's meant a dramatic rise in the number of spas in Asia. Chiva-Som -- which started in the mid-1990s as an exclusive club for the wealthy business elite of Bangkok -- was the first wellness spa to open in the region. For some time it had the field almost entirely to itself, but in the last several years, the number of competitors has exploded. In Thailand alone, the number of spas grew 154% between 2002 and 2007 -- from 230 to 585.
"There's been a massive proliferation in the number of spas," says Gerard Bodeker, a professor at Oxford University Medical School and author of the book, Understanding the Global Spa Industry. "There's a huge awareness in global value and interest in Asian therapies, so Asian countries are now actively discovering and promoting their own health and heritage. There's an across-the-board revival of interest in Asia in indigenous health traditions."
The result, he says, is age-old methodologies being discovered not just by Westerners interested in Ayurveda or Thai massage, but by the populations of Asia who had such treatments as part of their cultures for decades and even centuries, but rarely had a place to take advantage of them.
The Japanese have always maintained their tradition of going to onsens (hot springs) to relax, but in the rest of Asia, the traditional therapies and healing techniques often performed by village women for generations were in danger of being forgotten before the spa trend began taking off.
While shiatsu (Japanese), tui-na (Chinese) and Ayurvedic (Indian) techniques have been joining the ranks of Swedish massages at spas in the United States and elsewhere in the West, many of the traditional Malay, Vietnamese, Balinese, and even Indian health techniques are just starting to see a huge revival and adoption by Asia's emerging middle class. "It's the gentrification of their traditions," Bodeker says. "We're in the process of a big transition from simple village treatments to 21st century resort standards."
Call it a sort of globalization in reverse, or at least the opposing trend of the spread of KFCs and McDonald's franchises around the world. Despite the recession -- and in part fueled by cheaper commodity prices -- Asia now has the largest number of spas under development of any region of the world, says Bodeker. Increasingly, Asian luxury hoteliers like Aman Resorts, Mandarin Oriental, and the Banyan Tree -- a Thai luxury resort chain that opened a spa resort in Lijiang in southwest China in 2006 -- are building wellness retreats, not just adding spa facilities to their urban or beach resort properties.
In Thailand, 19% of respondents polled online by the International SPA Association said they had stayed at a destination spa, as did 21% of Chinese and 15% of Indians. And more than half of the people of those three nationalities said they had visited a day spa. (The ISPA survey, conducted in Asia for the first time last year, reaches only those with Internet access and is therefore considered a self-selected sample of the urban elite.)
While the global spa industry is valued at $255 billion annually, according to the Global Spa Summit, data about the trend in Asia is only now being gathered. A 2007 study by the GSS -- also its first-ever tracking Asian spas -- found 82 destination or wellness spas in the Asia-Pacific regions, which includes spas in Australia and New Zealand, as well as Ayurvedic facilities in India, out of a global total of 1,485 destination or wellness spas. A decade ago, Bodeker says it's safe to say, there were almost none of these facilities in Asia.
Thailand was the first Asian country to develop a spa industry, which was natural given its status as a rest-and-relaxation center for American soldiers during the Vietnam War. "There's been an effort to separate out the sex industry from the spa industry," says Bodeker. "Previously the word 'massage' was a synonym for sexual services." Plus, Thailand has a rich heritage of unique massage, herbal treatments, and meditation, a philosophical framework of mind/body balance, a well-trained service sector, and a highly developed tourism industry.
Now India, Bali, China, and even Malaysia -- with its highly lauded Pangkor Laut Resort -- are building up their spa industries, too. A destination resort called Life Wellness Resort Quy Nhon -- based on local health practices -- has even opened in central Vietnam.
At Chiva-Som, while Europeans made up 51% of the visitors in May (the most recent data available), Asians were second at 26 % of guests. And their numbers jump considerably during Asian holiday periods such as the Lunar New Year of January-February. With the recession, the fact that Chiva-Som costs about 30% less than a comparable American or European spa -- or even a regular vacation abroad -- means that many Asians are choosing to stay closer to home this year, says Paul Linder, Chiva-Som's general manager.
Americans and Europeans realize that they can combine a Thai vacation with a spa experience for the same price as a trip to, say, the Canyon Ranch or Golden Door spas in the United States, or the Kempinski St. Moritz spa in Switzerland. "People are being more careful in how they spend their money," Linder says, "but more people are coming to spend it on their bodies than on luxury products."
At Chiva-Som, treating the body both inside and out is the norm. Daily routines start with a sunrise walk on the beach or Tai Chi Chuan, then meditation, morning yoga, stretch class, and a break for breakfast. (No oil, salt, or sugar, remember?) Then there's water aerobics, regular aerobics, and an array of Pilates, kinesis, cardio, and other classes.
Most patrons schedule massage and beauty treatments for the rest of the afternoon: One daily massage is mandatory, and most massage options include adaptations of Thai massage techniques. With that kind of regimen, even the most unfit and overweight urban Asians can't help but get healthier -- and feel inspired by their own traditions while they're doing it.