Gas prices steady despite oil surge
The average price of gas over the past two weeks was around $2.64 a gallon. Refiners in 'limping mode' as demand remains weak.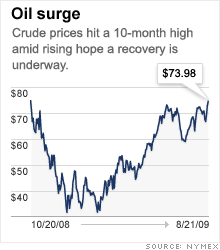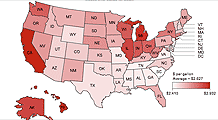 Prices at the pump can vary widely among states due to a number of factors.
More
(CNN) -- Prices at the pump held steady over the past two weeks, leaving the nationwide average at $2.64 for a gallon of self-serve regular gasoline, according to a survey published Sunday.
The Lundberg Survey, which tabulates prices at thousands of gas stations nationwide, found the average was a quarter of a penny below the average in the previous survey.
"Refiners are in limping mode from weak demand for fuel, and failed to pass on their higher crude oil prices in this period," said survey publisher Trilby Lundberg. "It doesn't seem likely they can recover that lost margin soon because our gasoline demand drops off next month, as it always does in September. So the gasoline glut is going to be deeper."
Lundberg said demand remains relatively low compared to previous years "because our economy is still very sickly."
Other analysts have also pointed out that fewer families are able to afford long summer road trips, and rising unemployment has reduced the number of daily commuters.
Lundberg said gas prices are likely to hold steady in the short term.
"Even if crude oil prices don't give up their recent gains... gasoline prices are not likely to rise," she said. "If crude oil prices slip, we may see gasoline price slippage too. But refiners have already idled a significant portion of their total capacity."
The nationwide average is $1.06 below where it was a year ago, during a summer of skyrocketing gas prices.
The city with the lowest average in the latest Lundberg survey was Charleston, South Carolina, where a gallon of self-serve regular cost $2.39. The highest was Honolulu, Hawaii, at $3.17.
Here are the average prices in some other cities:
Manchester, New Hampshire $2.61
Philadelphia, Pennsylvania $2.69
Atlanta, Georgia $2.50
Chicago, Illinois $2.77
Houston, Texas $2.47
Boise, Idaho $2.70
Seattle, Washington $2.85
San Diego, California $3.00

Features

These Fortune 100 employers have at least 350 openings each. What are they looking for in a new hire? More

It would be the world's second-biggest economy. See how big companies' sales stack up against GDP over the past decade. More