Pennsylvania budget impasse takes toll on residents
As battle rages over Pennsylvania budget months overdue, residents lose vital services. Social service programs are among the first to go.
Map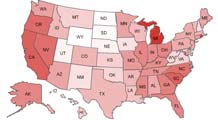 NEW YORK (CNNMoney.com) -- In Pennsylvania, day care centers are closing. Food banks and libraries are cutting back. A school district is taking out a multi-million dollar loan.
Local governments and social service agencies are struggling to maintain services as lawmakers and the governor battle over how to close Pennsylvania's $1 billion budget gap. Democrats don't want to cut too deeply into services, while Republicans don't want to hike taxes.
The budget stalemate is now in its eighth week, leaving state funding for counties, municipalities, school districts and social service agencies frozen. Non-essential state services, such as the state library, are also being slashed.
Many states had a tough time enacting their budgets for fiscal 2010, which for most started on July 1. The recession forced them to slash funding and raise taxes. But only two states -- Pennsylvania and Connecticut -- have yet to approve spending plans.
This isn't the first time Pennsylvania officials were late in passing a spending plan, but this is the longest budget-less stretch in decades, experts said. Gov. Edward Rendell signed a stopgap budget earlier this month, which allowed state workers to start getting paychecks again. But he said he vetoed the spending levels for social service and education programs approved by Senate Republicans because he didn't want to lock in budget cuts.
The continuing budget stalemate is having a big impact on the commonwealth's residents.
"There are a plethora of community services being affected," said Michael Wood, research director for the Pennsylvania Budget and Policy Center, a left-leaning analysis group.
Take the South Central Community Action Program, which has served the residents of Adams and Franklin counties for 44 years. Waiting on $1.7 million in state payments, the agency must close the doors on some of its programs for the first time ever.
South Central has temporarily shuttered 75% of its services and laid off 68 of its 108 staffers, said Megan Shreve, executive director. Suspended are its housing, emergency services and career programs. Thanks to community support, it is able to continue operating its food pantries, shelters and a handful of other services on very limited hours.
And this stalemate has forced her to drain hundreds of thousands of dollars in reserves, as well as draw down a $900,000 credit line, which was recently raised from $200,000.
What upsets Shreve the most is that her agency's troubles are not the result of budget cuts, but of squabbling in the state capital.
"This is a man-made crisis," she said. Lawmakers "look at it as if it's a budget, just numbers. But it's people ... working people trying to make ends meet."
At the Community Women's Education Project in Philadelphia, a skeletal staff is keeping alive its literacy programs and assistance for children, the unemployed and parents whose children are in foster care.
However, it can't enroll the 125 adults who usually partake in its literacy classes until it receives the $60,000 it's expecting from the state. These residents depend on the agency to get the skills they need to apply for jobs.
"People's lives are in jeopardy," Brown said. "Without accessing this step, they can't move forward on their path to self-sufficiency."
The budget impasse is affecting more than just non-profits. The Allentown Public Library is closing it south branch until state funds start flowing again. And the Steelton-Highspire School District must borrow nearly $2.8 million to be able to start the school year.
School districts such as Steelton-Highspire are suffering because the state's Department of Education in July withheld a scheduled $416 million monthly payment to Pennsylvania's 500 districts. If a budget is not in place by Aug. 27, the schools will miss payments of more than $876 million.
State lawmakers and Rendell say they are aware of the impasse's impact on Pennsylvania residents and expressed frustration at the standstill. Senate Republican and House Democratic leaders are meeting, but a resolution is not expected anytime soon.
"We are not close to a final agreement," said Erik Arneson, policy director Senate Majority Leader Dominic Pileggi.
Rendell, a Democrat, said there's only one way to solve the state's problems.
"The best thing we can do is pass a budget," Rendell said in an interview.

Features

These Fortune 100 employers have at least 350 openings each. What are they looking for in a new hire? More

It would be the world's second-biggest economy. See how big companies' sales stack up against GDP over the past decade. More