Brace yourself: Beer prices are going up
Brewers say rising commodity costs and lower volumes are forcing them to raise its price tags.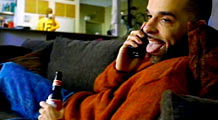 With so many great advertising campaigns over the years, we asked Mark Tutsell, chairman of Leo Burnett Worldwide and of the CLIO Awards, and Mary Warlick, executive producer of the ad documentary "Art & Copy" to help us pick a few favorites.
NEW YORK (CNNMoney.com) -- Beer drinkers beware: The cost of a cold one is going up.
Brewers across the globe are hiking prices to compensate for lower sales volumes and higher commodity costs.
Anheuser-Busch InBev, the world's largest brewer and maker of Budweiser, announced plans to raise prices Tuesday.
"We plan on taking price increases on a majority of volume and in a majority of markets this fall," Anheuser-Busch InBev said in a statement. "The increase helps cover some input costs."
The U.S.-Belgian brewer said prices will go up "across different price tiers," including its high and low-end brands.
MillerCoors - the maker of popular beers Miller Lite, Coors Lite and Blue Moon -- is also raising prices in some markets. But these hikes are part of the company's regular fall increases and are "more in line with catching up with costs and commodity prices rather than the economic environment," said Julian Green, director of media relations for MillerCoors.
The price increases by the biggest brewers is not unexpected, according to Benj Steinman, the editor of "Beer Marketer's INSIGHTS," an independent industry trade publication. "What is going to be a little bit out of the ordinary is that they are going to be able to go up less than in a normal year because economic conditions are tighter," said Steinman.
Heineken, best known for its Heineken and Amstel brands, said Tuesday that its global price increases have helped it turn profits despite sagging volumes.
Going forward, however, Steinman said that Heineken will be hard pressed to continue raising prices. The major competition for the imported brand is Corona, and Corona has said it will not be increasing prices in the tough economy.
Heineken and Corona are struggling more than Anheuser-Busch and MillerCoors -- which have 80% of the U.S. market by volume -- because beer drinkers are picking out the cheapest drink from the cooler.
"For the first time in a while, it is the lower price brands that are gaining share, and that is definitely because of the economy," said Steinman.
Anheuser-Busch InBev (ABI) was formed in November 2008 when InBev, which brews Beck's and Stella Artois, bought St. Louis-based Anheuser-Busch for $52 billion.
The looming price hike comes as sales volumes in the brewing industry have declined. Anheuser-Busch InBev said earlier this month that total beer volumes were down 1.5% in the second quarter versus the same period last year.
Heineken, based in Amsterdam, said Tuesday that price increases helped the company offset the pull back in consumption. Heineken makes and brews 170 international beers and ciders, but is best known for its brands Heineken and Amstel.
"The economic and trading conditions remain difficult, and there will be continued pressure on volumes in the second half of 2009," CEO Jean-François van Boxmeer said in a statement.

Features

These Fortune 100 employers have at least 350 openings each. What are they looking for in a new hire? More

It would be the world's second-biggest economy. See how big companies' sales stack up against GDP over the past decade. More