Do railroads have a free ride?
A new bill could tighten regulation - and send hedge funds for the exits.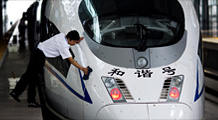 When China's $300 billion high-speed train system is completed, it will be the world's largest, fastest, and most technologically sophisticated. Photographer Benjamin Lowy captures the epic project and reveals its human side.
(Fortune Magazine) -- The railroad industry is an old-time business, and for a while it was indeed stuck in the past -- choked by regulation and constantly beset with bankruptcies. Then railroads won more freedom to dictate prices and, as one of the only industries exempt from federal antitrust law, they've enjoyed an unexpected renaissance ever since.
But controls over the industry could tighten again -- thanks to a group of proposals from powerful legislators -- and send Wall Street investors running.
Over the past several years, the railroad industry has undergone a renaissance, attracting a new generation of talented corporate leaders who have streamlined operations and convinced investors that railroads -- which are notoriously capital intensive -- could be a greener, cheaper alternative to trucks.
And investors fell in love. Warren Buffett plowed money into one of the biggest rail companies, Burlington Northern Santa Fe (BNI, Fortune 500). Children's Investment Fund, the activist hedge fund better known as TCI, muscled its way onto the board of CSX (CSX, Fortune 500). And the private equity firm Fortress bought Florida East Coast Industries and the short line operator RailAmerica.
At the peak of investment about one year ago, hedge funds owned 25% of the rail industry, estimates Tony Hatch, an independent transportation analyst who has followed the industry for more than 20 years.
The investments have paid off. In 2008, the biggest rail companies, like CSX and Norfolk Southern (NSC, Fortune 500), posted record revenues. Yet their success, especially at raising prices, has made some customers unhappy -- including companies that ship chemicals, coal, and ethanol, all of which have their own political muscle in Washington.
So now Sen. Jay Rockefeller (D-W.Va.), who chairs the Senate Committee on Commerce, Science, and Transportation, Sen. Herb Kohl (D-Wis.), and some members of the House have introduced bills that would remove antitrust exemptions that rail opponents call unfair and would toughen the Surface Transportation Board, the entity that currently regulates rails and hears grievances from shippers.
That's got investors worried: "There is a huge fear among people in the investment community who look at the railroad industry and see its future potential," says Hatch.
In the U.S., the industry is dominated by a pair of duopolies: CSX and Norfolk Southern dominate the East Coast, while Union Pacific (UNP, Fortune 500) and Burlington Santa Fe rule the West. Proponents say this structure is inevitable given how expensive it is to run a railroad business.
But politicians who support some of the shippers say the setup has led to price gouging. Rep. Tammy Baldwin (D-Wis.), who has introduced a bill in the House, says that the Dairyland Power Cooperative in her state has seen a 93% rise in shipping costs in just one year. "This is what happens when there's no competition," she says. "They can name their price."
For their part, rails dispute the idea that the industry is totally exempt from antitrust regulation, saying that there's no gap in oversight since any grievances can be heard before the Surface Transportation Board. And they argue that regulation would only hurt the American economy.
"At a time when we all want our nation back on track and America's companies competitive in the global workplace, we need to focus on ways to stimulate the economy, boost employment, fuel green investment, and reinvigorate our transportation system," says Ed Hamburger, president and CEO of the Association of American Railroads. "Now is not the time to create a bureaucratic quagmire of conflicting regulations and oversight."
The rail industry has just begun its comeback, and Buffett is more likely than the hedge funds to stick with it for the long haul. But if enough investors get skittish, the rail industry could go from Wall Street darling right back to its old sleepy state.