Highway stimulus: Just a 'down payment'
The Recovery Act's funding for highway projects won't make enough of an impact on jobs and necessary infrastructure projects. Much more is still needed.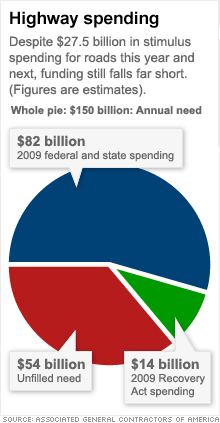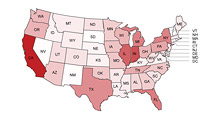 As of Aug. 14, the Department of Transportation has approved 7,701 transportation stimulus projects worth $25 billion.
More
NEW YORK (CNNMoney.com) -- The government promised $27.5 billion in stimulus funds to help fix the nation's crumbling roads and bridges as part of a broader effort to save jobs. The effort is working...sort of.
Nearly three-quarters of the funding has gone to short-term, road paving projects rather than longer-term work like repairing bridges and building new highways. Furthermore, jobs that paving projects create or save last for a shorter duration than other types of road construction.
It's not that the plan is entirely missing the mark, but there is a balancing act going on between fast-acting and long-lasting stimulus.
"The whole reason why we needed to pass stimulus right away was because the economy needed it right away," said Dan Clifton, head of policy research at Strategas Research Partners. "But while just spending money will result in GDP growth, the problem is we're not creating full-time, permanent, productive jobs."
The Recovery Act stipulated that states had to get 50% of their highway funding allocations approved by the Department of Transportation by June 30, or lose the money.
Under the gun, states had largely assigned paving jobs for stimulus money, since they are among the most "shovel-ready" kinds of projects. States can often complete the bidding and planning for a paving project in just a matter of weeks before contractors begin work. Compare that with building a bridge, which could take years, between permits, environmental reviews, and a slew of other requirements.
Road paving has also made up the bulk of the projects due to the stimulus plan's focus on speedy job creation. With construction unemployment at 18.4% -- nearly double the national rate -- Congress needed to move fast.
Of the 1,500 highway stimulus projects that the Department of Transportation says will be underway by the end of the month, 1,071, or 71%, are for repaving or pavement-widening. In dollar terms, $5.1 billion worth of projects are underway, with $3.7 billion, or 72%, allocated for paving.
A good start but more needed. Experts say paving projects are not enough to affect the much-needed improvements to the nation's highway infrastructure.
"Stimulus is a down payment on infrastructure, not a solution," said Wayne Klotz, president of the American Society of Civil Engineers. "Shovel-ready projects mean that they have to be in a state where they can literally be put under construction in just two or three months. When you [mandate] that, you immediately eliminate the bigger projects."
In January, the ASCE gave the nation's highway system a "D-" in an infrastructure survey. The report called on the federal government to more than double its annual infrastructure spending.
And road paving factors into that as a concrete need. In fact, many of the paving jobs receiving stimulus money topped states' lists of projects that urgently had to be completed but lacked the funding.
More is still needed.
"It's necessary, but it's not sufficient for the long-term fix that's needed," said Ken Simonson, chief economist for The Associated General Contractors of America. "No one is pretending the the stimulus money is the be-all and end-all."
Simonson estimates that the amount of spending needed simply to preserve the country's current highway infrastructure is about $150 billion per year. We spend just over half of that. Last year, the country doled out $81.8 billion, half of which comes from the cash-strapped states. Even with the $27.5 billion in highway stimulus spending between this year and next, levels are still far short of what's necessary.
Congress calls for more funding. Congress has taken notice of the funding shortfalls. A House Transportation and Infrastructure Committee bill would nearly double the amount of federal spending on transportation infrastructure to $75 billion a year from its current $40 billion.
"The problem with major projects is that they take a long time to go from the drawing board to hiring people to ribbon-cutting and getting money into the economy," said Jim Berard, communications director for the committee. "That's why we're working now on a bill that addresses the long-term need to rebuild our infrastructure with major projects."
But the Senate and the Obama administration both want to push the bill off for 18 months, calling for a more thorough examination of the nation's transportation needs. Committee Chairman Jim Oberstar, D-Minn., wasn't happy to hear that.
"The nation doesn't have 18 months for a head start program in transportation for the planners at the White House," he said earlier this month. "People need jobs now."
The good news is that there's still another half of the stimulus money for highway infrastructure left to be allocated. States have to assign those funds by Feb. 17, 2010, and Simonson and Klotz believe many of those projects will be longer-term, high-impact infrastructure projects.
And there may be more than half left -- many current projects have been underbid by contractors, leaving money on the table. In a number of recent letters to governors, Secretary of Transportation Ray LaHood urged states to use those funds for more highway projects, lest they lose it.

Features

These Fortune 100 employers have at least 350 openings each. What are they looking for in a new hire? More

It would be the world's second-biggest economy. See how big companies' sales stack up against GDP over the past decade. More