Chanos: G7 ignored crisis warning
The hedge fund manager says he told World finance ministers that a systemic banking failure was on the way, but they failed to listen.
Photos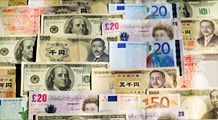 NEW YORK (Fortune) -- The hedge fund manager who made his name by predicting the demise of Enron says he warned world leaders of a systemic banking failure in 2007, but he was ignored.
Jim Chanos, whose fund Kynikos Associates famously shorted Enron, says he and Paul Singer, founder of legendary hedge fund Elliott Associates, advised the G7 finance ministers two years ago in April that a systemic financial collapse could happen because major banks were creating "radioactive" securitizations from things like sub-prime mortgages.
Chanos recounted the meeting this Monday on BBC radio. "We were completely and officially ignored," he said during the radio interview.
The news has caused an uproar in the British press, and Chanos's account of the meeting has not yet been refuted. A spokesman from the British Treasury issued a statement in response to the story that says, in part: "The reality is, no one anticipated the scale or synchronized nature of the global financial crisis that struck in 2008. There is no doubt it was fueled by excessive risk taking by many financial institutions around the world."
But Chanos says he and Singer did anticipate the synchronized nature of the collapse, as well as the cause, in a one-hour presentation to the world's most influential finance ministers.
And they did so before the run on Northern Rock in the UK, before Bear Stearns was sold toJP Morgan (JPM, Fortune 500), and before Lehman Brothers filed for Chapter 11 bankruptcy protection.
Singer gave a presentation that laid why there would be a major crack-up in structured finance, according to Chanos, saying that the structures were unstable and that, most importantly, they were going to lose their triple-A credit ratings.
To show that the underlying collateral in these securitized products was bad, Chanos says Singer pointed out that HSBC's U.S. sub-prime mortgages were going bad at "an alarming rate," which had been widely reported in the financial press.
Chanos says he then told the regulators that if Singer was correct, the problem would not be hedge funds, but "regulated banks and brokers who were leveraged 30-1" that could spark a financial calamity.
These banks "held glowing, toxic radioactive pieces of securitization which they could never sell," Chanos told the BBC this week.
Then-Chancellor Gordon Brown, who is now the Prime Minister of the UK, had invited the hedge fund managers to speak with the finance ministers about systemic risks posed by hedge funds.
Soon after the presentation, the ministers told the press that their economies were strong. But they made no mention of their conversation with Chanos and Singer.